SMART accreditation for Tauranga dolphin business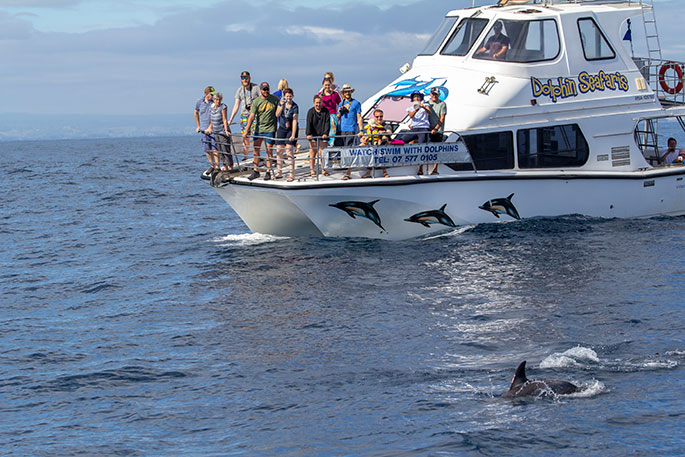 Dolphin Seafaris is the first tourism operator in the North Island to have been awarded the Department of Conservation's SMART accreditation.
SMART stands for Sustainable Marine Mammal Actions in Recreation & Tourism.
The SMART Operator Programme has been designed by DOC to educate commercial tourism operators, skippers and guides how to responsibly behave around wildlife to protect marine mammals in New Zealand.
SMART operators such as Dolphin Seafaris commit to activities that have minimal disturbance on whales, dolphins and seals.
Commercial tour operators can achieve this by undertaking training around the Marine Mammals Protection Regulations, guarantee responsible advertising and undergo regular evaluations.
"We are incredibly proud to blaze the SMART Operator trail for the North Island's marine tourism industry. The marine life in the Bay of Plenty is diverse and abundant, and we want to ensure it continues to flourish," says Dolphin Seafaris Manager Cille Fabert.
Dolphin Seafaris has also partnered with marine conservation charity Project Jonah.
A portion of each Dolphin Seafaris booking goes towards Project Jonah. Customers are also given the option to donate to the charity themselves when booking a Dolphin Seafaris tours.
Project Jonah is a New Zealand charity founded in 1974 for the purpose of helping marine mammals during strandings.
The charity has pioneered rescue techniques that are now used the world over. Project Jonah teaches a marine medic course for sixty students in Tauranga every year at Toi Ohomai Institute of Technology. The donations made by Dolphin Seafaris and its customers will directly contribute to funding this course.
"I find the passion of Project Jonah so inspiring and just wanted to help. They do so much with so little," says Cille.
"Most of our Wildlife Guides are Toi Ohomai students and what better way to give back and get future Wildlife Guides excited about working with us than to keep this course going."
The Wildlife Guides on-board Dolphin Seafaris utilise Project Jonah's teaching tools including its 'World of Whales' educational kit. Utilised by teachers throughout New Zealand, the kit encourages children to accept responsibility for our oceans and their inhabitants, educates them about marine life and conservation, and how to responsibly behave around animals.
"It is in our Kiwi DNA to take care of the environment, care for wildlife and do as much as possible to limit our ecological footprint."
Tourism Bay of Plenty Chief Executive Kristin Dunne says she is proud that Dolphin Seafaris has become the first North Island tourism operator to become SMART accredited.
"Dolphin Seafaris is an exemplar of an ethical marine life encounter experience.
"We encourage all tourism businesses to consider how their business can enhance, rather than harm, the environment they operate in."
Dolphin Seafaris is the leading eco-friendly dolphin charter in the Bay of Plenty. Dolphin Seafaris offer morning dolphin encounters off the coast of Tauranga and afternoon snorkelling tours to Motuotau (Rabbit Island).
More on SunLive...