Skydive Tauranga commits to carbon neutrality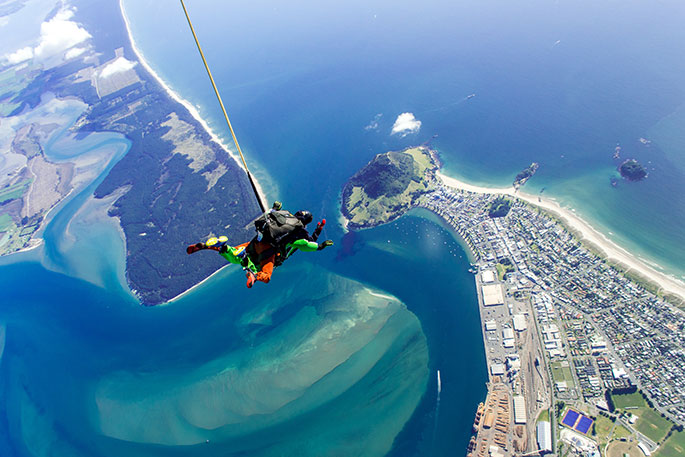 Skydive Tauranga has committed to become carbon neutral by 2025 through a partnership with conservation charity Trees that Count.
The aviation business is dependent on carbon emissions, flying customers up to 12,000ft before they skydive over Tauranga.
To offset some of its emissions, Skydive Tauranga donates proceeds from every booking towards native tree plantings in the Bay of Plenty through Trees that Count.
Customers are also given the option to offset their carbon emissions by donating when booking. This donation is then also matched by Skydive Tauranga.
Since the project launched more than six weeks ago, Skydive Tauranga has donated proceeds to fund over twenty native trees to be planted in the Bay of Plenty.
"For us, this isn't just about offsetting carbon. We are excited to be actively contributing to improving the local environment through the restoration of New Zealand's beautiful native forest," says Skydive Tauranga Owner Tristan Webb.
"We're proud to offer a skydiving experience that's not only one of the most beautiful in New Zealand but also helps us become a more environmentally conscious company. We can also appeal to the increasingly environmentally savvy traveller."
Tristan says their personal love for Aotearoa and the Bay of Plenty's environment led to a business commitment to sustain and restore it.
"We all love the outdoors and are very excited to find a programme that can only help improve it for everyone."
Skydive Tauranga also regularly contributes to local beach clean-up initiatives and other community based environmental initiatives.
"I am proud of Skydive Tauranga's commitment to protect our environment and encourage other tourism businesses to follow suit," says Tourism Bay of Plenty Chief Executive Kristin Dunne.
"If tourism is to be sustainable, we must create a balance between economic growth and protection of our environment."
Skydive Tauranga is the Bay of Plenty's only skydive business and operates seven days a week near the Tauranga Airport.
Learn more about Skydive Tauranga here: www.skydivetauranga.com.
Learn more about Trees that Count here: www.treesthatcount.co.nz.

More on SunLive...