What's on Today? Markets and music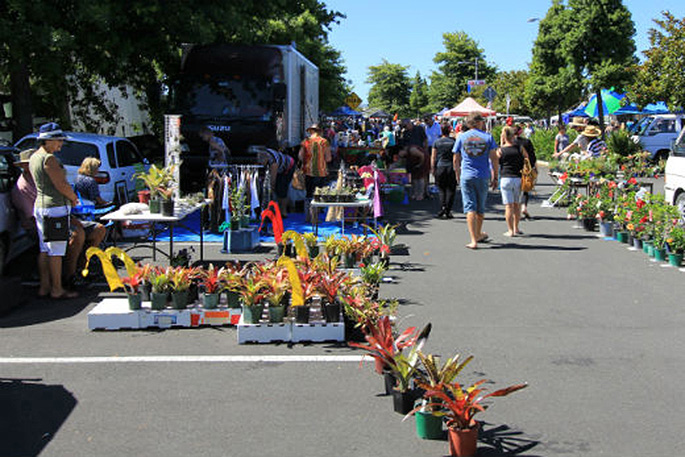 Good morning sunners. It looks like it is going to be a beautiful day in Tauranga today.
There was not a cloud in the sky when this reporter embarked on her journey into work at 6.30am.
If you're looking for something to do today, why not check out the Mount Farmers Market at 9am on Maunganui Road or the Oropi Market, also on from 9am, at the Oropi Memorial Hall.
If you want a bit of entertainment, then head on down to the Hop House on Wharf Street.
From 12pm, they will be hosting the Labour Weekend Blues and Brews Fest.
Sunday's music will kick off at 4pm with a hard out solo blues session from Grant Haua (ex Swamp Thing) before ramping up to the Most Fabulous, Most Groovy Brilleaux from 6pm with their signature British style Rhythm & Blues showing why they have been Tauranga's favourite blues band for over 20 years.
The second Rugby World Cup Semi Final between Wales and South Africa will be shown live from 10pm.
Check out what else is happening in and around the city below:
Sunday 27 October
Art and Artisan Fair
11am-3pm locally handmade art & wares at the Black Sheep Restaurant, 21 Plummers Point Rd, Whakamarama
---
Bible Seminar
1:45pm Greerton Senior Citizen's Hall, Maitland St, Greerton. Title: Jesus - at work in our lives now. Interactive, Q&A. All welcome. Mary 573 5537
---
BOP Oodle Club
Playdates for dogs! Meet up first Sunday of each month at Fergusson Park (Beach Rd end). 2-3pm. Gold coin donation.
---
Cold Wax Painting Workshop
Half day workshop to explore what cold wax is. Only $65. Sue MacDougall, 9-12:30pm, The Artery, Historic Village. Book@ www.theincubator.co.nz. Ph 571 3232
---
Community Yoga Classes
Relaxing Hatha Yoga Nidra 9:30am Bring your friends. Enjoy community chai after class. $5 or free to LightRoom Members, 325 Maunganui Rd. Rayna 027 464 0691 rayna@thelightroom.studio
---
Croquet
Tauranga Domain, Cameron Rd, 12:45 for 1pm start, Sun, Tues, Fri. Beginners welcome. Peter 571 0633
---
Golf Croquet
Croquet Mt Maunganui, 45 Kawaka St Tues, Thur & Sun 8:45am for 9am start. New players & visitors welcome. Nev 575 5121
---
Historic Village Market
17th Ave, 1st & 3rd Sunday of each month, 8am-12pm, wet or fine. A Bethlehem Te Puna Lions Project. Ph Bernie Allen 021 0422 612
---
Home Based Christian Church
Join us for a one-hour sharing from the teachings of Jesus Christ. 7pm Papamoa Sports & Recreation Centre, 80 Alice Way. John 022 680 7705
---
Loud Shirt Coffee Group
At Double Teaspoons Cafe Papamoa Plaza 10am. Wear your brightest shirt or top. Mix, mingle & chat. James 021 373 523
---
Ninja Knits Hook Up
Social knitting group of mad yarn bombers, sultry stitchers & happy hookers. First Sunday of month, 9am-12pm, The Incubator, Historic Village. info@www.theincubator.co.nz. Ph 571 3232
---
Oropi Sunday Market
Great range of quality stalls that vary monthly there is something for everyone. Browse the stalls & grab a delicious breakfast/brunch. 1295 Oropi Rd
---
Radio Controlled Model Yachts
Sun & Thurs 1:30-4pm, in pond behind 24 Montego Drive Papamoa, sailing Electron Yachts for fun. Adult beginners welcome. Graham 572 5419
---
Sunday Stitch Workshop
Textile Art casual get together. Create treasures with Kristy Clegg. First Sunday of month, 10am-1pm. $10. The Artery, Historic Village. Info@www.theincubator.co.nz. Ph 571 3232
---
Tauranga Spiritual Growth Centre
Every 2nd & 4th Sunday at 14 Norris St. Doors open 6:30pm starts 7pm. $5. Come join our spiritual community. Mediums, energy healers, meditation, holistic health.
---
Tauranga Underwater Hockey Club
Have a go at underwater hockey at Baywave at 5pm. No experience needed. Just come with your togs & we'll provide the gear. https://www.sporty.co.nz/taurangauhc emailtuwh@gmail.com
---
Tauranga Woodcrafters 2019 Show
Nov 22-24, 10-4pm Mount SportsCentre. Carving, woodturning, toymaking & scrollsaw exhibition. Come 'have a go'. Equipment, woodwork & food sales. Entry $5. U15 free.
---
Travel Friendship Force
Interested in international travel with home hosting? Tauranga Western BOP Friendship Force is part of a worldwide organisation! Ph Barbara 574 5711 or Jonathan 572 2091
More on SunLive...