Stop means stop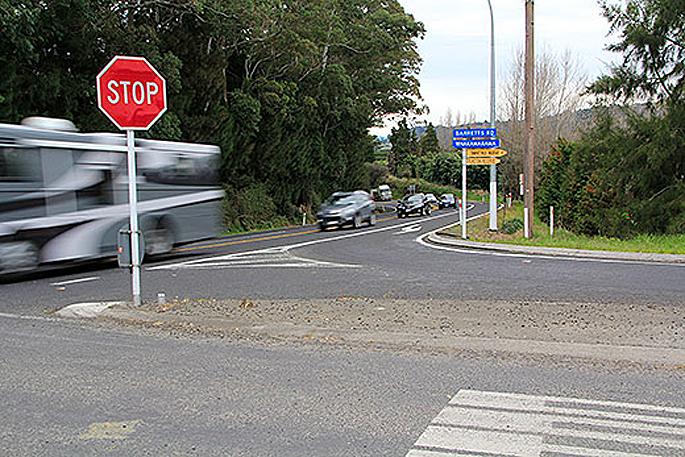 One stop sign, lives changed forever: check your driving behaviour this Labour Weekend, say police.
It's a simple message, but an important one as Auckland Police urge motorists to think about their driving behaviour and decisions they make behind the wheel this Labour Weekend.
Police are releasing a shocking video showing the true impact that bad driving behaviour can have on a victim and their whānau.
The video can be viewed now on the Auckland City District Facebook page.
A year ago this weekend, 18-year-old Cameron was riding his bike along Maskell Street, St Heliers with full safety gear - including lights and a helmet - when a motorist failed to stop at a stop sign.
Cameron collided with the vehicle and was hit by a second vehicle travelling in the other direction.
He was not expected to survive.
"Cameron was on his restricted license and did everything right that night.
He had just made prefect camp and was out with his friends," says Inspector Scott Webb, Tāmaki Makaurau Road Policing Manager.
"Cameron, obeying his license conditions, made sure he had driven home before 10pm.
"He got on his bike and re-joined his friends before the accident happened.
"All it can take is a single moment for so many lives to change.
I hope people watch Cameron's story and reflect on the decisions they make behind the wheel, he says.
"We're reminding motorists to be conscious of their speed, make sure all occupants are properly restrained, don't drive impaired and keep focused on the road."
Earlier this year, a 26-year-old male was convicted in the Auckland District Court for careless driving causing injury.
He was disqualified from driving for eight months and ordered to pay $1000 in reparations.
Scott says stop signs are in place for a reason.
"It's not uncommon for Police to see motorists slow down, but not completely stop at stop signs.
"A split-second decision to not completely stop and continue through a stop sign can have devastating consequences on so many lives," says Scott.
"The flow-on effects can be far-reaching and impact those at a crash scene as well as their family, friends and wider communities.
"The message is simple: stop. Look both ways and make sure it's clear before carrying on."
Scott says during last year's Labour weekend holiday period, five people were killed with a further 44 people seriously injured on our roads.
More than half of those occurred on an urban road, with 28 per cent of crashes at an intersection.
More on SunLive...