Flower power needed for oversize orchid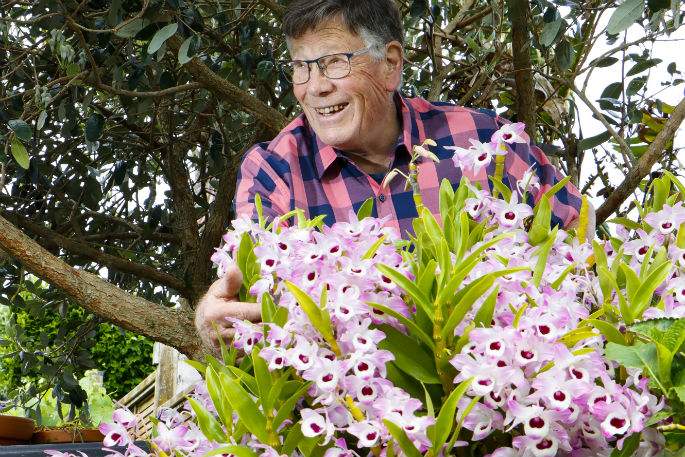 Craig Parson's presents his 25-year-old award-winning orchid with a bright smile plastered across his face.
"It's a spectacular specimen. There's nothing I don't like about this orchid."
The Welcome Bay resident won the Grand Champion title at the Tauranga Orchid Show on Saturday, October 12.
The extraordinarily large Dendrobium Nobile orchid was also awarded the Natalie Simmonds Trophy for Champion Specimen Plant.
Many would think this orchid is so enormous, it would be impossible to move. But nothing stopped Craig from lugging it down to the show.
The orchid has always lived outside, eventually growing out of its basket and attaching itself to a tree trunk.
Craig had to chainsaw off the trunk and orchid and attach it to a metal stand to transport it to the show.
"It took three of us to lift the orchid into a trailer. I don't quite know how we did it," Craig laughs.
Dendrobium Nobile orchids are native to the highlands of Southeast Asia and the Himalayas.
They produce a profusion of blooms right along the stems called 'canes' which store food and water.
The Orchid Council of New Zealand observer at the show counted the canes and averaged the number of flowers per canes.
He estimated Craig's plant had close to 1000 blooms, all in pristine condition with more buds to open.
"The plant is well established and had so many perfect flowers on it that were out at the show," says Craig.
The former Te Puke High School science and horticulture teacher has been an eager gardener since he was a kid.
"It's always been a passion of mine. But my Dad wouldn't let me in his garden.
"He said I wouldn't be able to tell the difference between a plant and a weed and would wreck the garden."
Craig currently has about 200 different orchid plants growing in his garden, all of which vary in size and colour.
"You get success with this plant, that's why I like them so much."
However, his wife Dot Parsons says he can't grow too many as she needs enough room to grow her hostas.
Craig joined the Tauranga Orchid Society four years ago, a group he says is great for getting inspiration from like-minded people.
"We have about 86 members and our youngest one is only 11. He knows absolutely everything about the plant, he is on the internet researching orchids all the time."
Craig has promised fellow competitors that he will not be entering his orchid into the show next year.
"It was a real thrill to beat some of these guys this year though since they grow such incredible orchids themselves."
Tauranga Orchid Society president Conrad Coenen says in terms of flower quality, the show was one of the best for years and attracted entries from as far away as Whangarei and Gisborne.
More on SunLive...