Mount teens ready for World Surfing Champs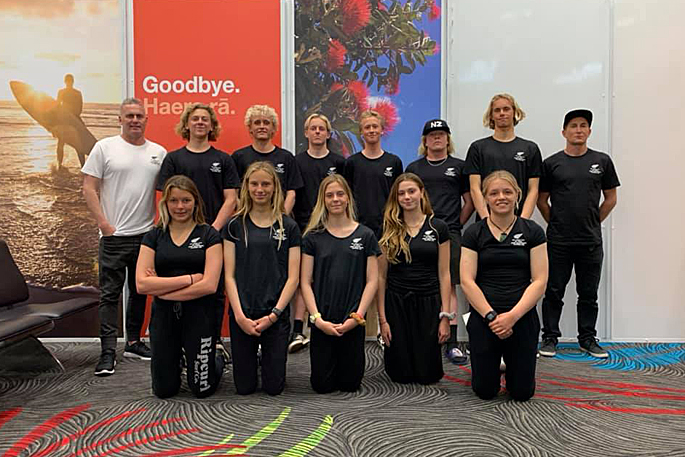 Two Mount Maunganui teenagers have touched down in California ready to tackle the World Junior Surfing Championship.
Georgia Wederell and Luke Griffin are part of the New Zealand Junior Surfing Team competing at the 2019 VISSLA ISA World Junior Surfing Championship being held at Huntington Beach in California from from October 26 to November 3.
Leading the way for the Kiwis are two surfers in the under 18 divisions, Saffi Vette of Gisborne and Caleb Cutmore from Raglan. The two surfers enter the event for the final year before moving up into the open age category. In 2018 Vette and Cutmore were the team's top performers advancing well into the event finishing 16th and 13th respectively.
Vette comes off a great build-up to the event which has seen her win her first Australasian Pro Junior event held in Australia earlier this month, a result that elevated her to seventh on the year-end rankings. Vette backed up the result in the juniors with a career-best fifth-place finish at the Mandurah Pro QS1000 in Australia last weekend which has seen her rise up the World Qualifying Series rankings to 141st.
Vette is competing at the event for the third straight year and will face some tough competition from the big nations including two Olympic qualifiers in Shino Matsuda and Daniella Rosas.
Cutmore has also spent time in the team for the last two years and his 13th place finish in 2018 at the same venue bodes well for a big result next week.
CapCutmore has been based in New Zealand in the build-up to this year's event, most recently finishing runner-up to New Zealand teammate Tom Butland of Taranaki at the National Scholastic Championships two weeks ago.
Butland is one of seven new faces in the team including Wederell, Jack Lee and Luke Griffin in the Under 18s. Jayden Willoughby, Ava Henderson and Natasha Gouldsbury join Butland in the Under 16s.
In 2018 the New Zealand Team placed twelfth overall.
The championship is the largest junior surfing event in the world playing host to over 340 surfers from 44 nations in 2019.
More on SunLive...