A love affair with Henry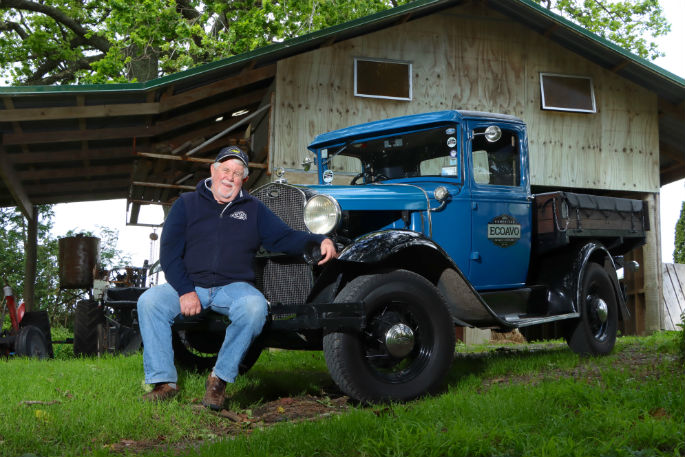 It's like packing to take a newborn on a day trip - diapers, wipes, gripe water, rash cream. The works.
Doug Brown's "lovely blue" 1930 Model A Ford pick-up isn't too different.
"If you are going on a run, you have to take bits." All part of being a responsible parent. Spare spark plugs, points, condenser are high on Doug's touring inventory.
"Mark my words, things go wrong," says the veteran with the vintage. "Sometimes things happen. Fan belts break. You have to have another one." The range at the average parts shop probably doesn't run to Model A bits. And they say if you fail to prepare, be prepared to fail.
Doug Brown is a proud parent. His baby, the 1930 Tudor is sitting out there in the dappled sunlight under the canopy of his enormous avocado trees up Thompson's Track, up SH2.
He's banging on about the Bay of Plenty Vintage Car Club's annual car show and swap meeting early next month. "We want good mention of that. It's important."
One hundred cars on display at the club's annual car show and swap meet – from a 1917 Dodge which we met in The Weekend Sun a fortnight ago to a late model Ferrari. Something for every petrol head, and food and motorised miniatures for the kids.
Doug Brown was destined to have a vintage car. It just took him half a century. Doug was taken to college in Honolulu riding in the rumble seat of a Model A – the fold away seat in the trunk.
"I decided I was going to have one of those cars one day and I would ride up front."
And so there is now 'Henry'.
"Not rocket science" says Doug. It was named for "that gnarly old bugger", the American industrialist and business magnate who produced the common working man's car and whose name is attached the grille.
"Model A's – never going out of fashion," says Doug.
"We love them, the most enduring car we have got." And wonderfully simple.
"We can work on them if we want. I can't work on that diesel Toyota out there or a BMW. Wouldn't have a clue." But if he wants to put a new head on Henry then he can order it from America one Friday, it arrives the next and it's under the bonnet during the weekend.
Doug's partner Linda had a vintage car first. "She's got a 1928 original Tudor sitting out in the shed." Doug used to potter on it. "She would say: 'what are you doing to my car?' And I said: 'sweetheart, I am going to buy my own truck' and I did."
He got tired of seeking permission to do something. "But please don't say that." Your secret is safe Doug. Only understanding, car types in relationships and reading this story will know.
Brown hails from Illinois in the mid-west and still has the thick, trademark accent. "But I am a Kiwi," he says defiantly.
"I like New Zealand because it's safe and Trump doesn't live here. It has to be good."
Doug and Henry will be at the Vintage Car Club's annual show and swap on Cliff Road from 7am-2pm on Sunday, November 3. Doug will be on the gate, the white-haired guy with a drawl, talking up Model A's.
More on SunLive...