Next Generation of Entrepreneurs Flourish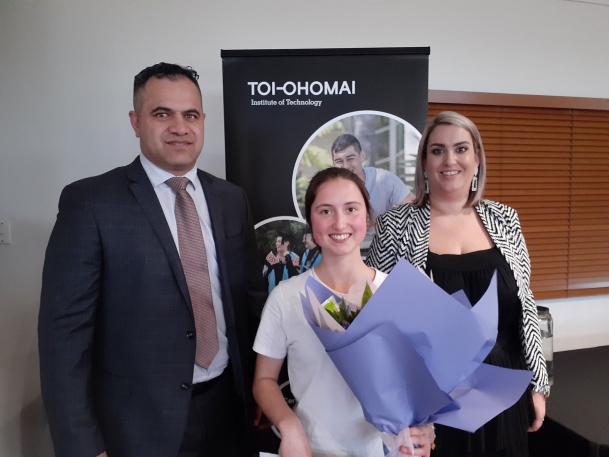 The entrepreneurial spirit in the next generation of business leaders is flourishing with sustainable products and practices on the minds of many of those who participated in the YES Rotorua regional final at Toi Ohomai Institute of Technology last night.
As a key sponsor of the Young Enterprise Scheme, Toi Ohomai hosted the event at its Mokoia Campus with four teams from Rotorua and Taupō competing in the final stage.
At the end of the night Top That! meal toppers owned by Olivia Moore was announced as the overall winner of the regional section and will compete in the National Finals of the YES competition. In addition it was announced that Wrapt, owned by Brooke Moore, will receive a national award and will also be attending National Finals to collect her award.
Before the winner was announced, the four teams made their last pitches to a panel of judges consisting of Chairperson Business Chamber Taupō Catie Noble, Associate Director at Deloitte Owen Mitai-Wells, Toi Ohomai Head of Marketing and Communications Jessica Barnett and Jack Keogh, who is the Group Manager for Business at Toi Ohomai.
The four teams consisted of Soy Fresh – Western Heights High School, Wrapt – Tauhara College, Ataahua Ora – Taupō nui a Tia and Top That! Meal Topper! – Tauhara College.
Their business ideas included luxury candles, an alternative to plastic wrap, natural Kawakawa skincare and gourmet food toppers.
Executive Director of Māori Success and Strategic Partnerships at Toi Ohomai Institute of Technology Ana Morrison says she is impressed by the entrepreneurial spirit among the students and Toi Ohomai looks forward to continuing its partnership with YES to grow the numbers of youth entrepreneurs in the region.
"This is exactly why Toi Ohomai are sponsors of the YES programme. The future of work is becoming increasingly more difficult to accurately predict or even imagine. Determining and focusing on the types of skills and knowledge young people need from educators is more important than ever. What is clear is that it will not be the same skills that have served us during the last century or even the last decade.
"At Toi Ohomai, we are keen on helping to grow our student minds and give them skills that are practical and will lead them in to employment so they can give back to their communities and these finalists are already doing through their businesses.
"Last night we saw a range of pitches that showcased the talent of our future business leaders and I am in awe of their potential. Their businesses are innovative and it is obvious that so much thought has been put into them."
YES Regional coordinator Atawhai Gillies says last night was a great celebration for the hard work by the four teams.
"I am proud of all our amazing YES students who I have had the privilege of engaging with this year. The four teams who pitched last night was just a small representation of the huge potential of our youth.
"They are entrepreneurial and were dedicated to learning the foundations of running their own businesses. The YES programme is the perfect opportunity for our students to gain this vital business experience."
Toi Ohomai Head of Youth and Community Engagement Olivia Dhanjee says the products were absolutely mind-blowing.
"Their ability to understand market trends, consumer preferences and target markets as well as their commitment to an environmentally sustainable future was just outstanding."
More on SunLive...