Tauranga school support staff want pay equity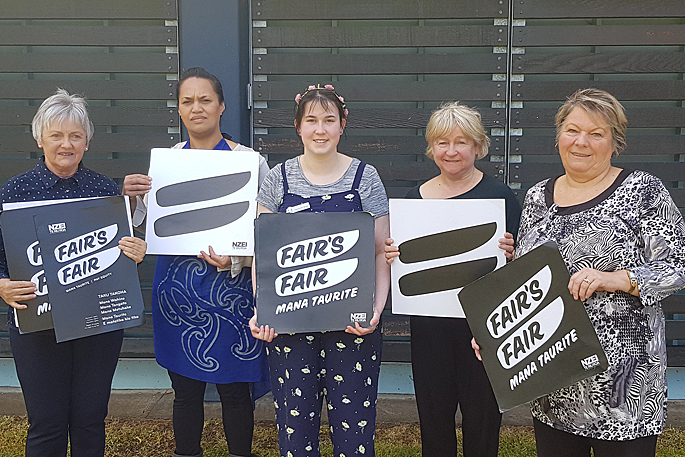 Many school support staff are paid less than the living wage and have uncertainties around job security.
This is what was discussed at a paid union meeting at Tauranga Girls' College on Wednesday.
The New Zealand Educational Institute, the union for school support staff, is in negotiations with the Ministry of Education for pay equity and job security.
Support staff met to discuss the negotiations and look at ways to get recognition for the work they do.
Barbara Turley is an administrator and enrolment officer at Tauranga Primary and has been in the union for 20 years.
She says the collective agreement for support staff ran out on June 16 and they have been in negotiations since with no agreed outcome.
Support staff are paid from each school's operation grant, which covers operational expenses such as power.
School support staff encompasses a wide range of roles at schools, including librarians, administrators, lab technicians, as well as teacher aides.
Barbara says if there is over spending in other areas of the operations fund, then support staff hours can be reduced and there's no room for pay increases.
Part of the negotiations are to look at a new way of funding support staff to ensure job security.
"We have to find a new way of funding support staff within the schools. It has to come out of the government and not out of what's left of the operations grant."
For a lot of teacher aides, their hours can vary term to term and their job many be made redundant if a student changes school or no longer needs a teacher aide, she says.
"The hardest thing for us is to get ourselves recognised, for people to understand what we do. If a budget gets cut, the first thing that goes is a teacher aide's hours."
The support staff are also looking for pay equity and are starting with teacher aides because it is an easier matrix to develop, she says.
"To be on a living wage would be lovely. We're not looking for an extensive amount."
She says support staff do it because they love it they don't do it for the money but the need to be able to live.
"Most of our members work between 17 and 25 hours and they work 40 weeks a year, so it's not even full time.
"You do it because you love it, I love working in the schools. I love working with the children and we're all like that."
Teacher aide at Tauranga Girls' College Corrine Little says teacher aides play an important role in students' educations.
"They get the chance to build a one-to-one personal relationship with someone who cares about their learning and can give them the time and the attention that a teacher just can't."
She agrees that support staff need to be paid more.
"I think it's galling to be at the top of the pay scale for teacher aides, with all of the experience that you've got, and still be below the living wage. That makes no sense to me.
"You don't do this job for the money or we wouldn't be here."
Currently 72 per cent of teacher aides earn between $17.70 an hour and $20.69, 18 per cent earn the minimum wage of $17.70, nine per cent earn between $20.69 and $24.70.
Since the beginning of the year Corrine is on a fixed part time contract but she doesn't know how many hours she will get each week.
She says at her time of life the hours suit her but other teacher aides she knows find it difficult.
Her teacher aide friend tried to get a mortgage but couldn't because her hours were so variable.
"The person at the bank told her to go and get a proper job. You can't plan like that, it's crazy."
Barbara says a lot of teacher aides have qualifications including degrees, certificate or diplomas but don't get paid in line with these.
Corrine has been a primary school teacher and has a post graduate diploma but says it gets her nothing in terms of pay or recognition.
Barbara is urging school support staff to be heard and get the message out there that they deserve more.
"We need to become visible. We just need people to understand that we are necessary in a school that we are the glue. We're not recognised but we're so essential.
"We need people to understand how important we are so that we can call the government to action."
Support staff are meeting outside the Labour member of parliaments' office and Simon Bridge's office on November 15 at 4pm to create more traction for their negotiations.
More on SunLive...