Tauranga siblings invest in future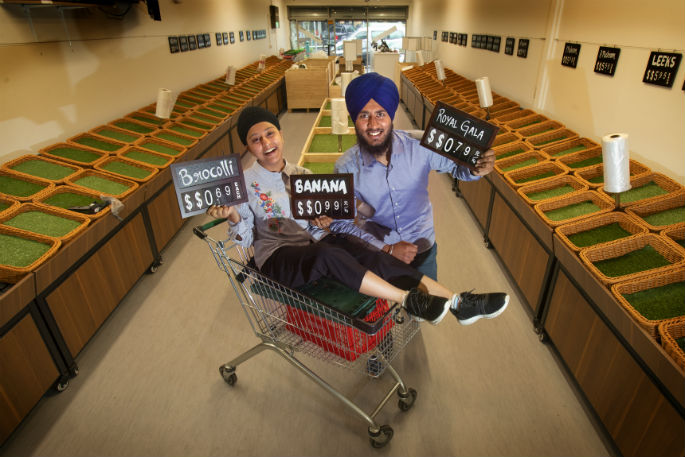 She's a petit, turbaned 17-year-old college student with raw savvy.
Her brother is a 22-year-old turbaned civil engineering student with big bold ideas. And between them, they believe they have sussed the value of a cauliflower, a cabbage or a bag of apples in Greerton.
While many kids their age are out pubbing, clubbing, dancing or just hanging out, these sibling entrepreneurs are investing the thick end of $100,000 in a commercial enterprise, a fruit and vege shop, right in the heart of one of Tauranga's more vibrant suburban shopping precincts.
"You always have to take a risk," says Anoop Singh, who by age 20, ran a courier van before buying into a small cleaning business to pay his way through studies. "If you aren't taking a risk then you can't be a successful person in life."
His young sister, Inderpreet Kaur, has a couple of years left at Otumoetai College. She's even too young to be a business partner or director. But she still pumped all her savings from part-time supermarket work into her brother's business. And she will put in the hard yards.
"It's family, it's the culture," explains Inderpreet. "You feel you want to do these things, I feel I have a responsibility. If Anoop was putting himself in there, I had to put myself in there too. Why wouldn't I?"
And it's not her brother's business, it's 'our' business according to the brother. "Because she is going to be the boss one day." At the moment the boss loves her music – has learned violin, drums, clarinet and singing and has played in the symphonic band. "I want to pursue that love and accountancy at uni."
She will have full partnership status in the business when she turns 18. However she is still growing into the role, still growing full stop. They even had to install a 10cm-high platform so Inderpreet can reach across the counter when serving customers.
"It's kind of scary," says Inderpreet. "Mmm, scary but very exciting. And why wouldn't it work? We're putting our heart and soul into it, so it should work." They're Sikhs, they know their onions, literally. It's in the blood.
"We worked in our Uncle Marjit's Hamilton fruit and vege shop preparing, packing and selling. They've been in that business for more than 25 years." And when Anoop arrived back in Tauranga he sensed an opportunity. There weren't many fruit and vege shops in town. "So I decided to open my own."
And when other young people are spilling out of the clubs in the wee hours, Anoop will be clambering from his bed with a clear head. "I will start work at 4am every day – seven days a week." There's a deeply ingrained discipline and work ethic here. No room for life's frivolities, just singlemindedness.
"If you want to achieve something you have to miss out on something as well," says Anoop. "You can't say I want to build a good business and go out and socialise as well." So, obviously no girlfriend for a young man with Bollywood good looks. "When I bought the cleaning business, I was told you can't have a girlfriend and a business." He laughs about it, but you sense he's serious.
Inderpreet has also made sacrifices. "When we started the cleaning business, I was there." She was up cleaning other people's messes before school. Then after school and after music classes, she was back cleaning in the evening. "Often there was too much going on. But we still managed to get it done."
Hard work is instilled - Inderpreet says she didn't have a conventional Kiwi teenage life. "I didn't go out and never liked parties and stuff." Never done it, so she won't miss it.
"Well I do mind actually. Sometime when friends are going out, I would like to go too, but there are so many things to think about so I don't." Vivacious but no boyfriends. "No." But it doesn't matter because she has a massive investment to make work.
When the doors at Inderpreet and Anoop's new fruit and vege shop in Chadwick road opened, you could have stood on the footpath and lobbed an onion or a kumara onto the roof of the nearest big supermarket.
The young Sikh entrepreneur just smiles. It's a case of knowing thy enemy and it will help you win. Anoop has examined the big business model and is sure he can do it better and cheaper.
Anoop and Inderpreet are up for it. These are not two millennials looking for the easy way.
More on SunLive...