Western BOP GoGirl Program Kicks Off on Monday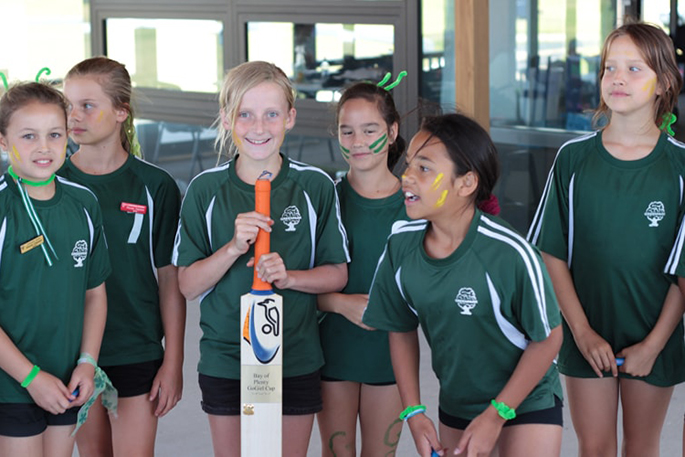 An introductory girls cricket program, that was delivered to over 600 Year 4 – 6 participants throughout the Bay of Plenty last season, kicks off again on Monday October 21 2019, with the GoGirl program being delivered in 20 Western Bay schools.
The GoGirl program will be presented in the Western Bay of Plenty in both Term four and Term one of 2020, with the girls cricket curriculum being expanded to the Rotorua and Taupo regions in Term one next year.
The overriding goal of GoGirls is to provide a positive cricket experience for young females.
"We would love the girls to join a cricketing pathway, but we hope that they continue to love the sport in any way, be that as a player or a fan of the game," says BOPCA Women's Cricket Officer Rebecca Yee.
"Last season half of our Girls Under14 players had taken part in GoGirl program's and continued their cricket careers at a higher level."
The BOPCA GoGirl program delivers four weekly coaching sessions to each school that participates in the program, through a combination of the fundamental motor and cricket skills.
In the Western Bay of Plenty, GoGirls is the second step in the BOPCA Girls pathway, after the primary schools cricket awareness program delivered by Bay of Plenty Cricket.
"In the Western Bay, GoGirls runs alongside the NPL GO, which gives the youngsters an option to play outside of school, with an opportunity to move on to the JNPL - Junior Northern Premier League – competition," says Rebecca.
"Each of the Western Bay options are avenues to representative cricket and we are currently working on developing our girl's only programs, in the other Bay of Plenty sub-associations."
Each GoGirl program concludes with a highly popular Girls Festival Day, where the participants take their newly learned skills into a fun day of cricket activity.
There is huge excitement building towards the Western Bay Super 6's festival day on November 21 2019. The GoGirl cricket day is taking place on the Blake Park rugby fields, adjacent to the opening day of the historic Black Caps verses England at the Bay Oval.
Rotorua and Taupo Year 4-6 girls will have their day in the 'cricket' sun, with the BOPCA Girls Cricket Festivals coming to the Ray Boord Park in Rotorua, and the Owen Delany Park in Taupo, at the culmination of their regional GoGirl programs in March 2020.
BOPCA Girls Cricket Festival Days 2019/20
Nov 21 WBOP Girls Super 6's @ Blake Park
March 11 WBOP Rainbow Cup @ Bay Oval
March 18 Rotorua GoGirl Festival Day @ Ray Boord Park
March 25 Taupo GoGirl Festival Day @ Owen Delany Park
More on SunLive...