Tauranga butchers snag awards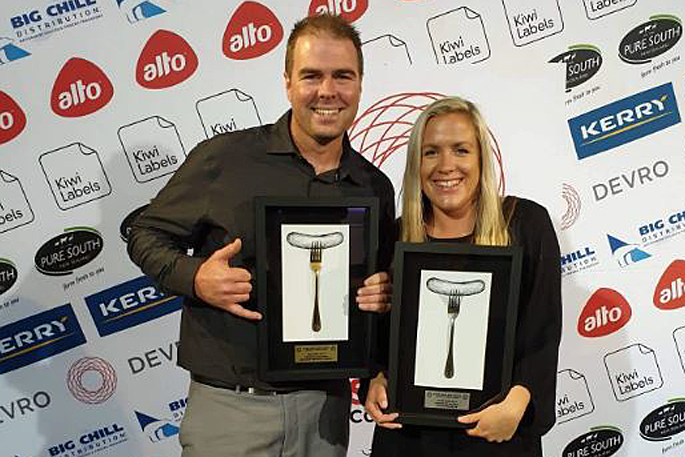 Summer is on its way which means barbeque season is nearly here and a Tauranga butcher had reason to celebrate.
Cherrywood Butchery has taken out two awards for his pork and chicken sausages.
Kurt Thomson won a gold with his BBQ Asian pork belly and cashew sausages and silver in the poultry category with his chicken sausages at the Devro Great New Zealand Sausage Competition.
Kurt says the secret to a sumptuous sausage is using quality ingredients.
"Everything's made from scratch. There's not all your artificial fillers it's all just good quality meat."
The pork prize winners contain Chinese five spice, spring onions and pork belly.
The butcher of 20 years wasn't expecting to win because he was up against some big competition.
In previous years a lot of the larger companies and supermarkets have won, he says.
"I'm shocked but over the moon, I'm really stoked. It's a huge thing for a little butcher shop to win.
"I thought if we could even get a bronze I'd be rapt."
They only entered two categories and took home an award for both.
To put the sausages up against the rest of New Zealand and have them judged as some of the best is an honour, he says.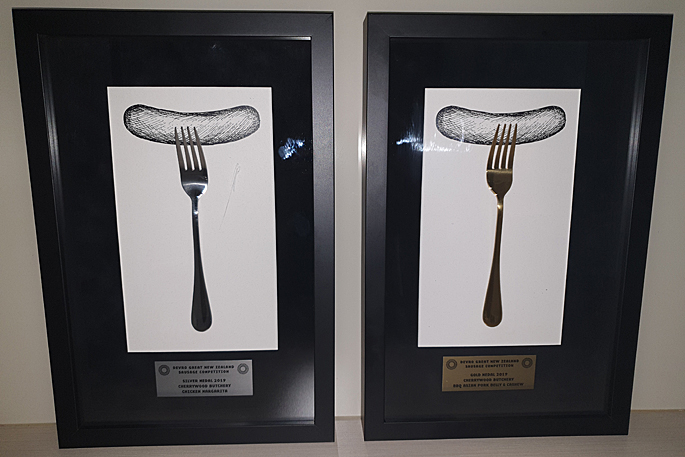 More than 90 butcheries from around New Zealand put their best snarlers forward culminating in over 500 sausages being poked, sniffed and tasted across 13 categories.
Five days of category judging last month by a squad of butchers, foodies, chefs and industry heavyweights, whittled entries down to the top scoring sausages.
Kurt and his wife Alanna bought the Cherrywood Butcher four years ago and have received a lot of support.
"I jumped at the opportunity, it is an awesome area and I've always wanted to own my own shop.
"We're full retail and the local community support us and we even people from Papamoa come and the Mount, Welcome Bay and Tauriko. We're starting to get a good name for ourselves, it's been good."
He says people travel from all over Tauranga because they have easy meals, a lot of gourmet products and different products you won't find in supermarkets.
Kurt employees three staff and Alanna helps out when the store is busy.
The butcher has been there for close to 40 years, so it is a Cherrywood institution, he says.
Before buying the butchery Kurt made sausages and pies and sold them at local farmers markets and his customers have followed him.
Alanna is incredibly proud of her husband for his hard work.
"I'm so proud of Kurt because I know how hard he's worked for his whole life in the Butchery.
"To have a recognition for all the hard work he has done is really cool."
The Aussie Butcher in Gate Pa took home a gold in the continental ready-to-eat category with their cheese griller sausages.
Auckland's Westmere Butchery took out the Supreme Award with their Chicken, Leek and Bacon snags.
More on SunLive...