SunLive marks 45,000 Facebook milestone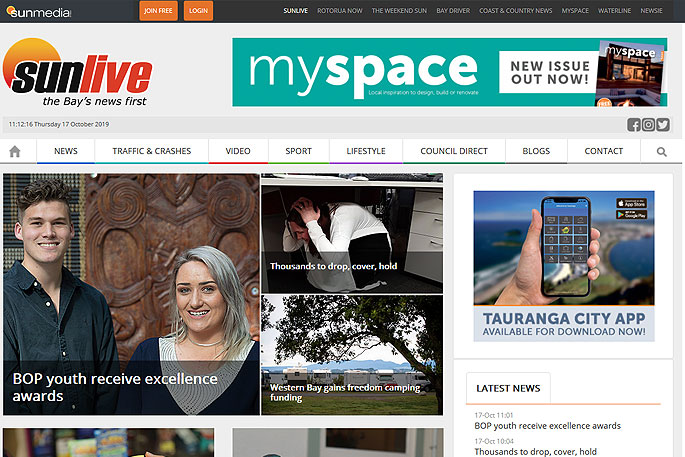 SunLive readers are continuing to find the website the go to site for 24/7 news.
This is evident with the daily news website reaching a milestone of 45,000 likes on Facebook this week and continues to grow.
We continue to bring you breaking news 24/7 and supply regular updates about stories that affect the region.
And all of this would not be possible without the help of our readers, who continue to send in photos and news tips to our newsroom@thesun.co.nz email.
Thanks to the many readers who continue to supply us news and photos.
To stay up to date with local and national news on SunLive, download the app, like us on Facebook, join the site for free breaking news alerts and updates, at home, holiday, work or mobile.
Want to keep up with the latest news while on the run.
SunLive mobile app allows people do to that and more.
The app has been updated to include more information for readers to be better connected, as the company continues its aim of leading the way in both digital and print news.
The mobile app gives readers fast, up-to-date coverage of regional news in Tauranga and the wider Bay of Plenty.
People are able to connect to blogs, videos, what's on in the community and breaking news alerts.
Readers can also register to comment and receive daily news updates and breaking news via email, so readers can have their say on the stories that matter to them.
The app is available for iPhone, iPad and Android phones – with connection to the mobile friendly website at www.sunlive.co.nz
Readers can get the app by going to the App Store on Apple devices, or the Google Play store on Android, or visiting www.sunlive.co.nz on their favourite web browser.
SunMedia general manager Jay Burston says having the new, upgraded app means SunMedia is at the forefront in the ever increasing world of mobile content, delivering up to the minute news to people on the move.
If you want to find out what else is happening in and around the city, check out the Tauranga City App.
It gives people up-to-date local and national news, events, shops, restaurants - even the nearest public toilets.
Download the Tauranga City App and visit Sun Media at the BOP Home Show this weekend to go into the draw to win an amazing hamper from Vetro.
The hamper is valued at $220. The winner will be notified via push notification from the app.
The competition closes at 5pm on October 20.
More on SunLive...