Tauranga STEMFest showcases community spirit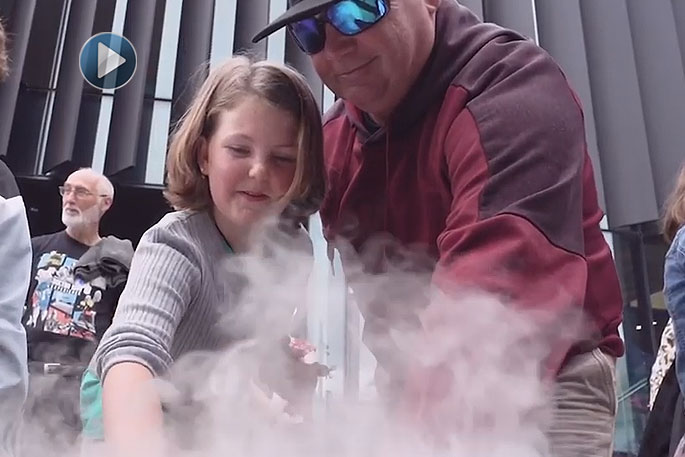 New Zealand families brought their curiosity to Tauranga STEMFest to celebrate the city's first, world-class gathering of innovators, educators, and cutting-edge technologists from the Bay of Plenty and beyond.
Team STEMFest are grateful for the community's contribution and commitment toward making the October 12 event a tremendous success!
"With a fresh new city street and its powerhouse of incredible tenants, we literally took over Durham Street, Basestation, the University of Waikato and it's just opened science labs, Trustpower, and Aspire2, to present 40+ exhibitors and STEM based shows to 3500 enthusiastic visitors. Wow," says Team STEMFest.
"An event of this scale could not have been achieved without our AMAZING sponsors – namely principal funder TECT, funding partner Tauranga City Council, and main sponsors Beca, and the University of Waikato.
"In thinking about the day and the key highlights, there truly cannot be only a few mentioned because in all honestly every single exhibitor contributed 110 per cent with creativity in conceptualising how they would engage children and adults alike, to delivering enthusiastic and meaningful understanding of their STEM-based innovations.
"Our beyond incredible team of volunteers demonstrated a genuine commitment to helping with the smooth running of the event, making it an experience to enjoy and remember for visitors and festival organisers."
Team STEMFest says the real highlight was seeing families come together to share experiences, be amazed and inspired, and enjoy with wonderment the best of New Zealand's STEM heroes.
"Reports are coming in with families telling us that they stayed between 4-6 hours and there was still not enough time to do everything!
"Thank you for everyone's community spirit and we hope that Tauranga will see many more family based STEM events going forward!"
Toi Ohomai Full STEM Ahead
With more than 1000 visitors passing through its stand, Toi Ohomai Institute of Technology showcased some of the modern tools used to teach students at the inaugural STEM Fest in Tauranga on Saturday.
The festival took place held on the newly opened Durham Street and was designed to engage and inspire a new generation of scientists, technologists, engineers and mathematicians through hands-on activities.
Event organisers estimated more than 3500 people attended the event with at least 1000 stopping to check out the Toi Ohomai stand, which included a forestry simulator, the winning wheel and expert advice from staff.
Head of Marketing and Communications Jess Barnett says the institute sponsored and participated in the festival because innovation and technology are a key focus at Toi Ohomai.
"We have an organisational culture that encourages and supports innovative practice. We're constantly exploring ways to embrace and share new technologies within education and within industry."
Jess says STEMFest was really great for kids and families with almost every stand including an interactive element which was great to see.
She says many of those visiting the Toi Ohomai stand were interested in how innovation and technology were being used at the institute and included questions about everything from food hygiene to software engineering.
"The festival really was all about science and technology, but it was interesting to see how technology effects organisations much wider than just in the technology industry.
"Lots of the children loved the winning wheel at our stand and one kid told staff it was his favourite activity from the entire festival. It was a super basic activity but obviously hit the spot!
"Visitors had to spin the winning wheel and then answer a science, technology, engineering or math-related question to get a prize. At some points we had at least 20 people lining up!
"The forestry simulator was also a real crowd-pleaser, our Forestry Operations Programme Manager Richard Stringfellow never got a break as there was always someone wanting to have a go right up until festival closed at 5pm.
"The simulator showed attendees and their parents what it was like being in a real forestry machine. Richard could speak to parents about the industry and how our course can benefit students by giving them practical experience through simulation, as well as work time out in real-life forestry environments."
More on SunLive...