Rotary supports schools in Papamoa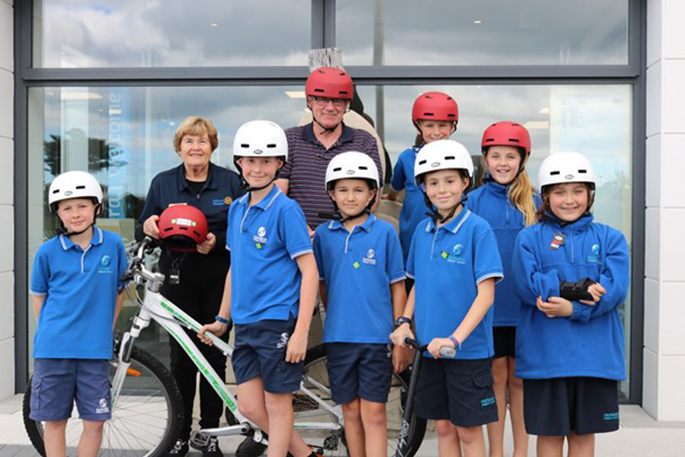 Papamoa Rotary have boosted Papamoa primary schools with $3000 of funding to help keep students safe while biking on its local roads.

Partnering with Council's Travel Safe team to support safe biking for Papamoa students is a great fit for Rotary. The funding will be used in three ways by Travel Safe: a set of helmets for the Kids Can Ride programme, new bike helmets for students who love to ride but may not have access to a safe, fitted helmet and new bike racks for Golden Sands Primary School.

At Golden Sands Primary School, with a roll of just over 650 students, there was a real need for more bike racks. Student's bikes were regularly littering the grassed areas in front of the existing and full bike racks. The donation of two metal bike racks by Papamoa Rotary has been well received and very timely.
"Our Travel Smart Leaders were in charge of decorating them and they are now proudly displayed and being used by students. Seeing as many kids out and about on their feet and biking to school is something that the school is really passionate about," says Principal Mel Taylor.

Just up the road at Papamoa Primary School, students were happy to hear that the Travel Safe team would be making helmets available to local primary schools.
"Our Travel Smart Leaders at Papamoa Primary were very excited with the range of helmets that have been made available to Papamoa schools and they were keen to try them on and model them for a picture. Having access to extra helmets means that all students will have an opportunity to participate in the very popular Kids Can Ride programme, which is fantastic," says Deputy Principal Wayne Whitaker.

Travel Safe has been working with schools since the early 2000s collaborating and delivering road safety and active travel initiatives throughout Tauranga and the Western Bay of Plenty.
It aims to protect, support and upskill vulnerable road users and encourage active travel by working with its school communities such as parents, students, Boards of Trustees, as well as stakeholders such as NZ Police and Waka Kotahi NZ Transport Agency.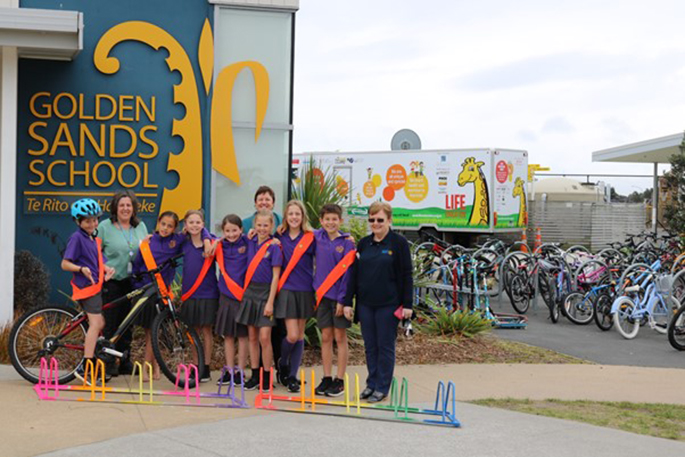 Travel Smart Student Leaders pictured with Cindi Feder - Travel Safe Coordinator, Mel Taylor - Principal and Gill Clark - Papamoa Rotary.
Travel Safe offers a range of programmes for primary schools including Kids Can Ride, Kids on Feet and school Travel Smart Student Leaders who work to encourage everyone to take responsibility for promoting active travel and road safety.

This year's Papamoa Rotary's annual charity golf tournament, now in its seventh year, was sponsored by Bluehaven Development. As major sponsor, Bluehaven's request was that the money be used to support Papamoa youth. Several educational programmes have reaped the benefits from the extra funding.
"All of these activities are very worthy of the extra funding to keep our youth safe on our local roads and we are very pleased to be able to donate funds to our local schools" says Papamoa Rotarian Barbara Joyce.

Comments by Golden Sands Primary School Travel Smart Leaders:
Luke: "We are all very pleased about the donations that have been given to Golden Sands Primary School."
Liam: "We are very appreciative for all the donations you've given us (Papamoa Rotary) and that we've had some learning experiences with them."
Gillian: "I love the new bike racks because they really stand out and now more kids want to use these ones."
Lilly: "I'm so impressed with how many bikes and scooters there are at this school."
Stella: "I had a fun experience painting these bike racks and I hope everyone loves using them."
Moana: "I really like the rainbow coloured bike racks because they might draw more attention to them and kids biking to school and increase the percentage of active travellers to over 80 per cent."
More on SunLive...