Luke Toomey set for back-to-back tour titles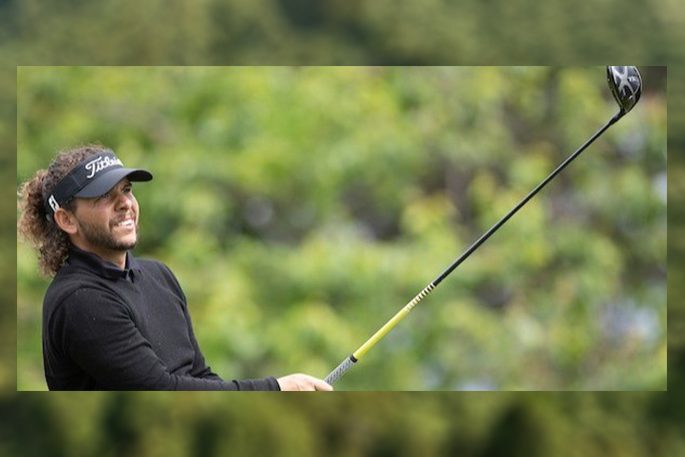 Luke Toomey has a rare opportunity to become the fourth person in history to win back-to-back Jennian Homes Charles Tour titles at the Carrus Open.
Luke leads the tournament at Tauranga Golf Club by two shots after firing another incredible round of eight-under par to take control of the championship.
Having won last week at the DVS Pegasus Open, Luke is relishing the opportunity to go back-to-back for the first time in his professional career and win the elusive Carrus Open on the Jennian Homes Charles Tour at his home course.
"It's really energising seeing all the members out here supporting. It's nice to be in a position where they can come out and watch and see me play some great golf," says Luke.
"I love giving them the odd wave or grin and hearing them give me the odd cheer fuels me with energy. It's a double-edged sword at times, it's great seeing them out here but at the same time I have to make sure my feet are firmly on the ground and I'm not getting too far ahead of myself."
He's well aware the tournament isn't over yet. He holds a two-shot lead over Auckland professional and overnight leader Fraser Wilkin.
"Someone can shoot a 59 or 58 in a heartbeat out here. I've got to keep making good decisions and keep executing my shots, then we'll count them up at the end," says Luke.
Overnight leader Fraser began the day with a one-stroke lead. However, after a tough start to his round on moving day, he quickly found himself behind the eight ball.
Fraser rallied his way back into contention with two amazing chip in's on the seventh and 14th holes, and despite not bringing his best stuff today, he's right in the mix come the last round tomorrow after a third consecutive round of five-under.
"I didn't play that well at all really. I got off to a rough start being one-over through the opening three holes which are all very good birdie chances.
"I got myself back into the round with chip in's on the seventh and the 14th so I could've scored much worse. But overall there is work to be done tomorrow," says a frustrated Fraser.
The Auckland professional is searching for his third win on the Jennian Homes Charles Tour, and is excited at another opportunity to get it done tomorrow.
"As much as I feel I didn't play well I know I wasn't far off either. I just need to hit a few more fairways tomorrow which I guess was the difference today.
"If I was to win tomorrow it'd be great. I feel like I've been playing well for a little while now, the swings improved a lot.
"I'm about to head up to China for a couple of events so it'd be great to head up there with a lot of confidence in what I'm doing. I'm looking forward to playing in a pressure situation and seeing how my game holds up," says Fraser.
Daniel Pearce is one shot further back of Fraser at 14-under, with NZPGA champion Kazuma Kobori nipping at his heels at 13-under.
Defending champion Kerry Mountcastle is also lurking at 12-under and in second place in the amateur standings behind Kobori.
Two are tied at the top in the women's field at the Carrus Open on the Jennian Homes Charles Tour at Tauranga Golf Club.
Overnight leader Fiona Xu has been caught at the top of the leader board by New Zealand Age Group champion Darae Chung at six-under par.
Fiona had a frustrating day out on the course today, once again getting off to a slow start and having to play catch-up. She rallied hard and made a birdie at the last to tie the lead and card a one-under par third round.
"It was another challenging day for me again today. I didn't putt quite as well as the first couple of days, I made a couple of silly three putts. But I'm happy to still be in the lead going into tomorrow.
"If I'm going to win tomorrow, I need to play more aggressive and make some more birdies," says Fiona.
Joining Fiona at the top of the leader board is Wellington's Darae Chung who equalled the tournament course record set by Fiona earlier in the week with five-under.
Darae is excited at the prospect of playing similar golf as she did today to try and get the job done tomorrow.
"I hit a lot of shots quite close today which was pleasing. I putted really well as well, I think everything fell into place out there," says Darae.
"Nothing really changes going into tomorrow. I'm going to go into tomorrow with the same game plan and just doing what I have to do.
The pair hold a two-shot lead of Angela Ju who's lurking at four-under par.
Play got underway today at 8.30am, with live scoring on www.golf.co.nz
For further information, please contact jason@nzgolf.org.nz
Men's Scores
193 Luke Toomey (PGA New Zealand) 67 64 62
195 Fraser Wilkin (Royal Auckland and Grange) 65 65 65
196 Daniel Pearce (PGA New Zealand) 65 68 63
197 Kazuma Kobori (Rangiora) 67 67 63
198 Kerry Mountcastle (Masterton) 66 66 66
199 Woonchul Na (PGA New Zealand) 65 66 68
201 Mark Purser (PGA New Zealand) 71 67 63
202 Jim Cusdin (Tauranga) 66 73 63, Lachie McDonald (Marton) 73 64 65, Dongwoo Kang (PGA New Zealand) 71 63 68
203 Sam An (Titirangi) 66 72 65, James Hydes (Gulf Harbour Country Club) 68 68 67, Jordan Loof (PGA New Zealand) 69 66 68
204 Joshua Bai (Akarana) 70 69 65, Mako Thompson (Maraenui) 66 70 68, Gareth Paddison (PGA New Zealand) 72 64 68, Oscar Cadenhead (PGA New Zealand) 64 67 73
205 Kieran Muir (Omokoroa) 69 69 67, Mark Brown (PGA New Zealand) 70 68 67, Justin Morris (PGA New Zealand) 67 70 68, Tyler Wood (Palmerston North) 71 66 68
206 Kit Bittle (Gulf Harbour Country Club) 69 72 65, Louis Dobbelaar (Australia) 69 71 66, Jared Pender (Te Puke) 69 69 68, Taylor Gill (Bay of Islands Kerikeri Inc.) 65 71 70, Johnny Tynan (Titirangi) 66 70 70
208 Richard Lee (PGA New Zealand) 72 70 66, Stephen Liu (Pakuranga) 69 72 67, Matthew McLean (Harewood) 71 69 68, Steven Williams (Tauranga) 68 70 70
209 Jon Stewart (Omokoroa) 74 72 63, Troy Ropiha (PGA New Zealand) 69 74 66, Mitchell Kale (Tauranga) 67 73 69, Kadin Neho (Whangarei) 69 68 72
210 Sul (Banaba) Im (Huapai) 73 69 68, Hayden Beard (Mt Maunganui) 70 70 70, David Kim (Pakuranga) 69 70 71
211 Tom Heaton (Australia) 68 69 74
212 Kunaal Singh (Whitford Park) 70 75 67, Jordan Woodall (Cambridge) 71 71 70
213 Sung Jin Yeo (North Shore) 74 73 66, Dean Sipson (Mt Maunganui) 71 74 68, James Watkins (Royal Wellington) 76 69 68, David Smail (PGA New Zealand) 73 71 69, Dylan Gardner (Australia) 78 65 70, Trevor Marshall (PGA New Zealand) 72 70 71, Sam Nichols (PGA New Zealand) 71 69 73
214 Cameron Jones (PGA New Zealand) 77 70 67, Trent Munn (Manawatu) 74 70 70
215 Samuel Jones (Manaia) 76 71 68, Kevin Koong (Muriwai) 71 71 73, Dale Clarke (Sherwood Park) 68 72 75
216 Joshua Morris (Taupo) 75 68 73
217 Daniel Freeman (Remuera) 73 74 70, Steven Oh (Remuera) 68 77 72
219 Logan Madden (Morrinsville) 73 74 72, Dave Cooke (Tauranga) 72 70 77
220 Sungwoo Han (Queenstown) 75 71 74
222 Kyle Clark (Cromwell) 70 73 79
Women's Scores
210 Darae Chung (Shandon) 69 74 67, Fiona Xu (Akarana) 67 72 71
212 Angela Ju (Pakuranga) 72 69 71
216 Ing Iadpluem (Riverside) 78 68 70
217 Carmen Lim (Windross Farm Golf Course) 72 73 72, Brittney Dryland (Titirangi) 75 68 74
218 Eunseo Choi (Takapuna) 74 75 69, Yeonsoo Son (North Shore) 77 72 69, Caitlin Maurice (Omokoroa) 75 74 69, Siyi Keh (Titirangi) 75 70 73
221 Caryn Khoo (Pakuranga) 73 75 73
224 Sieun Ha (North Shore) 74 75 75
More on SunLive...