Wilkin leads at halfway stage at the Carrus Open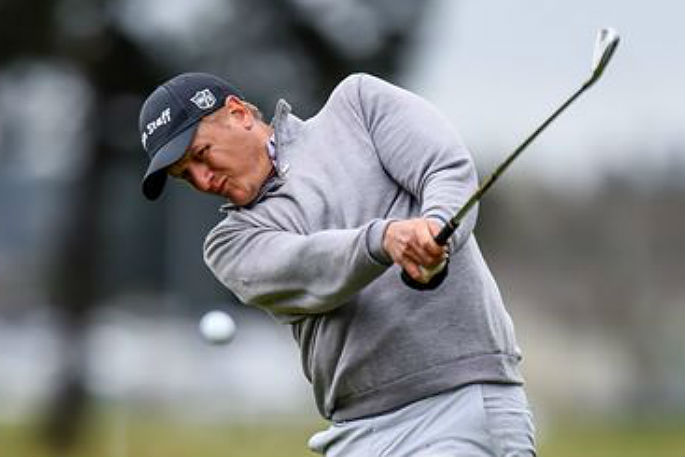 Two-time Jennian Homes Charles Tour winner Fraser Wilkin finds himself in the box seat going into the weekend at the Carrus Open, after a rain affected second day.
Wilkin is 10-under par after two rounds at the Tauranga Golf Club and holds a one-shot lead over last weeks champion and hometown hero Luke Toomey, as well as Woonchul Na and first round leader Oscar Cadenhead.
The Auckland-based professional has fired consecutive rounds of 65 and is happy with his efforts thus far.
"It was a pretty eventful round today. I drove the ball really well, so I had plenty of chances out there. I made some simple errors today as well, so it could've been something special but overall pretty happy with how I played.
"I've just got to keep playing the course the way I want to play it. There are a lot of chances out there. There are patches out there where you have to make birdies, so I'll just keep doing what I'm doing and hopefully hole a few more putts."
Wilkin says he's keen to get back into the winners' circle on the Jennian Home Charles Tour to help kickstart the end to his 2019 season.
"It's been a long time between drinks on the Charles Tour for me. I played well last week at Pegasus and I actually haven't really ever jelled with the golf course here in Tauranga. It's nice to put a couple of scores together."
Earlier in the day, Toomey was the talk of the town as he made massive strides up the leader board.
He was on 59 watch for a while on his back nine [front nine at Tauranga Golf Club]. After making the turn in three-under, he made birdies at the first, second, fourth, and sixth holes to find himself at seven-under for the day with a raft of birdie holes coming up.
However, he'd par in with a bogey on the eighth to finish the day at six-under, and nine-under for the tournament.
"The course doesn't play much easier than that. There is almost no wind out there, the course has softened up after the rain we've had, and the greens have slowed up a bit. I felt as though five or six under had to be the minimum if I wanted to try and keep pace.
"59 chat always enters my head around here, even before I start my round. There isn't a hole on this golf course in these conditions that isn't a birdie opportunity. I try and not let that number affect my decision making out there," says Toomey.
After winning last week, the goal has remained the same at his home course this week; something he'd love to do with all the local support he has.
"I had an idea that if I got it to 20-under I'd be somewhere pretty close to the top of the leader board. There's a few guys in the field that can get there, and if they do, I need to be there with them too."
Fiona Xu has maintained her two-shot lead going into the weekend at the Carrus Open.
Xu carded a second round of even-par to be five-under for the tournament going into the final two rounds.
Xu got off to a slow start making pars on her opening five holes. She made a birdie on six before dropping shots on the seventh and ninth to make the turn in one-over.
The back nine followed the same trend for Xu making pars all the way up until the 14th where she made bogey. She finally found her rhythm making birdies on the 15th and 18th holes to get back to level par for the day.
"Today was quite challenging because of the weather. We had a lot of rain earlier so the course was quite wet and the greens were a little slower.
"I had three birdies and three bogeys today. I didn't putt as well as yesterday but that's okay. I struggled a little bit with my approach shots too," Xu says.
She holds a two-shot lead over Angela Ju.
Play gets underway tomorrow from 8.30am.
More on SunLive...