15th Ave works progressing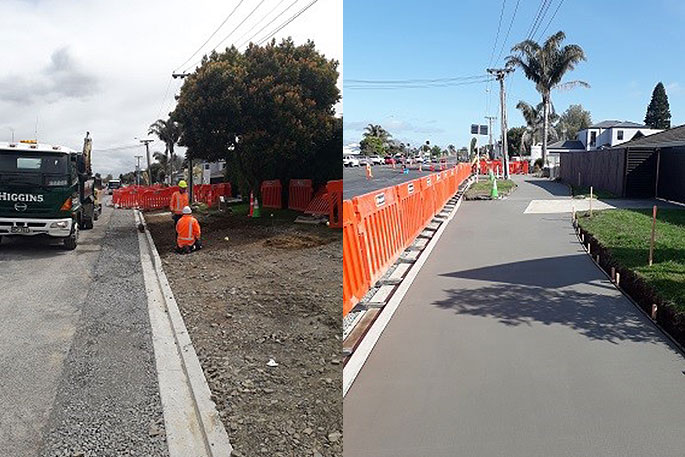 Tauranga City Council is hoping to complete the last of the concreting for kerbing and footpaths next week.
"This week we have been busy working on the northern side of 15th Avenue," says a statement from the council.
"You may have seen some of the kerb and footpath has been poured. Weather permitting, the last of the concreting will be finished next week."
Once completed the team will move to the south side of 15th Avenue, between Grace Road and Alexander Street, to begin work.
The team will also begin preliminary works at the Burrows Street intersection.
Grace Road
The exit from Grace Road onto 15th Avenue is now permanently closed.
"We have also closed the right turn entry from 15th Avenue into Grace Road.
"A new concrete island for this exit will be constructed in the next couple of weeks."
Burrows Street
"We are planning on beginning works at Burrows Street intersection this coming week," says a council spokesperson.
"Underground service works will be the first step. Like in other areas we will communicate with residents and businesses prior to work getting underway."
Cycle safety
"We continue to encourage cyclists to use alternative routes down 13th, 14th, 16th and 18th Avenues to reduce road user volumes through the work area.
"You'll see additional signs on Fraser Street to help with this. You can find a map of recommended alternative routes for people on bikes and on foot at www.tauranga.govt.nz/15thavenue
"One of the ways we have tried to help improve cyclist safety is to remove a barrier at the top and bottom of the pathway from 16th Avenue to Scantlebury Street.
"The zig-zag nature of the track means speeds are generally better controlled on the downhill."
Pedestrian safety
Please remember to use the designated temporary footpaths to avoid the worksite, asks council.
"If you are a resident and need to access a property within the general work area, please remember to get the workers' attention before entering the work area.
"A staff member will guide you safely to/from your property. The team will stop machinery to let you pass."
How will this work impact me?
15th Avenue will stay open during the works, but delays are possible. Residents and businesses in the area may face some disruption.
"We will try to complete the work in a way that reduces disruption as much as possible. However, there will be times when construction equipment will cause some delays.
"We thank you for your patience while we undertake this work."

If you have any questions, or have any special requirements that could be affected by this work, please feel free to contact us directly on transport@tauranga.govt.nz

More information can be found on the project webpage: www.tauranga.govt.nz/15thavenue
More on SunLive...