Age shall not weary them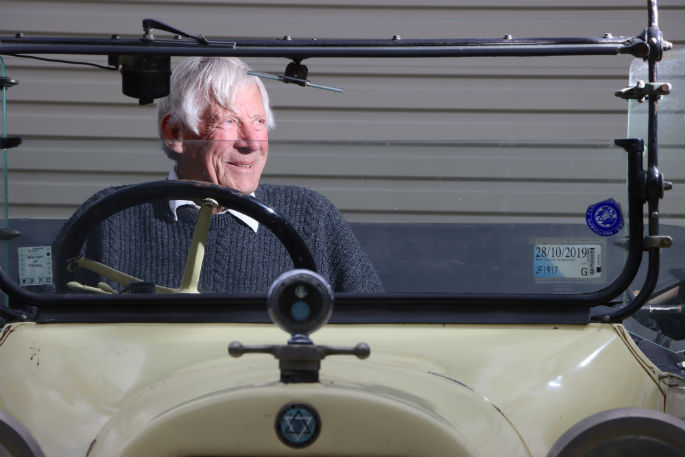 It's always the way.
The 1917 Dodge Roadster had served them faithfully and tirelessly on a two-month, 4886 mile odyssey around the South Island.
We won't convert to kilometres out of respect to the Roadster's age and dignity. Just a bottle of water in the radiator once a week, no added engine oil and 40 miles per hour at 2000 revs for a whole two months.
Just purred, didn't cough once. It was dream motoring for a 102-year-old car and owners Murray Toms and partner Joy Nowley, who, with all respect, aren't too much younger than the car itself. They're both in their eighties.
Then, just this week, when The Weekend Sun dropped by for a photo, the Dodge Roadster wouldn't budge. Oh, the humiliation. So, she's manhandled – physically pushed from the garage where she poses passively for our shooter. Where there is usually life, not so much as a sputter, rumble or rattle.
"Not her fault, she was going until I took 'it' apart," confesses Murray. 'It' being a switch on the starter motor.
"I heard it starting to arc so I made another one from a slightly different model." But it was different enough to make a difference. And the Dodge didn't like it.
Perhaps the Dodge is a bit like it's owner, if we can be anthropomorphic. They both shun attention.
Because both the Dodge and Murray were up for a John L. Goddard trophy award – one couldn't have done it without the other. It's given to members of the national Vintage Car Club for standout achievement, with criteria like a remarkable vehicle restoration.
Murray's done that. "I worked all night for sawmiller Sandy Caulfield over in Rotorua once and he gave me a bit of a wreck as a bonus."
That bit of a wreck was a '55 Dodge which eventually became the Tom's family car for a time.
The Goddard can also be awarded for special service to the club. Murray's given the thick end of three decades to the club. That's special. So Murray Toms of Maungatapu, a humble and reluctant recipient of the John L. Goddard, ticks most, if not all, those criteria boxes.
But it was that South Island odyssey, "a memorable motoring journey", that was the clincher. No accompanying mechanic or back-up vehicle and trailer says the citation. Just two octogenarians in a 102-year-old car against the vicissitudes of South Island roads and weather.
"A 1917 Dodge without windows and the hood hardly ever up," says Murray's partner Joy. "Murray insists rain never harmed anyone."
And, according to Joy, they went places "you wouldn't send a goat" – like up mountains. They also went trawling through museums, about ten all told. "All of them car museums, of course." They did the Forgotten Highway through rural Taranaki, before even getting to the South Island.
There, they visited enough places to add another couple of verses to John Hore's immortal and infernal byway ballad, "I've been everywhere." Takaka, Golden Bay, Oxford, Lewis Pass, Franz Josef, Riverton, Invercargill, the Catlins, Nevis, Maniototo, Waikouaiti, Ashburton, the challenging roads, the rugged hinterlands. "Wonderful places," says Joy, "Wonderful."
And Murray has got it wrong apparently. Despite his humility – "there are many others much more deserving" - Joy says he has thoroughly earned the John L. Goddard award - a small but weighty trophy in the shape of a Bugatti radiator. "It's not about having a car and belonging to a club, it's about achieving."
And Murray's been quietly achieving, and acquiring, over time – nine vintage cars and a couple of 'moderns'. So when he moved to Tauranga, it was a case of the new house choosing him. A pre-requisite was the capacity to garage his mayhem of nine vintage cars and two 'moderns'. He found a place in Maungatapu with seven garages which, just incidentally, came with five bedrooms. Needed the garages, didn't need the bedrooms. "Perfect. How it should be."
He understands any perception of him being obsessive. Then, as if to enforce that perception, he tells how he and a mate - "and our wives" - went to Detroit, spent three weeks taking apart an old black 1917 Dodge and putting it back together. The night before they set out on the road trip to the west coast, Jay Leno, Fox News, Chrysler Corporation and the Dodge truck division all turned out to wish them well. Or was it to maximize the publicity opportunity around some wacko Kiwis driving a 1917 vintage car across the USA.
"They all wanted to be part of it," says Murray. "And Jay Leno? Nice guy, loves his cars and you wouldn't think of him as anything other than a mechanic. No airs and graces."
While on publicity, Murray seizes the moment. Don't forget a pitch for the Bay of Plenty Vintage Car Club car show and swap meet at the club's Cliff Road headquarters on Sunday, November 3, between 7am and 2pm.
Murray will pop along with a trailer of "stuff", bits and pieces. "I will wander around and unfortunately I will come home with more than I took. I must stop that."
He reckons his last buy, a $30,000 1940 Cadillac LaSalle with the bench seats and a speedo that tops out at 100 miles per hour, probably owes him $50,000 or $60,000. But if he sold up, then the cars, his passion, his obsession, wouldn't have cost him… well, not too much at all. But it's all relative.
It's kind of nice being around a man comfortable with his obsession. Enjoy your John L. Goddard, Murray.
More on SunLive...