Heavy rain watch issued for BOP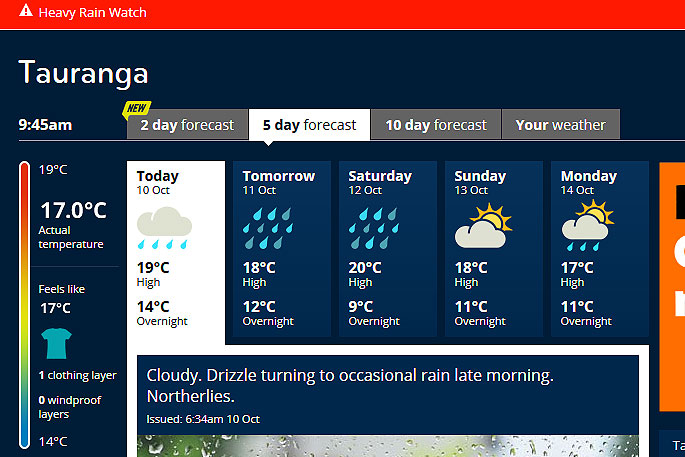 A heavy rain watch has been issued for the Bay of Plenty.
"A slow moving low over the Tasman Sea directs a moist northerly flow across the South Island, delivering heavy rain to Westland and the Southern Alps," says the MetsService.
"A rainband over the lower South Island associated with the low also delivers periods of rain to Otago and Southland, which may become heavy about coastal Otago and eastern Southland for a time.
"Meanwhile, a front moves over the North Island during tomorrow bringing widespread rain with the heaviest falls likely about Bay of Plenty and Gisborne ranges."
A heavy rain warning remains in force for Westland and the Canterbury headwaters, where a further 30 to 50mm of rain may accumulate about the Westland ranges on top of what has already fallen.
"A heavy rain watch is in force for coastal Otago and eastern Southland, and is also now in force for Bay of Plenty and Gisborne ranges.
"People are advised to keep up to date with the latest forecasts in case any upgrades are made, or further areas are added."
Heavy Rain Watch
Area: Bay of Plenty, especially about the eastern ranges, and the ranges of Gisborne.
Valid: 18 hours from 7am Friday to 1am Saturday
Forecast: Periods of heavy rain are expected during this time, and rainfall amounts may approach warning criteria.
Area: Coastal areas of Otago and Southland from Moeraki Point to Slope Point
Valid: 19 hours from 4pm Thursday to 11am Friday
Forecast: Rain is expected to be heavy at times from late this afternoon to midday Friday and accumulations may exceed warning criteria of 40mm falling in 12 hours during this time.
More on SunLive...