Papamoa man in NZ National Geographic finals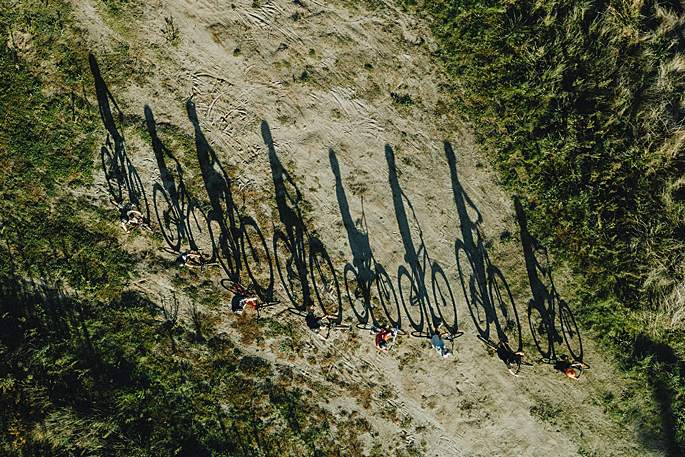 Justin Aitken of Papamoa has captured a magic moment that's now made it into the finals of the NZ National Geographic Photographer of the Year competition.
The father of three describes himself as a 'photo maker and photography teacher, with a huge passion for music and guitars'. He also loves to see his children get out in the fresh air on their bikes.
Justin's property is near the back of a new stage in a subdivision in Papamoa, and for a while this became the local kids' bike adventure wonderland.
"The developers are working on a new stage of sections," says Justin. "It's all gated up now, but for a while a lot of kids would come over each day after school with shovels and spades to make ramps for their bikes.
"Nowadays kids are on iPads and indoors a lot, so it's great to see them getting out on their bikes and having fun outdoors.
One afternoon, with the sun low in the sky, Justin was outside flying his drone.
"I was getting some still photos of my own house as we'd just finished building our fence, so I wanted to take an aerial photo of it.
"The sun was quite low which made the shadows elongated. A few kids were on their bikes and I took a photo of them as they went along their bike track and lined up for their ramps."
It was a couple of months later that he saw a sponsored post advertised on Facebook about the NZ Geographic photography competition.
"I realised there was only 15 minutes left to enter the competition. I thought about what photos I had, and quickly entered this photo in the last few minutes."
NZ National Geographic loved the image, selecting it as one of the 51 finalists for their photographer of the year, of which the categories include aerial, wildlife, photo story, society and landscape.
The photo caption reads: "Close to Justin Aitken's Papamoa home, local kids have been building ramps and an adventure park area, with Aitken's help. 'It's been a huge hit,' he says. Photographing from his drone on a bright autumn day, he made the most of the harsh sunlight by focusing on the kids' shadows."
Images of Christchurch's terror attacks, Ihumatao and stunning scenery are features of the 2019 New Zealand Geographic Photographer of the Year awards.
Publisher James Frankham said it was always difficult narrowing down the field from about 3500 entries.
Stronger use of colour and contrast stood out in this year's entries, he said.
"The images are more powerful, than just pretty," says James.
"I didn't know how it would go as there are some great entries," says Justin. "I've entered quite a few photography competitions before but this is the first time I've entered the NZ National Geographic one."
The winner will be announced on October 24.
The finalists can be viewed at https://www.nzgeo.com/photography/finalists
More on SunLive...