Humpback whales unusual sight in Tauranga Harbour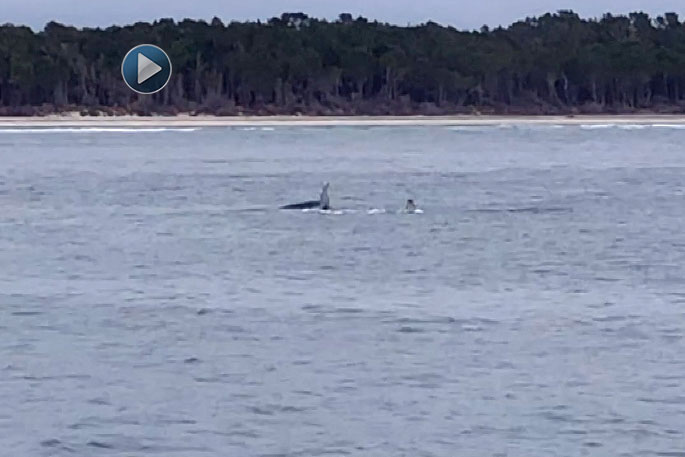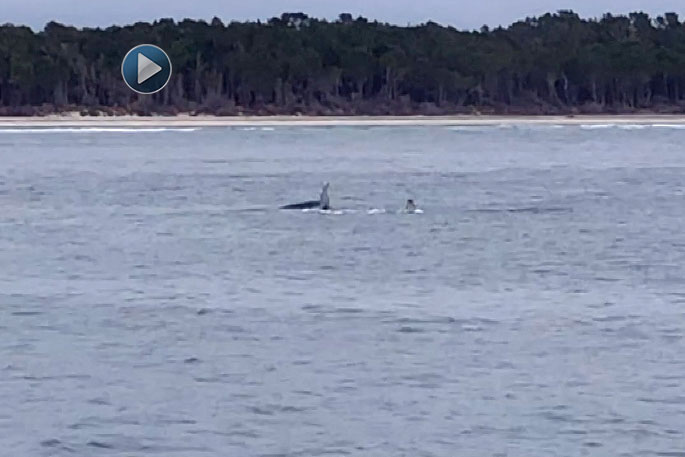 Click the image above to watch the video
Locals were delighted by a Humpback whale and her calf splashing in the Tauranga Harbour.
The pair were spotted Monday morning coming through the harbour entrance towards Pilot Bay.
People lined the Mauao base track to watch the spectacle.
Department of Conservation Ranger Karl McCarthy says yesterday was a very exciting day for Tauranga whale enthusiasts having both Orca and Humpback whales in the Tauranga Harbour.
"While it's common for Orca to come through the harbour it is far less common that Humpback whales do so.
"Humpback whales are currently migrating south to their summer feeding grounds in Antarctica."
He says New Zealand stopped commercial whaling of humpbacks in 1964 and annual surveys since 2004 indicate their numbers are slowly recovering in New Zealand waters.
"Hopefully we will see their numbers continue to recover and get more sightings like this."
The DOC website says if you're on the water in a vessel carefully approach whales from the side and slightly to the rear, keeping a distance of at least 50 m at all times.
It says to operate your boat slowly and quietly at 'no wake' speed within 300 metres of the animal and don't approach a whale if three or more boats are already within 300 metres of it.
Don't obstruct the whale's path, cut through a group or separate mothers from calves, and don't enter the water as swimming with whales is not permitted, the website says.
It's an offence under the Marine Mammals Protection Act 1978 to disturb, harass, harm, injure or kill a whale.
Anyone charged under the MMPA with harassing, disturbing, injuring or killing a whale faces a maximum penalty of two years' imprisonment or a fine to a maximum of $250,000.
People can report whale sightings to DOC on 0800 DOC HOT or through the website.
More on SunLive...