That's a bit of a waste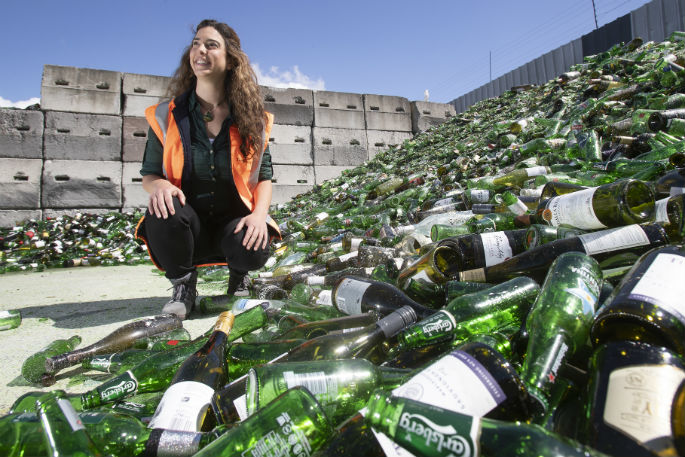 The first step in fixing a problem is admitting you have one.
And a council staff member reckons Tauranga has a bit of a waste problem.
Amy is the waste behaviour change team leader at the Tauranga City Council, and she says we need to get better at getting rid of our trash.
"A bit of work needs to be done until we hit zero per cent waste to the landfill."
More than 66 per cent of kerbside waste Tauranga sends to landfill has the potential to be recycled or composted, according to a waste audit completed in May/June last year.
The biggest culprit was organic waste, with 48.5 per cent of the rubbish being compostable.
Amy says contrary to popular belief, organic waste doesn't break down when it is sent to the landfill.
"People often assume food and green waste breaks down like a natural ecosystem, but actually, there are no ecosystem services in a landfill.
"Food scraps in landfills do not decompose the same as it would in a natural environment.
"In the landfill, organic waste creates methane and leachate which is bad for the environment," she says.
Tauranga City Council is looking to roll out a rates-funded kerbside food scraps, recycling and rubbish service in 2021.
They are encouraging residents to compost and worm farm organic waste in the meantime.
The audit estimates 17.8 per cent of the rubbish Tauranga sends to the landfill has the potential to be recycled, according to the audit.
Amy emphasises the importance of getting away from the 'out of sight, out of mind' thinking when it comes to waste disposal.
"When you purchase something and throw it away, it sits in the landfill for hundreds of years. It's about looking past convenience and adopting good habits.
"Some people think maybe throwing it down the InSinkerator is a good option when that's also not the best outcome we want to promote.
"We want to reduce, reuse, and recycle as best as we can because it ensures a better environment for us and the next generation."
She reiterates the importance of exercising good recycling habits - rinsing out containers and taking the lids off.
"It helps down the line with staff having to manually sort it and prevents the machinery from getting jammed. It also reduces the chance of contamination and becoming unrecyclable.
"Things are more likely to get recycled if they are an intact and clean product."
Amy is keen to see increased education and awareness within the Tauranga community around waste disposal.
She thinks people need to be aware of their purchasing habits and do what they can as an individual to make a long-term impact.
"Consider what you are purchasing – you have the power to make those decisions. Are you buying a recyclable product?"
Tauranga City Council is running a worm farming workshop in Papamoa on Saturday, November 30.
For more information, visit: www.eventfinda.co.nz/2019/tauranga-city-council-worm-farming-workshop/tauranga
More on SunLive...