National weekend forecast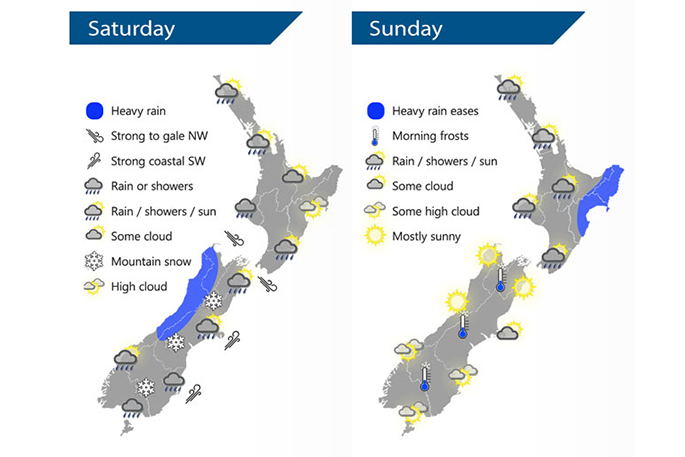 WeatherWatch weather analyst Aaron Wilkinson reports that a cold front is pushing northwards over New Zealand today.
Northwesterlies are ahead of the front with a changing colder southwest coming in behind. A ridge of high pressure pushes on to the country on Sunday bringing clearing conditions.
For Northland, Auckland, Waikato and the Bay Of Plenty, there will be areas of cloud and occasional sun, with maybe an isolated shower or two also about these regions. A period of rain is expected overnight as northwesterlies change to southwesterlies. Highs of 16-19 degrees can be expected today.
There will be cloudy areas and the odd shower for the western North Island on Saturday, with rain moving into the lower western North Island from the afternoon then further north later in the evening.
It will be mostly sunny in the east, with rain moving into Wellington and the Wairarapa in the afternoon then further north in the evening. Heavy rain for the West Coast of the South Island will clear in the afternoon.
Early rain will ease to showers about the Southland and Otago regions and a few snow flurries may make it down to 200m before clearing in the evening. Morning rain will develop for Canterbury, easing to showers by midday then clearing at night, with some snow down to 300m before clearing. Nelson and Marlborough is forecast to have a period of afternoon rain, clearing in the evening.
Showers for most of the North Island clear on Sunday morning, with a few lingering about Northland into the afternoon. Heavy rain in the morning for the east coast will ease then clear. The South Island has mainly settled weather, with some morning cloud about the Banks Peninsula gradually clearing away. Some high cloud will develop about the lower half of the Island from the afternoon.
Saturday national forecast:
Western North Island (including Central North Island)
Mostly cloudy with the odd shower, rain moves in late afternoon. Northwesterlies change southeast in the evening then rain clears overnight.
Highs: 14-18
Eastern North Island
Mostly sunny with some developing high cloud, rain moves into Wairarapa in the afternoon then Hawkes Bay / Gisborne in the evening as northwesterlies change southwest.
Highs: 18-23
Wellington
Dry then afternoon rain as strong northwesterly winds change cooler southerly, rain clears late evening.
High: 14
Marlborough & Nelson
A dry morning with high cloud, rain develops around midday as north to northwesterly winds change gusty southerly. Rain clears evening.
Highs: 16-19
Canterbury
Morning rain, easing to showers in the afternoon then clearing evening. Snow lowers to 300m before clearing. Fresh southwesterly winds.
Highs: 9-13
West Coast
Morning rain with heavy falls then clearing in the afternoon as northwesterlies change southwest, sun breaks through once rain clears.
Highs: 12-14
Southland & Otago
Early rain eases to the odd shower, becoming less frequent during the day and clearing evening. Sun breaks through at times from afternoon. A few snow flurries to 300 or possibly even 200m. Cold southwesterlies die out overnight.
Highs: 9-10
More on SunLive...