Mother nature's masterpiece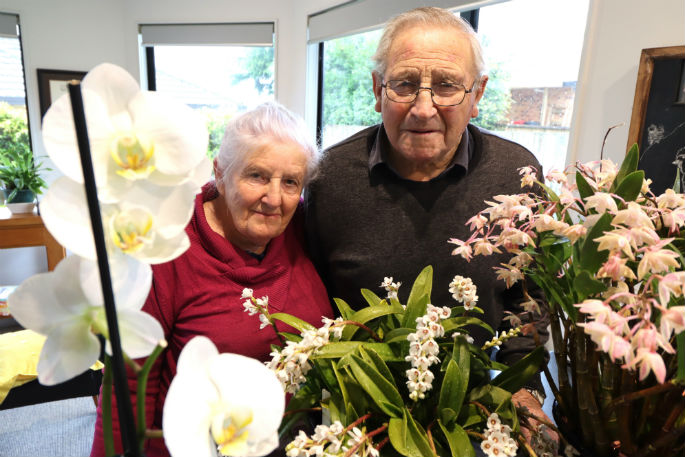 "Flowers bring life into your garden… and life into your whole being."
Some profound and deeply affected thoughts from Dale Targett.
She is pondering and gazing from her lounge window where a stubborn winter is bucketing down and an equally insistent spring is transforming her garden pots into vibrant displays of colour. Electric orange tulips, red and white tulips and orchids, a myriad of orchids.
"I love any sort of flowers. They are soul feeders," says the Hairini woman.
But today we especially love orchids because it's the Tauranga Orchid Show at Tauranga Racecourse from Friday, October 11 through to Sunday October 13 – a massed display of flowering plants, plants and posies for sale, demonstrations and growing advice.
Zeus will be there – Dale and Jack Targett's Australian native Dendrobium orchid, aka Zeus, the ancient Greek god of sky, lightning and thunder. Throw in the torrential rain and Zeus it could have been named for Tauranga's weather as well. Zeus is in full bloom and has just made a trip to the National Orchid Expo in Palmerston North. Didn't raise a mention down there, but it did get first prize at the Tauranga show last year.
There are more than 1000 types of Dendrobium orchids and hybrids. In fact there are more than 25,000 documented species of orchids which means there are four times as many orchids as birds and mammals on the planet.
The Targetts owned a commercial flower growing business in Pyes Pa. But it wasn't until a Barry Curtis, president of the orchid club at the time, wandered up with a sarchochilus, a butterfly or fairy bell orchid, that Jack and Dale got interested. An interest soon became a hobby and then a passion.
"They're just a little bit fancy and different," says Jack. "We were always finding hard to grow plants or something different. They're all so beautiful and delicate. Just one of nature's beautiful things." His orchids are a constant joy. "I walk around our plants two or three times a day – pull out a weed here or there, or shift them or something."
New for the orchid show this year will be demonstrations of kokedama. Originating from Japan, kokedama involves a mossy ball being formed around the roots of an orchid, effectively creating a living pot. It can then be suspended to grow.
There will be a special "taster membership" on offer at the show – join for $12 until April 2020 when normal membership falls due. There will also be a display by the Bay of Plenty Bromeliad Group.
Some more interesting orchid facts – some orchids bloom for just hours, others six months. They can live to 100 years, and despite being considered a tropical flower, they grow on every continent except Antarctica. And they've become one of the most popular houseplants of all time.
The Tauranga Orchid Show is on at Tauranga Racecourse from Friday, October 11, to Sunday, October 13, between 10am and 4pm daily. There's a $3 entry fee.
More on SunLive...