Tauranga physio saves lifeguard's career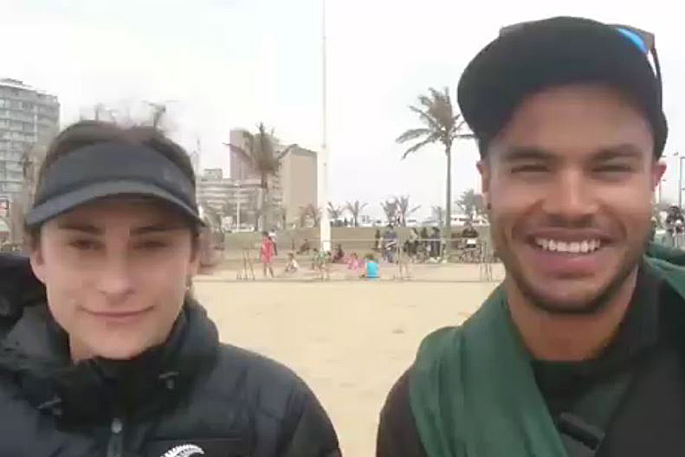 It was case of right place right time for Kendall Stevenson who rushed to the aid of South Africa lifesaving star Ryle De Morny when he dislocated his shoulder.
The Tauranga physio is with the New Zealand Black Fins at the International Surf Rescue Challenge in Durban, South Africa.
Kendal was filming the Open Flags events for New Zealand, when De Morny dived for the flag with an American athlete and fell heavily on his shoulder, dislocating it.
Medics rushed to his aid, but Kendall, recognised the severity of the injury and calmly stepped in to take control of the situation and quickly relocated his shoulder.
"I was sitting down and my arm was completely stuck, almost fused in position there was a lot of chaos going on around me.
"This complete godsend of an angel came walking out of the crowd with this aura about her and just took charge," De Morny told international media.
"It was absolutely amazing, I can't be grateful enough," he says.
"I also physio for the New Zealand Sevens development side so I put a few shoulders back in each year," says Kendall. "I was just in the right place at the right time."
Kendall is the lead physiotherapist for the New Zealand Black Fins and Black Ferns sevens development team.
De Morny says the doctors who had treated his shoulder shortly afterwards said the speedy and professional intervention of Kendall had significantly reduced the potential injury and its recovery time.
"Those two minutes it took to set it back in was a potential career-saving move for me," he says.
"There was a real risk of nerve damage and damage to the labrum so if it had not been set back in place it could have been a severe emergency, so I can't be grateful enough."
"And a New Zealander helping an SA lad out. You don't hear that all that often," he laughs.
Kendall has competed for the Mount Maunganui Lifeguard Service and treated their athletes as well.
Late last year she set up Bespoke Physiotherapy and Health in Te Puna, a collective of health services including physiotherapy, Pilates, massage and nutrition.
Additional reporting: Dave Macleod/Gameplan Media.
More on SunLive...