Popping the top on Kiwi culture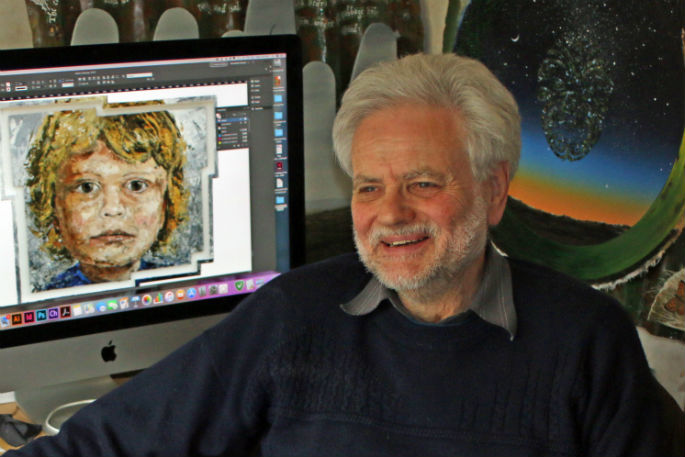 He's the man behind the Southern Man, tricked Brit's into soaking their morning newspaper to get the Guinness out and a career highlight is a dancing lemon.
Art is sometimes a simple matter of creating something that didn't exist before – an idea. That's where the ad man comes in.
Robin Purllant is a friendly, unassuming chap, with an English accent he brought with him to New Zealand a few decades ago. You'll see him down at the Tauranga Society of Artists Art Expo next week where he has three intriguing works of art to share. Things he does for love these days, not money.
It comes on the back of a career as an art director for some of the biggest advertising agencies and brands in the business.
His favourite campaign, or creation, was the Lemsip lemon – the little laughing, jumping, talking, running lemon.
"I did that," he says with a big grin.
He was also a key player in the marketing success of Kiwi beer brand Steinlager and was the creative mind responsible for the Speights Southern Man campaign.
Prior to that he worked for advertising giant JWT in London. His key clients included mega brands Kelloggs and Guinness. Big companies with multi-million pound advertising budgets in the UK.
"When I first came to New Zealand it was Lion Black, Lion Green, Lion Brown. It was by the colour.
"I said to the guys at the brewery: 'look, anywhere in the world a brand would have a name, it would have a unique name', so we originated Steinlager.
"I said: 'we have got this wonderful brewery down south called Speights'. It's got everything that a brand needs so they decided to resurrect it and give it some legs."
He later toured North America to further push the Steinlager brand in that market, travelling to places where it was already sold, including a memorable trip to Alaska.
"We got out of the plane at Anchorage airport, tired after a long flight. Driving along, the cab driver said: 'what are you guys doing over here?'." They told him.
"He pulled the cap to a halt, bent down and pulled out a six pack of Steinlager and he said: 'I drink the damned stuff'. So I booked him for 10 days and he took us to some amazing places."
Early in his career, back in the UK, he recalls one national newspaper campaign that he timed to coincide with April Fools' Day.
"The page was covered in big, black dots and it said: 'soak overnight for instant Guinness'.
"I got a letter from this guy in prison who said: 'I've had this newspaper in soak all night and all I've got is a soggy mess. Where's the Guinness?'"
He also understands the old photographer's adage 'don't work with animals or children'.
"I did a Johnsons nappy ad in Sydney and we had this lovely set that the designer built. As soon as we put the baby on, it rampaged around the set and virtually destroyed it."
And then there was the Snowtex ad.
'It was a huge Snowtex campaign I shot down in Wellington. We had white doves on that. Of course as soon as we got them down on the set they all flew off into the rafters. Keep away from kids and animals."
Now that he is retired, he has time to indulge his passion for fine art that started when he was just a child. At the age of 11 he was receiving private drawing lessons and when he left school he attended the prestigious Hornsey Art College in North London, where he studied drawing, graphics and art history for four years.
One of his recent works depicts a moko under the stars. It stems from when he was in hospital, stitched up and recovering from open heart surgery a few years ago. "I was surrounded by Maoris.
"This kaumatua, he was wonderful, he totally changed my image and impressions of Maoridom.
"He was such a funny guy. He was lying there telling me all these amazing stories and making me laugh and I was saying: 'shut up, it's hurting'. He was wonderful."
So he told this man's story of a life under the stars in rural New Zealand, in the form of a painting.
Another picture, awash with colour and constructed from aluminium cans, stems from a brief encounter with a bag lady, when Robin was living and working in London and eating his sandwiches every lunchtime in Berkeley Square.
"One summer she turned up pushing this little pram and it was loaded with bits of ribbon and colour and goodness knows what. Just recently found my original sketches. Goodness knows who she was. She was a real character. That took me five weeks."
He says the world of advertising is a very high-pressure environment and his love of art took a back seat to his career for a long time.
"I don't paint to make money – my whole life has been around commercial design and money. I do it for the love of it now. I do sell and if I do sell it's a bonus really."
He has won plenty of awards for his ad campaigns and his art. He also conducts drawing lessons for the Tauranga Society of Artists and privately too.
The Tauranga Society of Artists' October art exhibition is at the Tauranga Boys College Gymnasium from October 10-13.
More on SunLive...