Living and breathing bonsai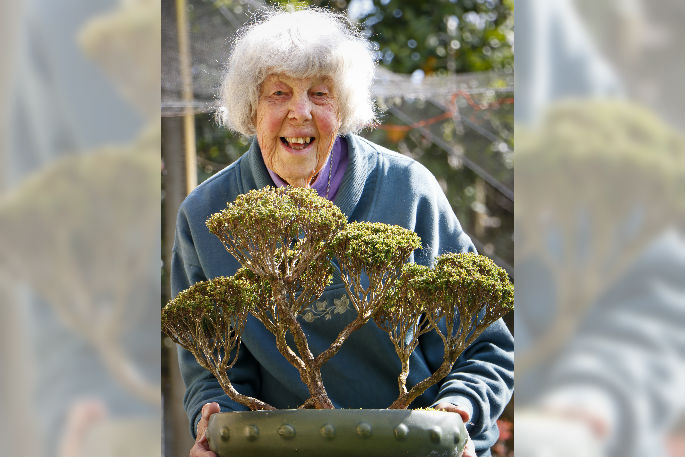 Shirley Faull's eyes sparkle as she talks about her love for growing bonsai trees.
The lively 92-year-old Te Puke woman has invested in the practice for the past 50 years and is one of the founding members of the Bay of Plenty Bonsai Society.
Shirley, who is also a former rally car driver, says taking care of the small trees and driving fast are two of her greatest pleasures.
"Every day I come out in the garden to work on my trees and before long I just feel happy. Like when I am driving my car - just give me a fast car and a clear road."
Her garden is filled with different breeds of bonsai. Each tree protected by black garden netting to keep "pesky pecking blackbirds" away.
Next week she will be displaying some of her most treasured trees at the National Bonsai Convention in Hamilton.
When asked what her favourite bonsai is, Shirley, says there is absolutely no way she could pick only one.
"I love them all, they are like one's children."
Her oak bonsai tree is particularly special to her as it was grown from a seedling of an oak tree in her mother's garden in Hamilton.
"There's genealogy," she laughs.
Shirley's love for bonsai has taken her across the world to various overseas conventions.
"I have been to Bali, Hongkong, Singapore, Honululu, Australia and Toronto."
She says people who share a passion for bonsai can communicate, even if they don't speak the same language.
"Because you are both interested in the same thing you can actually communicate. It's just so good being able to meet people from other nations with a long history of Bonsai."
But how do you take care of a bonsai tree? Shirley puts it simply.
"It does not belong on top of your television set, they are not indoor plants. It needs nutrients from the outside world," she says sternly.
"Watering in summer is absolutely necessary."
She advises bonsai beginners to read books and search the internet.
"There are computer sites and you can learn a lot from them. But I haven't got one of those – I haven't got the time."
Bay of Plenty Bonsai Society will be taking more than 30 trees to the national convention at Hamilton Gardens next weekend.
Society president John Vercoe is keen to see the younger generation come along and get amongst the bonsai movement in Tauranga.
"The trees have infinite life, one person can start it, but as Shirley would know you want that to continue. We want people coming forward that have the skills to keep the trees going."
Shirley is holding out hope the society will continue to thrive.
"I hope the club will go from strength to strength. We have had a lot of new members come lately. I can't go on forever but I hope a lot of them will."
John tackles a common bonsai misconception, reiterating the trees are not little bushes.
"Quite often people think they are little bushes. But if we took Shirley's oak tree and put it in the ground and left it for 200 years it would be full size."
He says bonsai trees will grow forever as long as it has the right nutrients and light.
"Plants want to live, it must tell a story of its life," Shirley adds.
The Nation Bonsai Convention is being held at the Hamilton Gardens running from October 12-13.
"A show of this size won't be in this region for the next 10 years," John says.
More on SunLive...