Tauranga Boxers face emotional ride at nationals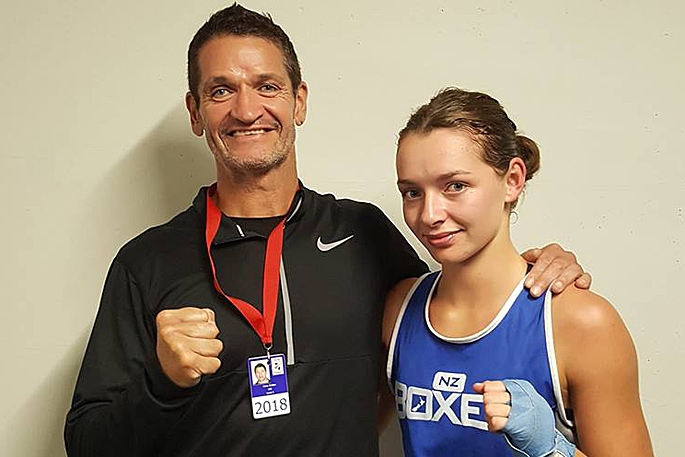 Tauranga Boxing Club boxers and head coach Chris Walker will experience a full spectrum of emotions at the Boxing New Zealand National Championships in Hastings this week.
Boxing under the banner of the Bay of Plenty Boxing Association, the four Western Bay pugilists are certain to ride a rollercoaster of highs and lows at the Boxing New Zealand pinnacle.
There will be plenty of attention shining on Tauranga women's welterweight Ariane Nicholson, who has posted a ten fight winning streak in the current season. Arianne's unbeaten run has seen international success, with a Gold Medal at the Arafua Games in Darwin and a Trans-Tasman Super Eight title in Adelaide.
A second successive North Island Golden Gloves title, was accompanied by an Auckland Provincial crown where Nicholson defeated the current New Zealand light welterweight national champion.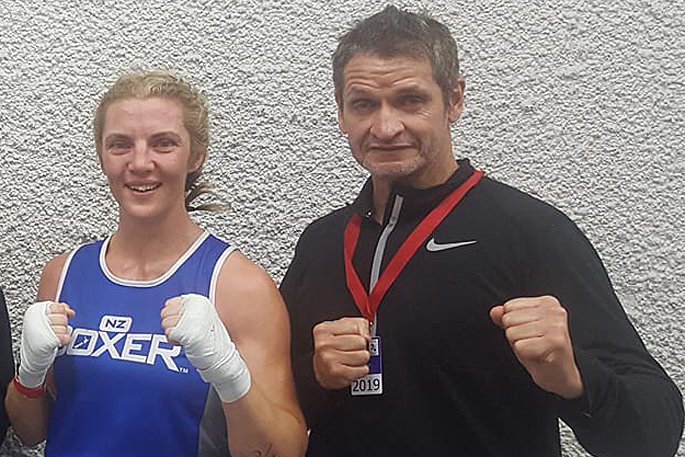 Ariane Nicholson and Chris Walker. Supplied photo.
The elite male and female boxers at the Hasting nationals, will have a huge incentive to perform, with potential spaces in the Asia/Oceania Olympic qualifying tournament held in China in February up for grabs.
Local women's lightweight Michelle Nuku has also produced the goods in the 2019 boxing season. An Auckland title and an Arafura Games bronze medal, testify to Michele's improved performance, since joining the club at the start of the year.
Hannah Walker, will be aiming for her third successive New Zealand national age-group title, when she enters the ring in the female youth 60kg division. The three-time North Island Golden Gloves champion, is one of the rising stars on the New Zealand amateur boxing stage and will attract plenty of attention in Hastings. Walker is likely to meet Central North Island's Leonie Rosin, who has international kick boxing experience.
Tauranga Boxing Club new season recruit Bryce Raynes, faces a hard road to success in the men's welterweight ranks, which includes former Jameson Belt winner Harrison Scaife. Bryce has continued to step up his performances since joining the Western Bay gym and will greatly benefit from his second Nationals experience.
More on SunLive...