Underwater beauty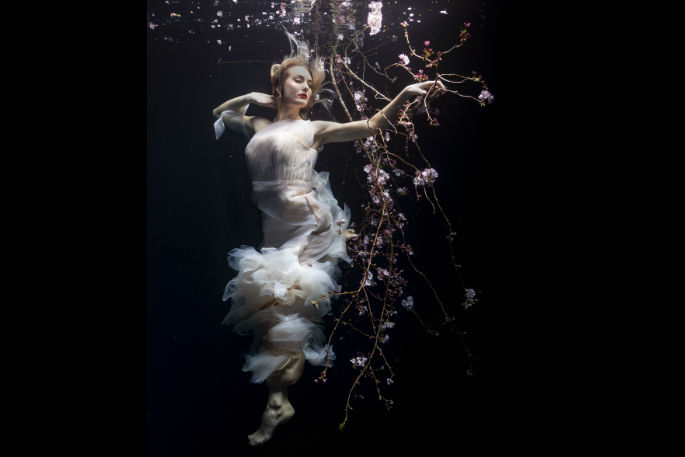 His photos are beautiful, ethereal and captivating – and he started by shooting marine life and the Rena wreck.
And now Bay of Plenty photographer Dale Hobson is passionate about taking other-worldly photos of models underwater.
He says it is the type of photography that people stop and stare at.
"I've been doing scuba diving since 1984 so it was kind of a natural progression from that.
"Going into marine environments you sort of see how that gets degraded over time, so I really wanted to capture that marine environment.
"I've been doing that in the Bay of Plenty for the past six-odd years, trying to get as much footage as I could of different areas, including things like the Rena wreck.
"Then I got a period where there was just such bad weather that I never had an opportunity to get out, so I thought it would be cool to jump in the pool and do something with the photography."
He roped in a marine studies student, went to a pool and the rest, as they say, is history.
"The first time I did it I got hooked and thought 'wow this is cool, I love doing this'."
But it's not just stunning underwater photos that Dale does. He's also running a charity project on the side, called Beauty Below the Surface.
He started out buying dresses and clothing from local op shops for his shoots and decided to try and make something more meaningful from them.
"When I started, I would go to local charity op shops because I didn't want to buy brand new clothes and that got me thinking: 'this has got a bit of value as far as those charity op shops'.
"Now, when I do the photo shoots, I have a side project called 'Beauty Below the Surface' where I take photographs of the op shop clothing with the end goal of doing a charity photo exhibition where I can present those images and showcase what those clothes look like.
"They are literally throw-away items, but they can be showcased in an ethereal way under the water and showcase what the charity op shops do and what is available.
"At the end of that, I'll give some of these charity op shops some of these photos so they can have them framed and can showcase [the range of possibilities] of the actual clothes that they sell."
It's a win-win-win for everyone, says Dale.
"The models generally come along and do photos that they can put in their portfolio. I have some photos that I can put in this charity project and then hopefully I get some photos that I can use for gallery prints, so it's a win-win situation for everyone involved."
But underwater photography isn't a cheap gig – not when you've got as much specialised equipment as Dale.
"I've probably got $20,000 in specialised underwater gear," he says.
He has got his normal digital SLR and various lenses. On top of that, he has specialised equipment to allow the gear to be used underwater.
"Then there's different internal zoom gear to fit whatever lens that you're using, so I've got like $20,000 in specialised underwater gear.
"Then you've got specialised underwater strobes, custom-made connections which means when I fire the flash off it'll connect with the underwater strobes and the topside strobes.
"Then most pools have a tile background, I have a specific backdrop that I put behind the models so I don't get that horrible distracting lined reflection."
For safety reasons, Dale can't shoot at your local public pool – there are cords and cables connected to expensive equipment that people could trip over, as well as privacy and confidence for the models to think about.
Thankfully, Dale has a deal with a local dive shop, meaning he can run his shoots in relative safety and privacy.
"With the local dive shop it's a completely covered pool and it's semi-heated – it's not super warm but it's a challenge to get the model to a point where they're relaxed enough, not doing what I call the 'chipmunk face' and coming up with poses that are natural, within the time frame of before their energy gets sapped.
"Generally, models in a pool - even if they're quite fit, water-confident models - after an hour and a half they've had it, it's quite tiring, hard work."
As well as being a tiring shoot, Dale says the models he works with have to have some level of water confidence.
"The biggest thing is just to be water confident. I have done callouts for models in the past and then I've had models turn up and they couldn't even put their head under the water because they'd had some sort of trauma in the past.
"That is the bare minimum requirement; you do need to be semi water confident."
And yes, Dale does do private shoots if you are interested.
"What you could expect at a paid, private shoot is a relaxed environment because I want to make them as relaxed as possible because that's when the magic is going to happen.
"It's a really relaxed, stress-free environment where I will just work with them on a one-on-one basis for about half an hour, then I'll find that the photos come naturally after that point where they become relaxed in the water.
"Over a period of about an hour and a half you end up with about 250-300 photos which we can go through and select the best ones for me to edit to get a great end result."
So what are you waiting for? For more information, visit: www.littlefishunderwaterpictures.com
More on SunLive...