Paengaroa pulls together to create green oasis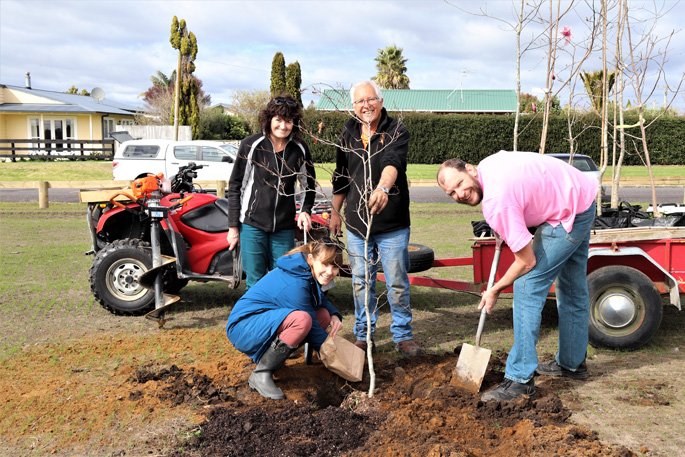 Paengaroa is still small enough to care – that's the measure of the community's amazing support for the creation of a reserve in the heart of their village.
Conway Reserve – a former horse paddock – is undergoing a major revamp and it's all being done by locals – with support from Western Bay of Plenty District Council's reserves team and in-house landscape architect Vanessa Davis.
The 1.2ha piece of Council-owned land was at one point tagged for residential subdivision but the community intervened and requested Council to reconsider its intention to sell the land.
The community had no recreational land on the housing side of State Highway 36 and locals worried about the dangers for children crossing the highway to access the Eastern Districts Domain.
Council agreed to support the Paengaroa Community Association's offer to take the land under its wing to develop it into a community recreational reserve.
Council's Reserves Projects Manager Scott Parker says the reserve is an example of how a community can take the initiative and create an asset for their community.
"Council is happy to help where it can with resources and advice – but it is very rewarding for the community to take ownership of the project."
Reserves Committee Coordinator Caroline Butler has been amazed at what the small community has achieved. She has been involved with the project since 2016 and has been instrumental in working closely with Council and the Association to get an agreed plan.
"Council has been very supportive – as have our locals. It truly shows that we in Paengaroa are still small enough to care."
The area is rapidly taking shape.
Reserves Committee member Chris Elmsly and Association Chairman Cliff McNaughton say the community has rallied with volunteer labour, time and materials.
Comvita, EastPack and a local company, C&S Contracting Ltd pledged $5000 towards the cost of posts and rails; PermaPine in Reporoa supplied the post and rails at a discount; local excavator operator Bob Hill-Rennie levelled the ground using a digger loaned by local Rod Snow; Japie Jordaan from JCL Contracting disked, rolled and seeded the reserve, and Council provided the trees, grass and fertiliser.
KiwiLand Developments Ltd transported the digger and BOP Fencing Ltd locals Jason Baldock and Dan Smith with some local help, spent two days' building the boundary fence. Donations came from local residents, including a fundraiser at the hall organised by Michelle Jamieson.
"It just gathered momentum," says Cliff. "The co-operation and enthusiasm of the local community snowballed once the commitment was made to take it up as a local project.
"This will be a real community space – at the moment Paengaroa has nothing apart from the school pool and school grounds. Council has been brilliant to work with – and has been totally behind this community initiative."
Future plans for the reserve (subject to community input and funding) could potentially include a barbeque area; toilets; a junior-size skate park; seating with shade; a playground and car parking availability along Hall Road.
More on SunLive...