White Island steam-driven activity increases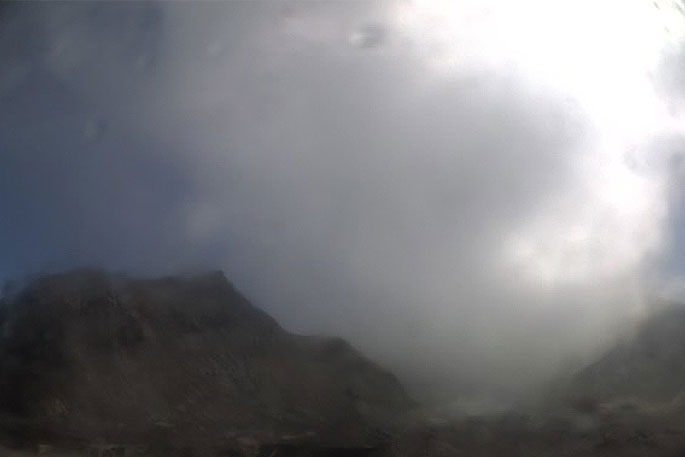 White Island is continuing to be monitored further signs of activity.
Small, muddy, geyser-like explosions were observed on Friday at Whakaari/White Island due to a rising crater lake drowning the active vents.
This geysering poses no risk to visitors, says GeoNet.
The Volcanic Alert Level remains at Level 1.
"Over the last three weeks, we have observed small-scale geyser-like explosions of mud and steam in the active vent area.
"These have reached a maximum height of about 10 metres. They do not pose any hazard to visitors to the island and are not a sign of increasing volcanic activity."
The crater lake level has been rising since early-August.
The rising lake level has impacted the surface activity around the active vents on the west side of the crater floor.
"Geysering-type activity has become established in the main active vent due to hot steam and gas passing through the now drowned active vent area.
"This geysering activity is not a sign of increasing volcanic activity. Normally the gas and steam would vent directly to the atmosphere, now it's through the water in the vents and is visible as the geyser-like activity."
Monitored parameters at Whakaari/White Island include earthquake activity, volcanic tremor, gas flux, acoustic signals and visual images from the web cameras.
These are complimented by regular soil gas surveys, sampling of springs and gas vents, ground deformation and magnetic surveys.
"Recent measurements made on the island and the continuous data show no change in the monitored parameters outside of the expected signals for minor volcanic unrest."
As such the Volcanic Alert Level remains at Level 1. There is no change in the Aviation Colour Code: Green.
GNS Science and the National Geohazards Monitoring Centre continues to closely monitor Whakaari/White Island for further signs of activity.
About White Island
Sitting 48 km offshore, Whakaari/White Island is New Zealand's most active cone volcano which has been built up by continuous volcanic activity over the past 150,000 years. About 70 percent of the volcano is under the sea, making this massive volcanic structure the largest in New Zealand.
A sulphur mining venture began on the island in 1885; this was stopped abruptly in 1914 when part of the crater wall collapsed, and a landslide destroyed the sulphur mine and miners' village; twelve lives were lost. The remains of buildings from another mining episode in the 1920's era are now a tourist attraction.
Although privately owned, Whakaari/White Island became a private scenic reserve in 1953, and daily tours allow more than 10,000 people to visit the volcano every year. GeoNet continuously remotely monitors volcanic activity with webcams, seismometers (earthquake activity) UV spectrometers (SO2 emission rate) and GNSS (ground deformation). We also frequently visit the island to collect additional gas and water samples, and collect other geophysical data and general observations.
More on SunLive...