Mount students notch up electric vehicle race wins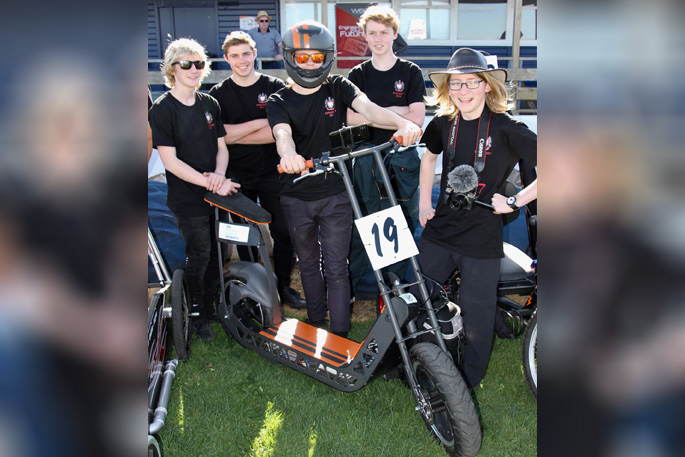 Mount Maunganui College pupils and their parents are celebrating 'well deserved' wins in an inter-school competition to design, build and compete in electric vehicles.
Evolocity involves school teams racing their vehicles – competing in various categories including performance events, innovation, design, and community awareness.
The school teams build a vehicle, a two wheeler or three-plus wheels, that is powered by a standard 350 watt electric motor and custom-built 24 volt batteries.
Mount Maunganui College digital technologies teacher Chris Murden says the school put up seven teams, 22 students plus parents and teachers, to compete in the combined Bay of Plenty regional event at Kartsport near Hamilton Airport on Saturday September 21.
The regional finals are a fun day where the school teams get to show off their designs and of course, test them in competition against their peers from other schools, he says.
"All of us, students, parents and teachers, are pretty thrilled with the results we achieved for our first year of competition.
"Year 10 students competing with a bike called Gigantor, Team 19, won two of the race's 350w divisions, the gymkhana and economy run – well deserved wins from the hard work involved in putting together innovative, sustainable electric vehicles.
"They were a very healthy two laps ahead of their nearest rivals."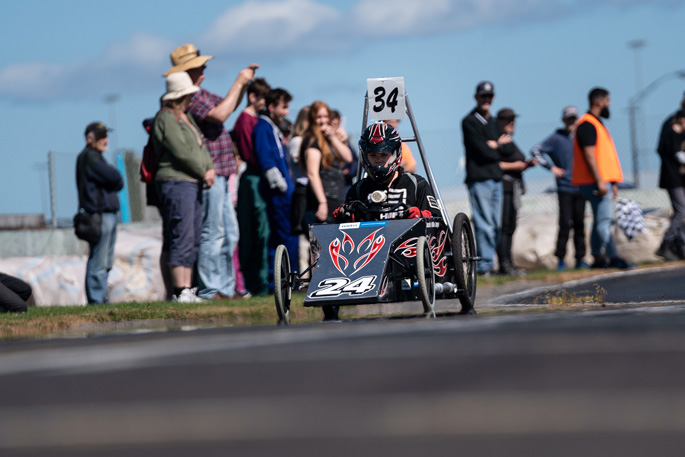 Team 34's car named Codel in action on the track. Image: Supplied/Mark Robotham.
Chris says year 11 students also fielded a very competitive team, Team 34, called Codel.
"The team raced what was a basically a scaled down e-car, leading for much of the one hour open division race before sadly a battery cut out and stopped them.
"The skills all 22 students learned putting together and racing their vehicles are excellent building block skills for the innovative and creative world we are fast heading into – where electric cars, cycles and other forms of transport are the way to go," says Chris.
"And the student's commitment and enthusiasm is plain to see – it's not often the challenge is getting students to leave a class, but that's what we saw with the seven amazing teams of students who competed on race day."
Evolocity encourages innovation as students try and make a fast vehicle with as little drag as possible that can cope with a tight street circuit, he says.
"The gymkhana event for example, mimics a courier run in a small town. As couriers switch to electric vehicles route efficiency becomes important to conserve battery energy as well as shorten delivery times."
Chris says the college is grateful to parents of all the students involved for throwing their wholehearted support behind the student's work.
"We are also extremely grateful to organisers of the event, Hillary Robotham and Les Black for their dedication to the young people."
Mount College is looking forward to taking part in the Evolocity nationals which will be held at Kartsports in Hamilton in November this year.
Mount Maunganui College Teams:
Year 10 students Team 19 – bike name Gigantor – winner of 350w gymkhana and economy run: Will Fraser, Benjamin Lindsay, Sam Peterson, Daniel Ronalds and Arlo Andrews.
Year 11 students - Team 34 – car name Codel: Jacob Capers, Jaye Mitchell, Ollie Odea.
Other teams: Tau-morrow, Space-challenger, Get Trollied, Old Reliable, Y9.
More on SunLive...