Kiwifruit bosses fly high for local youth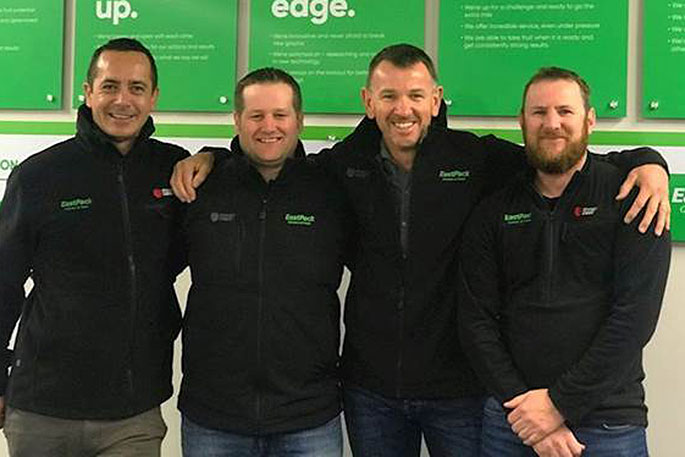 Being dropped from a plane at 10,000 feet will be all in a day's work for four of EastPack's bosses this Wednesday.
Phil Karl, Matt Bowker, Alan Davidson and Adrian Osterman are usually kept busy at the various sites of Bay of Plenty's largest post-harvest service kiwifruit provider, but this week the four will skydive to raise more than $3000 for the Graeme Dingle Foundation.
The foundation provides support for more than 3500 local youth through its Project K, Kiwi Can and Stars programmes.
It's the first year EastPack bosses have partnered with the Foundation, with the Drop Your Boss challenge set to remind these bosses of the many challenges young people face today.
EastPack General Manager Operations Phil Karl says it's been 30 years since his first and only skydiving experience.
"It was very eventful - eventually successful, but involved another jumper seriously hurting herself, a parachute failure and a close encounter with electrocution!"
Suffice to say, he's hoping this week's jump goes a lot smoother.
Phil says his family has personally benefited from the Project K programme, so participating was a no-brainer.
"The Graeme Dingle Foundation programmes provide a much-needed boost for many young people to develop self-confidence, self-worth and to expose them to people that give them some great role models."
For the other three bosses, who manage the Washer Rd, Quarry Rd and Collins Lane EastPack post-harvest sites, the jump is simply an opportunity to give back to a great local organisation.
Quarry Rd site manager Alan Davidson says he's taking part so that "kids get opportunities they might not otherwise get, to help give them a range of life skills, and to flourish and gain confidence that anything is possible".
The four EastPack bosses will be dropped from a plane by Tauranga Airport this coming Wednesday.
More on SunLive...