Wintry snap coming this week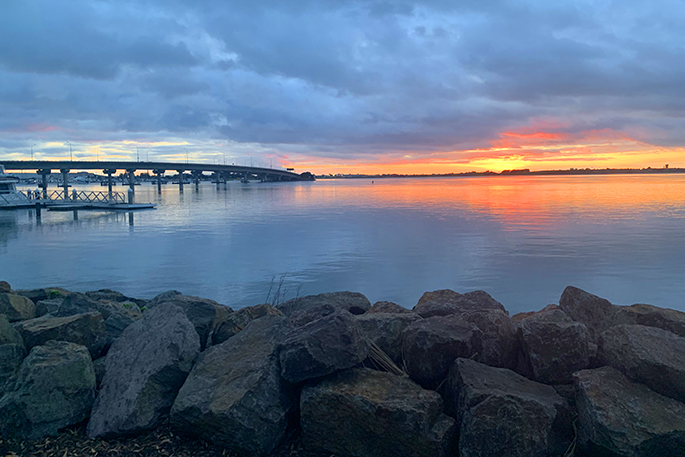 Despite above average temperatures this weekend, another wintry snap is coming this week.
WeatherWatch advise that as we head through Sunday even warmer weather will spread down over New Zealand with connections to the sub-tropics and Australia. This is a real contrast to the polar airflow we have had over Wednesday and Thursday in some areas.
Some places around the country will have highs in the early 20s today, although most of the Bay of Plenty will reach a high of about 18 near the coastal regions around Tauranga and Whakatane, 16 in Rotorua and 15 in Taupo.
For farmers who have been working tirelessly to protect newborn lambs there's some good news – the overnight lows are also warming up above normal in many South Island areas and no one should be below average this weekend day or night in the South Island. However a few pockets may be still below normal at night in the North Island.
Although these daytime highs will be 4 to 8 degrees above normal this weekend with some places climbing over 20 degrees, another wintry snap is coming.
In the South Island a cold change is coming on Monday, peaking Tuesday, and easing Wednesday with again the chance of some brief light low level snow flurries in the south. The focus isn't on precisely where the odd snow flurry goes but instead how cold it will be for newborn stock.
In particular Tuesday is expected to produce miserable conditions with sub-zero wind chills overnight for a time. Wednesday may linger cold too for a time.
The cold air this coming week is mostly in the lower half of the South Island and goes from Monday to Wednesday with single digit highs in some areas. Snow flurries are possible to 100 or 200m around northern Southland and perhaps some parts of Otago for a brief time but again whether there is a flurry or not is almost beside the point, it's the cold and dampness that is the real issue for newborn livestock.
The MetService report that a complex trough is forecast to move east across the country on Monday, followed by cold and disturbed southwesterlies. This trough will deliver periods of rain to western areas, and the heaviest rain is expected along the West Coast.
"A cold front, preceded by a strengthening westerly winds, is expected to move onto the South Island from the southwest late Tuesday and over New Zealand on Wednesday. It is followed by strong and cold southwesterlies," says a MetService spokesperson.
A ridge of high pressure is expected to spread over New Zealand from the Tasman Sea on Thursday, bringing more settled weather.
The Desert Road is also likely to see some snow on Tuesday and late Wednesday.

"The whole country should experience changeable and unsettled conditions during the first half of this week, so everyone should keep up to date with the latest forecasts on the MetService site," says MetService Meteorologist Stephen Glassey.

"It is not unusual to get weather like this during spring. Just last week we had a similar cold outbreak, and we will likely see some more cold outbreaks before spring is over."
Remember to keep an eye on www.RuralWeather.co.nz for the local windchill extremes.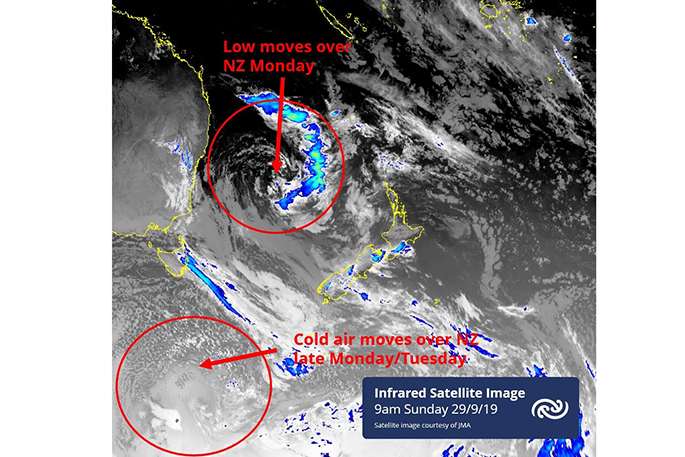 More on SunLive...