Jack Dangen keeps Olympic kayaking dreams alive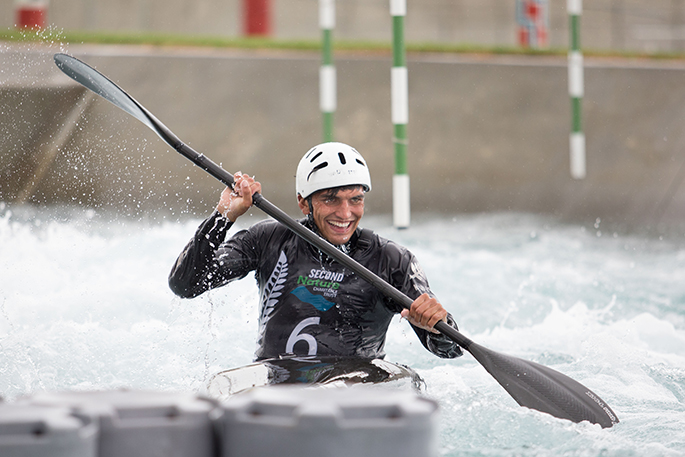 Tauranga kayaker Jack Dangen has pulled out the run of his life to keep dreams of a Kiwi K1 men's Olympic spot afloat at the canoe slalom world championships in Spain on Friday night.
The unheralded 21-year-old was the only New Zealand male to make it through to the semifinals, rocketing down the La Seu course in 91.95secs in his first run to qualify in 22nd spot.
He joined three-time Olympian Luuka Jones, who progressed in the women's C1 a day after also making the K1 semifinals, before going on to win her first-ever world championship medal by capturing bronze in the K1 final.
Jack was only called into the New Zealand team this year as injury cover and only booked a world championship spot in June when he made his first World Cup semifinal in Slovenia. Teammates Callum Gilbert and Finn Butcher have been far more consistent this season, with Callum finishing fifth at the opening World Cup in London and both paddlers regularly challenging for finals.
"I didn't make the senior team at the start of the year and got called up so I was a bit of an underdog and had nothing to lose," a jubilant Jack explains. "I was super-stoked to put down a clean and solid run after struggling all season to put it down when it mattered."
Callum and Finn both picked up 2sec touches in their first runs, finishing 46th and 49th respectively, while Callum had a superb repechage run, only to clip Gate 9 and miss qualifying by an agonising 0.63secs.
Jack's performance kept the Olympic dreams alive for all three paddlers, however. The top 18 nations from the men's K1 will seal spots in Tokyo this weekend and just 21 nations have qualified for the semifinals. Crucially, Australians Lucien Delfour and Tim Anderson also progressed; if they qualify an Olympic spot and Jack doesn't, it greatly improves New Zealand's chances of winning the Oceania qualifying early next year, with Olympic selection being contested by all Kiwi paddlers.
Jack, however, can render all that obsolete and lock in a ticket to Tokyo for himself if he can qualify for the top-10 final on Sunday.
"I'm just looking at starting from ground zero and putting down a solid run again in the semifinal on Sunday and seeing what I can do."
Luuka, meanwhile, again struggled in her first run, missing an automatic semifinal spot when two touches left her in 28th, 10.71secs off the page.
For the second day in a row, she showed her class in the repechage, however, shaving more than 4secs off her overall time to finish fourth, comfortably inside the top-10 who progressed.
Having already qualified an Olympic spot in the K1, she just needs to finish inside the top-11 nations in the women's C1 to qualify a New Zealand spot in that class too.
The other Kiwi in action, teenager Hannah Thomas, finished 44th in her first run and 26th in the repechage.
More on SunLive...