Sumer - art in the heart of Tauranga city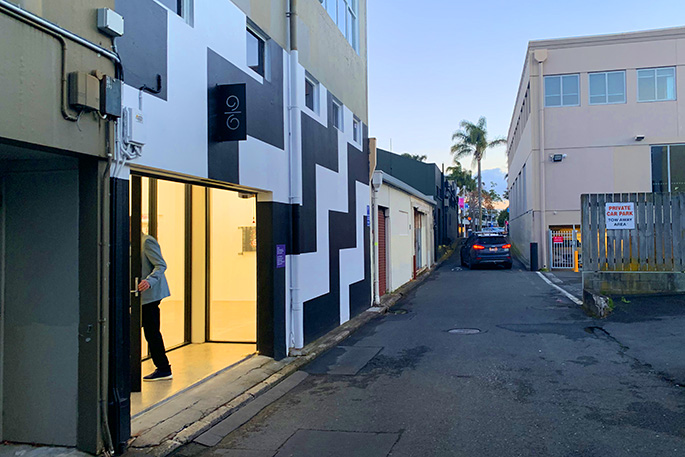 Someone - most likely Tauranga art lover Pete Morris - added me to the Sumer database.
Consequently up popped an email invitation to attend last night's opening at Sumer of a two-day show of artworks from Auckland-based gallerist Michael Lett. I love the idea of a gallery that travels, especially if it's from Michael's collection of NZ contemporary artists. I made a mental note to thank Pete later and set off to find it.
I discovered that Sumer is located in an alleyway between Wharf St and Spring St. I couldn't recall ever seeing a gallery tucked away there.
"We opened in November last year," say Sumer directors Daniel du Bern and Courtney Lucas.
Sumer is simply a stunning commercial art gallery in Waihirere Lane in the heart of Tauranga's CBD. Who said Tauranga has no heart? Here it is! A heart full of art.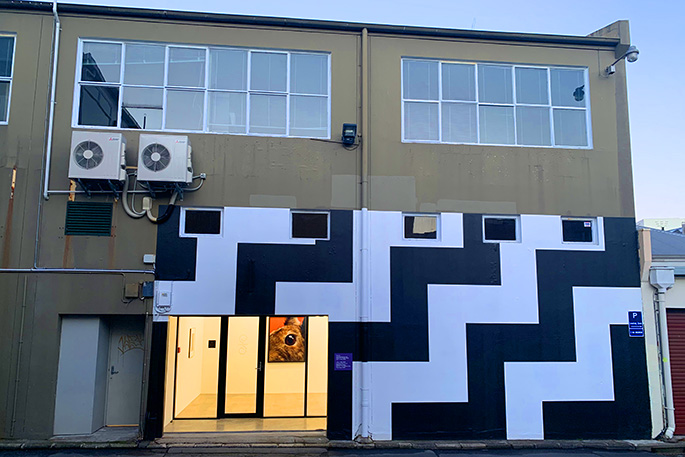 I quickly see that the focus is on presenting contemporary art from established and emerging artists working both in NZ and internationally. Daniel and Courtney had invited Michael Lett to bring down works from Auckland to show here over two days, and I find myself stepping into a space that is beyond exceptional.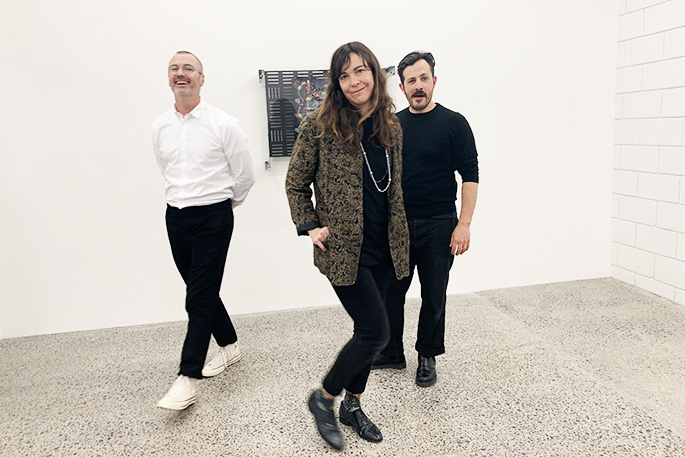 Michael Lett, Courtney Lucas and Daniel du Bern.
"We were looking for a space for a couple of years, and then this place came up. We thought it was ideal," says Daniel.
He's right, it's perfect.
"We wanted to do a top flight gallery here."
It's clear that Daniel and Courtney take themselves seriously, and are showing serious works. I love it.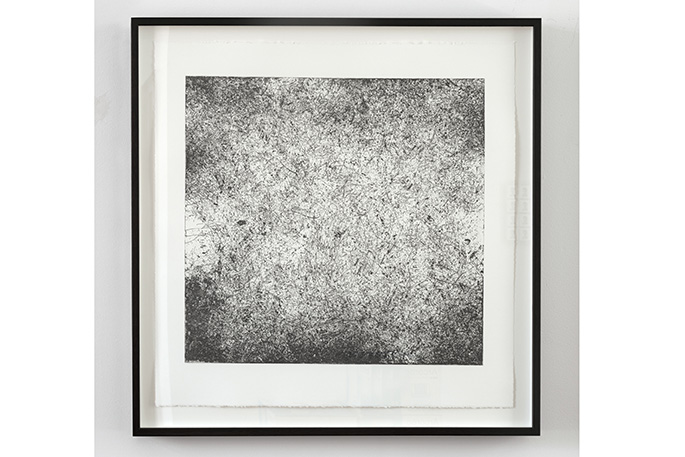 Kate Newby, 'Just Be Prepared (Backyard birds, Southtown)', 2017. Soft ground etching printed as relief, 57 x 60 cm unframed, Edition of 10 + 2 AP
One of my favourite artists, Kate Newby, has two pieces in the exhibition. Her soft ground etchings are like looking into the flow and ebb of poetry. Interestingly, birds in her backyard left their scratchings over the work creating interrupted patterns and motions.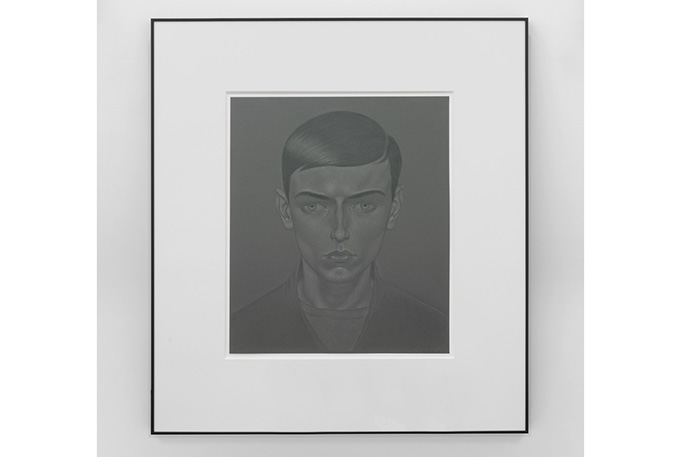 Peter Stichbury, 'Gary McKinnon', 2014.Coloured pencil on paper, 42 x 35 cm
Peter Stichbury's coloured pencil on paper portrait of Gary McKinnon captures the complex mind of the person known as the biggest security hacker of all time. The portrait stares down the gallery to the opposite wall, where Simon Denny's 'Crypto Futures – Game of Life Overprint Collage: Electronic Banking Dystopia' is installed. It's a pleasing and bemusing juxtaposition.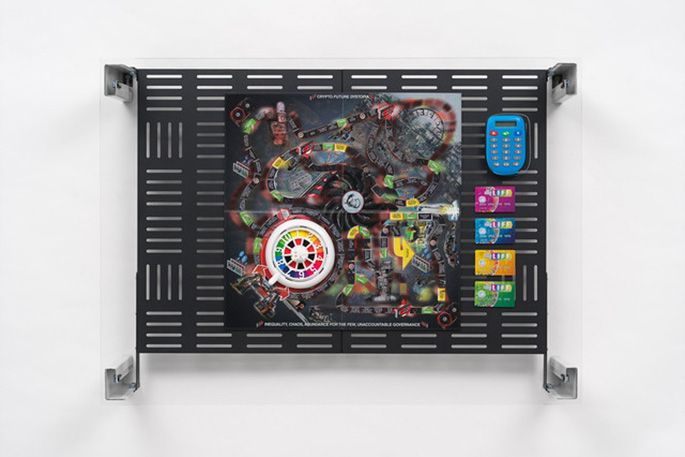 Simon Denny, 'Crypto Futures — Game of Life Overprint Collage: Electronic Banking Dystopia', 2018.Digital print on Hasbro Game of Life Electronic Banking Edition board, Game of Life card reader, Game of Life bank cards, powder-coated server rack shelving, laser-cut plexiglas, various server rack hardware components, 72 x 100 x 23 cm
The work on show is clever and articulate. And in some cases, challenging.
"It might not be to everyone's taste, but I love it," says Daniel.
"I was working as an art adviser for private clients here, and we decided that it would be a great opportunity to get this space. And so here we are."
Courtney works as a picture framer and Daniel has an arts service company which does picture hanging and caters to the fragile transport of artworks. Daniel also provides an advisory service for art galleries.
The exhibition of works from Michael Lett, who is based in Auckland, is officially only open for two days, on Friday September 27 and again on Saturday September 28 from 11am – 2pm.
"These are the gallery artists that Michael works with," says Daniel. "This is a special one-off show."
These are arguably some of the most significant artists working who come from NZ.
"Some people who are no longer based here, like Simon Denny is now based in Berlin and Kate Newby is now based in New York.
"Simon is probably the most successful artist to come out of New Zealand full stop," says Daniel. "His work is in major international collections, like MoMA PS1 in New York. And he's done solo exhibitions at Serpentine Gallery. He's currently got a major exhibition at Mona Museum in Tasmania. He's an amazing successful young artist."
Kate Newby, who is in Brooklyn, has just won a major $25,000 Painters & Sculptors Grant from the Joan Mitchell Foundation. In addition to the financial support, grant recipients become eligible to apply for residencies at the Joan Mitchell Centre in New Orleans.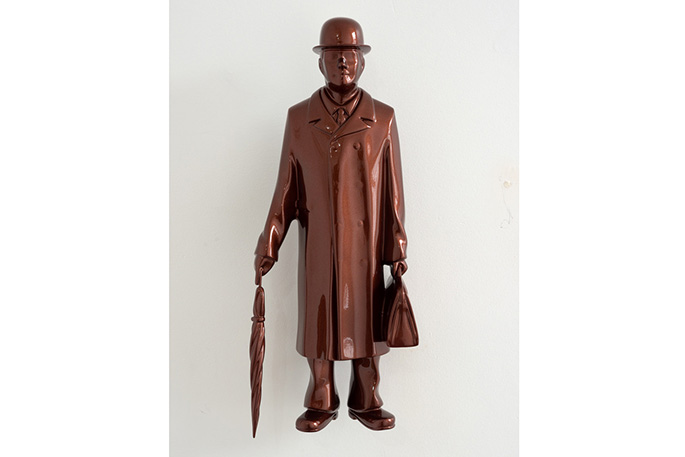 Michael Parekowhai, 'Over the Rainbow', 2015.Fibreglass, automotive paint, 42 x 17 x 10.5 cm
"Michael Parekowhai is definitely one of the most significant artists to come out in the last three decades," says Daniel, as we stand in front of 'Over the Rainbow', a fibreglass work by Michael.
Michael Te Rakato Parekowhai is a NZ sculptor and a professor at the University of Auckland's Elam School of Fine Arts. Of Nga-Ariki, Te Aitanga-a-Mahaki and Rongowhakaata descent, Michael was awarded an Arts Foundation of New Zealand Laureate Award in 2001.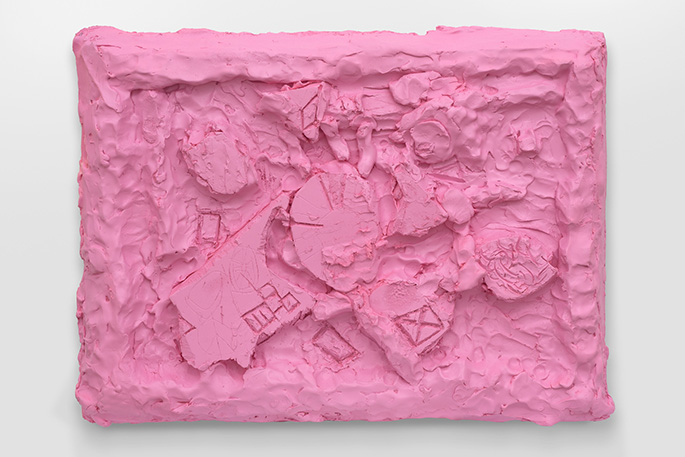 Dan Arps, 'Crayzee Dayzee (Piglet)', 2018.Polyurethane, paint, 43 x 59 x 4.5 cm
The gallery also has work by Dan Arps who has been a previous Walters Prize winner in 2010. His 'Tree Study (Evil Olive)' initially perplexes me, as does much of his work, probably because my need to 'find the story' becomes lost in his improvised constructions, until eventually I find my mind and eye settle and tune in to his unique language.
"And we have Peter Stichbury who is a very well loved New Zealand artist," says Daniel, as he shifts me to view 'Swoon' which slips my mind back into a securer sense of realism.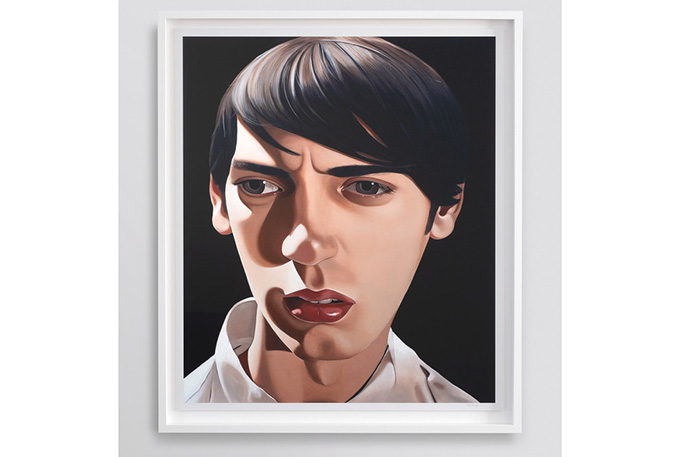 Peter Stichbury, 'Swoon', 2019.C-type print, 91 x 79 cm unframed, Edition of 30, signed and numbered
"And we have Sriwhana Spong who is starting to make waves in London, where she is based now. She just recently did a great art project at Spike Island, and has been getting fantastic coverage by the Guardian."
Spike Island in Bristol, England, is an international centre for the development of contemporary artists.
I can't believe the sample of work on show.
"These are only here two days?" I ask, my mind springing to all the people I want to tell.
"Michael has one of the top galleries in Auckland, and brought these works down, as we wanted to show them to audiences here."
"But only two days?" I bleat again. Daniel smiles and I wonder if unofficially these pieces will be gracing Sumer walls for a while longer.
"Our next show will open on October 19. That will be a really beautiful show," says Daniel.
There's no going back, I'm clearly now an obsessed fan.
Sumer –www.sumer.co.nz - is open Wednesday to Friday from 10am, and Saturday from 11am – 2pm. I've now subscribed to their website, liked their Facebook page and found their Instagram.
I've heard that Pete Morris of Te Kiteroa Gallery and Murray Clode from Macandmor Art Gallery have updated the Tauranga Art Lovers' Map which highlights all the art organisations, galleries and studios around Tauranga and Mount Maunganui. If I'd paid more attention, most likely I would have come across Sumer sooner, but am very happy to have now been led to this top city gallery, thanks Pete.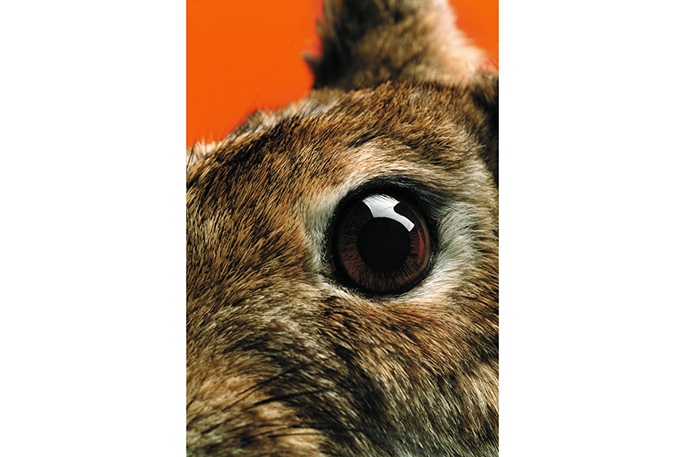 Michael Parekowhai, 'Neil Keller', 2000.C-type photograph, 126.5 x 107 cm , Edition of 10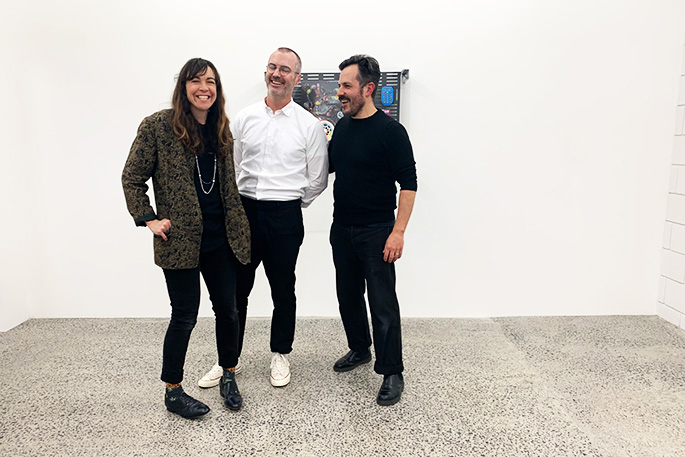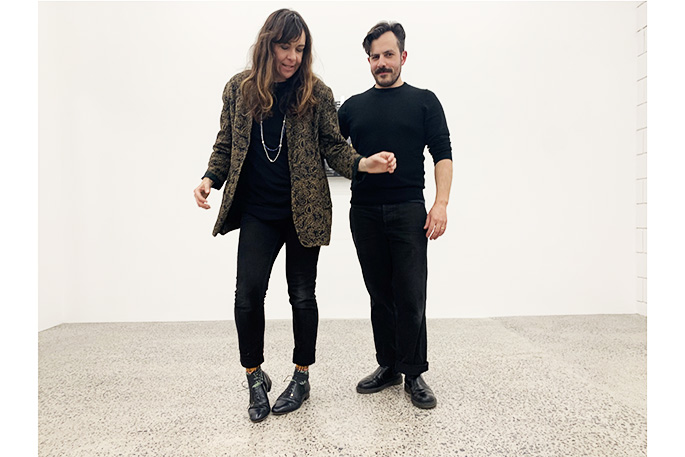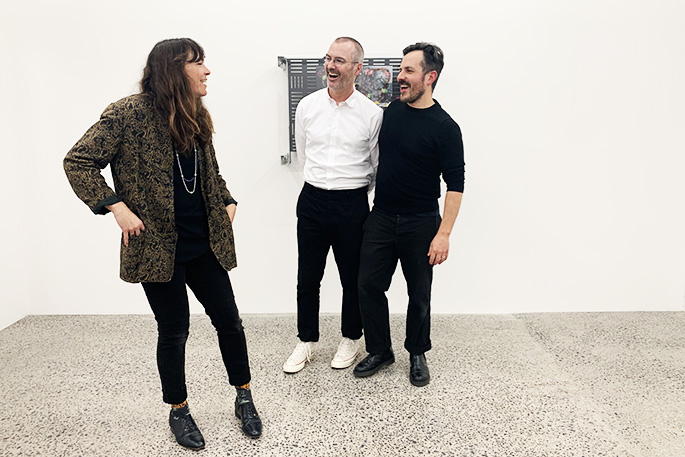 More on SunLive...