Old salt and a fresh breeze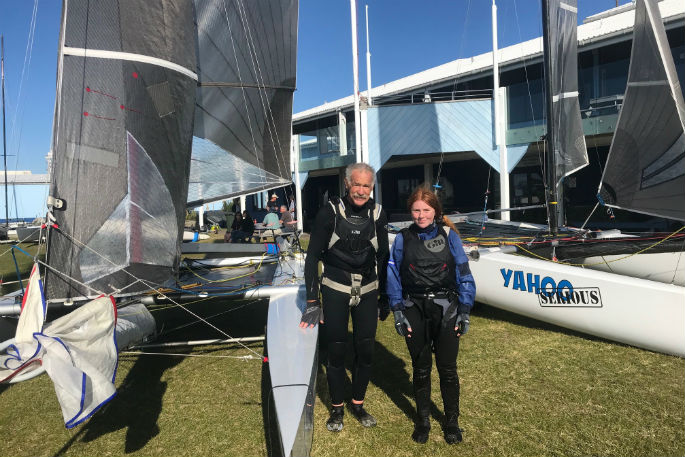 The Tauranga Tornados sailing fleet is gearing up for race season, with group members more than ready to start gliding across the water.
The fleet attracts all types of people, with members ranging in age from 12 to 78.
For sailor Dennis Webster, 78, who has been involved in the sport for more than 60 years, it's all about the speed.
"When its blowing 25 knots of wind, and you are doing about that speed through the water it's quite thrilling.
"Tornadoes are faster than anything, and I think a lot of kids are attracted to the speed. They want a bit of the action."
The Tornado is a small, fast racing catamaran sailed by two people.
Bella Putan is 12 years old. She started sailing because her dad, Lance Putan, offered her pocket money to race with him.
"I get $20 per race for being his crew because all of his other friends are already racing.
"Now I have really got into racing, so I don't really need the money but I still get it anyway," says Bella.
Bella says Dad does the steering, and she does all the stuff he can't do.
"I'm the one that does all the running around the boat. I have been on boats since I was about four so it's all quite natural for me."
Race seasons begin this weekend and will go right through to April next year.
It consists of weekly events on Tauranga Harbour alongside the TYPBC Keelboat Summer Series.
Dennis says group members are good mates out of the water, but when they are racing each other the competition is on.
"In the Tauranga harbour, you are dealing with the tide and the wind. It's about tactically beating the other guys
We are all good mates out of the water, but once we start racing, we all want to win. That's where the excitement comes from."
The experienced sailor says he doesn't plan on giving up anytime soon.
"I hope to be doing it in five years. I am very fortunate to have my son sailing with me. He does the more strenuous work, I just steer.
"Being out on the water is why I live in Tauranga. If I'm not out sailing, I'll probably be out fishing."
The fleet is seeking support from local businesses to provide sponsorship through prizes in exchange for having their name and logo on the boats.
For more information, contact: multihullers@gmail.com or: 021 125 4640
More on SunLive...