Honey funds life saving surgery for Boi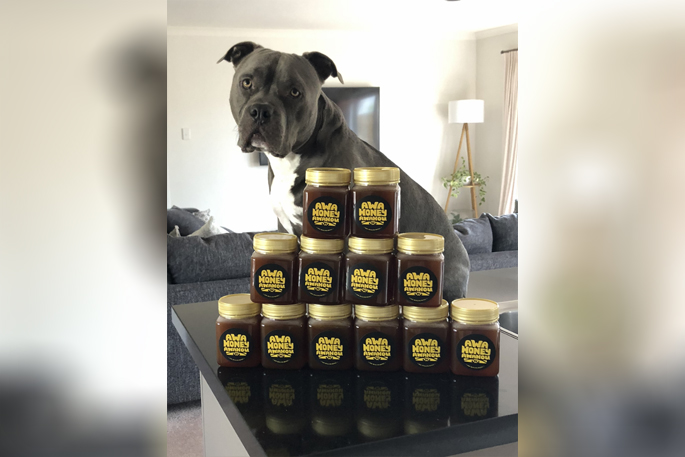 Honey and a dog may seem like and odd match, but Hayden Walker has found a sweet spot by selling honey to raise money for live saving surgery for his dog Boi.
For the past six weeks the Mount Maunganui man has been working tirelessly to raise $9000 for the surgery for his six-year-old Staffy.
Boi was diagnosed with lumbosacral disease so his last three vertebrae haven't fused together properly and he also has hip dysplasia.
Hayden says Boi is in huge amounts of pain and for the last year he has been managing the condition with injections and pain relief but Boi's quality of life has deteriorated.
"If he exercises more than ten minutes every three days his muscles swell and it affects the nerves and put him into a lot of pain."
Sometimes Boi is not able to walk properly, can't stand up and is just yelping in pain, he says.
"We are getting to a point now where the painkillers are going to pack in his kidneys and liver and the condition's not slowing down."
Hayden says he didn't have a choice between paying for surgery and putting Boi down because Boi is his everything.
"He's been a huge part of my life, he's always happy to see me regardless of my day. I can be having the worst day and come home and his tail is wagging."
"These six years of having him have just been phenomenal and I'm doing everything I possibly can to get him the help he needs."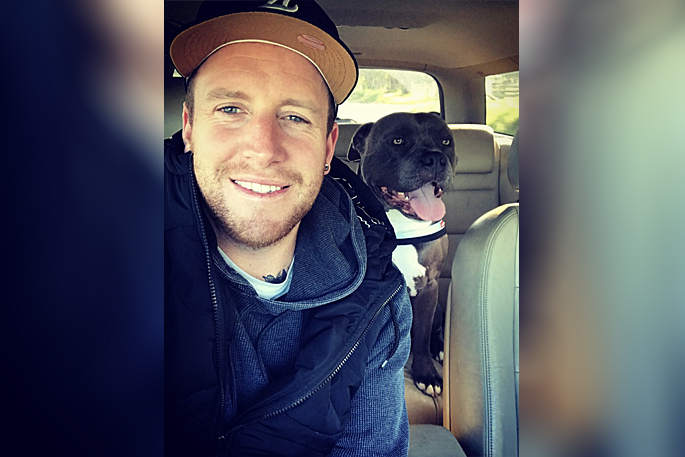 Hayden Walker and his best mate Boi. Image: supplied.
Boi's surgery is booked for Wednesday and Hayden still needs $2500 to reach his $9000 goal.
Hayden makes $8 off every jar sold and has sold nearly half a ton.
He sells the majority of it through his Facebook page Honey to Fund Boi's Surgery but also spends Sundays on Maunganui Road near Mount Maunganui College.
The full time concrete truck driver didn't realise what he was getting himself into and spends most of his spare time packaging and sending orders.
"I'm definitely doing everything I possibly can and I just personally thought that this was more respectful than setting up a Give A Little page and asking for something and not giving anything in return back."
Hayden is grateful for the support he's getting and that he can give Boi the surgery he needs.
So many people have backed me from the community and some local cafes have been selling the honey on my behalf, he says.
"A lot of people across New Zealand are now buying honey and it's been hard but it's awesome knowing that the rewards is there."
Boi is in for a 3 month recovery after the surgery where he will need to be kept in a dog crate so his movement is limited.
"Adjusting to the next three months going to be very hard on the both of us."
"I'm kind of glad he doesn't know what he's in for."
Hayden is down to his last 100 tubs on honey and hopes he will be able to raise the rest of the money needed.
More on SunLive...