Hearing is believing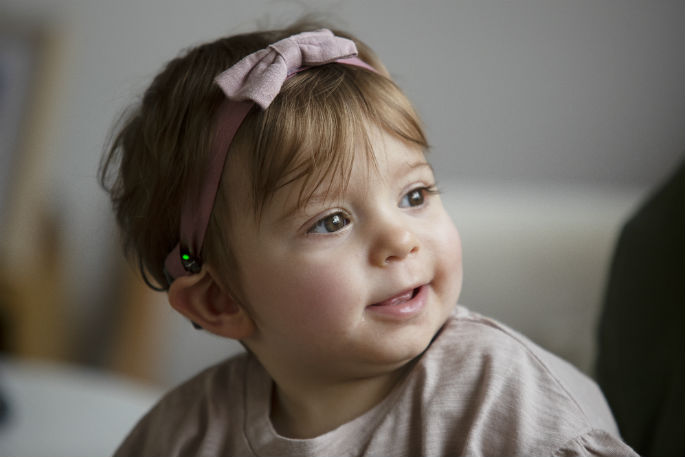 Brienna Horn's face lights up every morning when her cochlear implants are switched on.
The 13-month old Mount Maunganui baby is profoundly deaf and has had implants since April this year.
"Each morning she goes from a world of silence to a world of sound. She smiles, looks around and her face completely changes," says Brienna's mum Anna Horn.
A cochlear implant is a small device implanted into the ear through surgery.
It gives those with profound hearing loss the ability to hear and speak. It works by imitating the function of the inner ear.
Brienna's parents found out she had profound hearing loss in both ears after she failed the newborn hearing test at five weeks old.
Reflecting on Brienna's hearing journey brings Anna to tears.
She says her daughter is a "determined wee-soul" who has smiled her way through life so far.
"Brienna has taken it all in her stride, but it's been quite an emotional journey for us parents.
"She loves dancing to the wiggles and chatting and laughing away with her 3-year old sister Mela.
"She's starting to make sounds - she is saying 'dad' and 'nana' and is trying very hard to say 'mum'.
"She can also recognise our voices. It's been so encouraging for us to see because the cochlear implants have already been so life-changing for her."
Brienna is currently receiving listening and spoken language therapy at The Hearing House every two weeks.
The family also use sign language to communicate with Brienna daily.
Anna says it's important for her daughter to be able to interact with the family when the implants are switched off.
"The implants are not a complete cure for deafness, without them switched on she still can't hear.
"Sign language and the implants have been a really good combination for us, it ensures she's got an all-round way of communicating."
Brienna has a special bond with her deaf uncle who only uses sign language to communicate.
"We want Brienna to be able to sign to him when she gets older," says Anna.
"First thing in the morning when Brienna is in the bath, we use sign language.
"Mela and Brienna are both starting to copy signs and get their hands ready which is really cool to see.
"My older brother was also born profoundly deaf, so I learned to sign before I could speak."
The external parts of Brienna's cochlear implants sit on a headband which Mela refers to as 'ears.'
"Often when Brienna rolls or crawls about the headband will fall off and Mela will say 'ears off' and help her put them back on
"She goes to kindy and tells everyone her sister's ears have come off. They have no idea what she means," Anna laughs.
Loud Shirt Day on Friday, September 27, raises money for paediatric programmes at The Hearing House and the Southern Cochlear Implant Programme.
The Hearing House relies primarily on fundraising to ensure young children across New Zealand are not limited by hearing loss.
"Cochlear Implants can change lives - hearing is a sense that we take for granted," says chief executive at The Hearing House Claire Green.
"We support the families and children who have cochlear implants. Hearing loss can be genetic but is also caused by infections and viruses such as meningitis and cytomegalovirus."
Anna says the cochlear implants will enable Brienna to participate in society however she chooses.
"The implants will give her so much more opportunity. She will be able to hear and communicate, the world is her oyster.
"We are so lucky to have these funded services available to us. Incredibly, we haven't had to pay a single cent for the speech and listening therapy."
Another cheeky perk is that when Brienna reaches her teenage years she can ignore her parents by literally 'switching off'.
"I always laugh because if she doesn't want to listen to us when she is older she can just switch off her implants and ignore us, I guess that's a bit of a positive," Anna says.
To get involved with the cause visit: www.loudshirtdaynz.org/donate
More on SunLive...