Jones seeking Kiwi kayaking history at worlds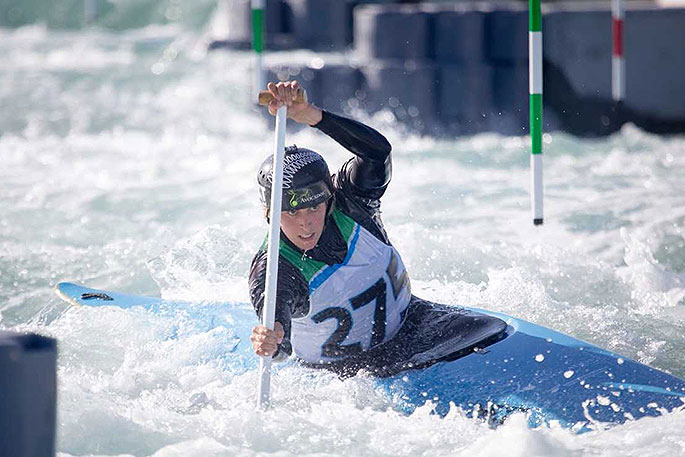 Luuka Jones is embracing the familiar feel of nerves as she heads into her ninth canoe slalom world championships in Spain this week, with a fourth Olympic campaign firmly in her sights.
The Tauranga paddler heads a six-strong New Zealand team at the titles, which double as qualifiers for next year's Tokyo Olympics.
Auckland teenager Hannah Thomas will join Jones in racing both C1 and K1 classes; Callum Gilbert, Finn Butcher and Jack Dangen will try to qualify a Kiwi men's K1; while Ben Gibb is hoping to get through in the men's C1 on the Seu D'Urgell course.
It's been a mixed season for Jones so far, mixing some middling C1 performances with an historic World Cup silver medal in Slovakia in June. Understandably, she's focusing this week's performance more on the latter class.
"Even though I've raced at eight world championships, I still get a mix of nerves and excitement," Jones says. "It's the biggest race of the season and I spend the whole year preparing for it, so it means a lot."
Seu D'Urgell has been used as an international race venue most years since it was built for the 1992 Barcelona Olympics. There are more than 450 athletes from 63 countries competing this week - the most at the championships in 15 years - and the venue holds a special place for Jones, who made her world championship debut there in 2009.
"It's nice to be here a decade later and I have a lot of nice memories from this place. I've been feeling good on the water and I'm really looking forward to hitting the start line."
Jones has been to the past three Olympics, since qualifying as an 19-year-old for the Beijing Games in 2008; she finished 21st that year, 14th in London four years later and captured a memorable silver medal in Rio in 2016. She will join the likes of Barbara Kendall (five) and Valerie Adams (four) if she can qualify for her fourth Games.
To cement an Olympic spot, the Kiwi paddlers need to finish in the first 18 nations in the K1 and the top-11 nations in the C1 division. It also counts as the first official selection event for individual paddlers, with two more qualifying rounds in February in Auckland and Penrith. Should they miss qualifying at the world championships, there's also an additional Oceania spot up for grabs early next year.
That's put additional heat on the three Kiwi men's K1 contenders, although Gilbert is loving the way they are solely focused on country first and individual second.
"Having Jack and Finn here paddling well is definitely a positive because it gives New Zealand more of a chance - the more opportunities we have to secure an Olympic quota spot, the better," Gilbert says. "There's a little bit of competition going on within the team but the environment is really good and everyone's really positive and happy."
Gilbert has the best World Cup result this year - a fifth in the first round in London - but all three have made semifinals this season and Butcher has been knocking on the door of his first top-10 final appearance.
The trio will also kick off New Zealand's campaign this week by competing in the men's teams race, with individual competition starting Thursday night.
More on SunLive...