Tired seals make it to dry land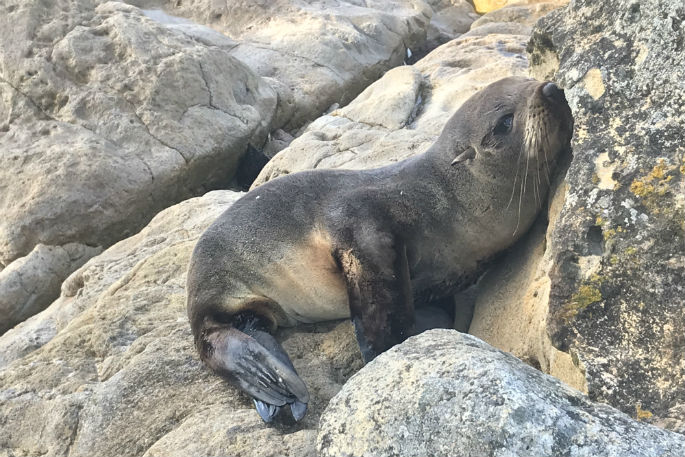 Don't be surprised if you see increasing amounts of sleepy seal pups around Bay of Plenty coastlines this time of year.
Local marine organisations are urging members of the public to continue to respect sea animals and give them the space they need to rest.
Western Bay Wildlife Trust chairperson Melissa McLuskie says pups are weaned from their mothers around this time, which is why you see a lot them around.
ARRC Wildlife Trust director Liza Schneider says many younger seals are having their 'winter holiday' at the moment, escaping the harsher weather down south.
"Many seals lie around looking exhausted or sick when they are just resting, which they often do for a couple of days before returning to sea. They usually head south again during the warmer weather to join breeding colonies."
Both Liza and Melissa agree that with the increasing amount of pups popping up on our beaches, onlookers need to help them safe.
"Public need to keep their distance and never get between a seal and the ocean. They don't like being blocked.
"If other people are not keeping their distance, harassing the seal or trying to take pictures up close - that should be reported to the Department of Conversation," says Melissa.
"Unless seals are obviously injured, they are best left alone. Giving them enough space with a 20-metre distance and keeping dogs away from them is important," says Liza.
"Seals can be dangerous and can transmit some diseases to humans so they are best appreciated from a distance."
BOP residents can also help protect the creatures by disposing correctly of their rubbish and reporting any injuries to DOC.
Melissa says broken glass, fishing lines, plastic bags bottles around rocks can harm the creatures.
"Rubbish is a real problem with wildlife becoming entangled and it can injure them as well. It also blocks penguin burrows so they can't feed their chicks, so please take your rubbish with you.
"Also please keep dogs out of the dog ban zone and on a leash when near wildlife areas," says Melissa.
"Sometimes seals are severely injured from things like shark bites, exhausted from swimming in rough seas or they may even be entangled in fishing line or netting," says Liza.
"Occasionally they can be treated but sometimes the kindest thing is to put them to sleep."
If you spot a seal that is severely injured or entangled, please call the DOC hotline on: 0800 362 468
More on SunLive...