Great year for TBC football.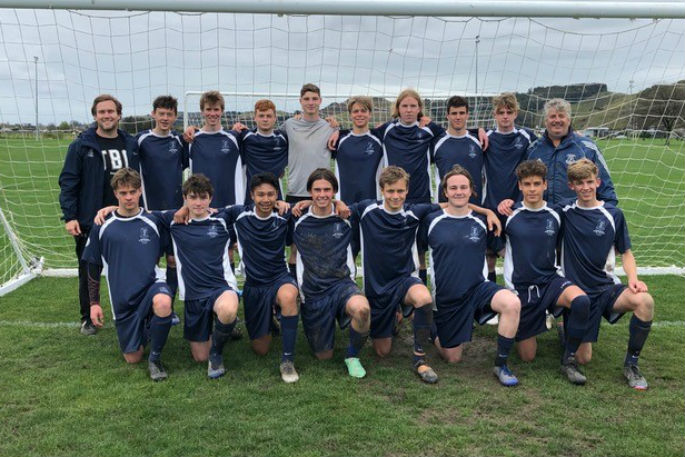 Tauranga Boys' College footballers should be major contenders when the school's sports awards are announced for 2019.
By any standards applied to a sporting code it has been a remarkable year.
The First XI were crowned Super 8 champions for the first time since 2007 and achieved an excellent fifth place finish in the highly competitive men's WaiBOP Premiership.
Individual honours were highlighted by midfielder Jordan Toy (Under-16), midfielder Stan Rust (Under-19) and goal keeper Harry Donald (Under-19) selected to represent New Zealand at age group secondary school level.
They are the first Tauranga Boys' players to make the respective national sides since Ben Richardson in 2005.
Add to that impressive list of season highs is a strong run at the national secondary schools' tournament and a win for the junior football team at the NZSS Hillsdene Tournament held locally this month.
The foundations for the remarkable year of success were set many years ago with players brought through the development stages at the school's football programme before blossoming at First XI level.
At the helm of the First XI coaching are Neil Howard and Alex Bryant who deserve credit for creating a winning culture in the sport and playing football with the right attitude.
The remarkable 9-0 thumping of highly regarded St Paul's Collegiate at this month's NZ Secondary Schools' nationals is testimony to the goal scoring ability of the side.
Neil says this year's success follows on from a consistency of performance that has been building over many seasons.
"This year we have probably had as deep as a squad as we have ever had. Last year we came sixth in the country which was pretty good but this time we had better depth meaning injuries had less impact than they might have had.
"The Super 8 title is the first winter sport title we have won in any sport since 2009 when basketball won. So it has been a long time between drinks in our winter sporting scene."
Neil says in such a total team effort it is hard to isolate individuals but captain Scott Hawkins deserves some attention.
"The real treasure in our team was Scott. How he didn't get picked for the secondary schools' team I have got no idea. The boys look up to him like nothing else. It is pretty cool."
Three 1st XI players have been selected in NZSS Football teams for an up-coming trip to Sydney.
Jordan Toy, (U16), Stan Rust (U19) and Harry Donald (U19).
They leave on July 7th and play against Australian Secondary Schools', Sydney FC and two Sydney sports colleges.
More on SunLive...