Greerton Village's fabulous festival of blossoms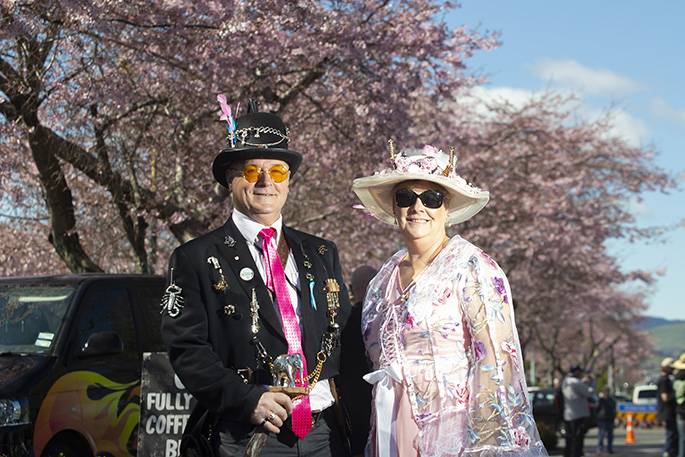 It's been a gloriously sunny day, with blue skies and plenty of pink blossoms as thousands of people turned out for the annual Cherry Blossom Festival in Greerton Village.
One of Tauranga's most popular events, this festival is a fabulous celebration of the vibrant community at the southern gateway to the city.
"It's going really well!" says Sally Benning, manager of Greerton Mainstreet. "It's a lovely day, there are thousands of people, and more than a hundred street cars on display."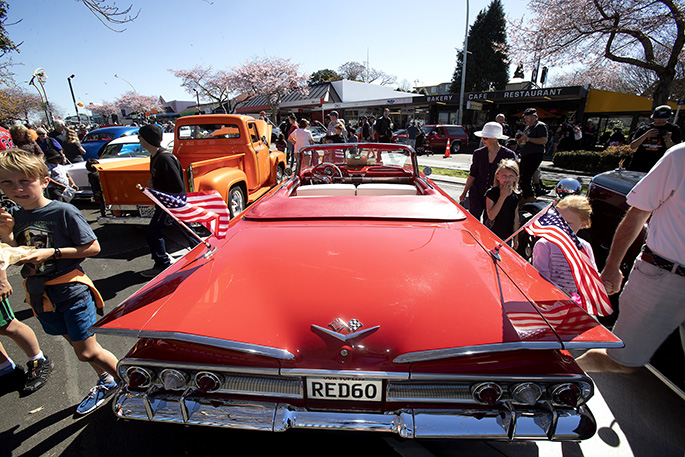 A variety of cars were on display
Greig Corvell of the Tauranga Street Machines and Customs Car Club has rolled up to the festival along with 100 mates in their restored cars, their engines gently purring as they arrive to park for their 'show 'n shine' event along Chadwick Rd. This year there is something new to deal with - a median barrier strip down the middle of the road - however it is providing a vantage point for photographers to get that perfect shiny car shot.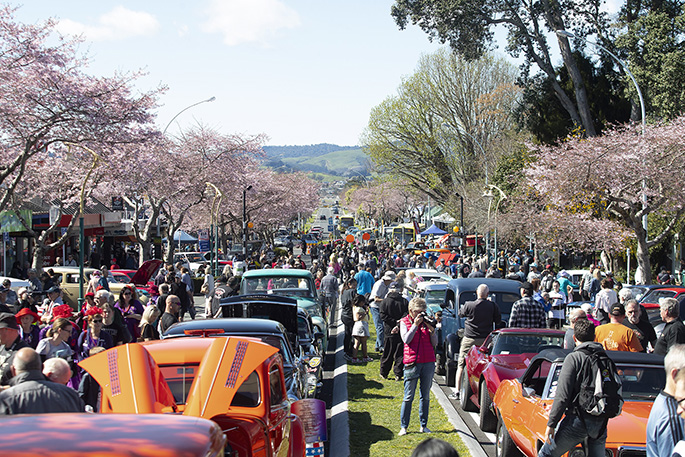 Crowds gather in Greerton Village for the Cherry Blossom Festival.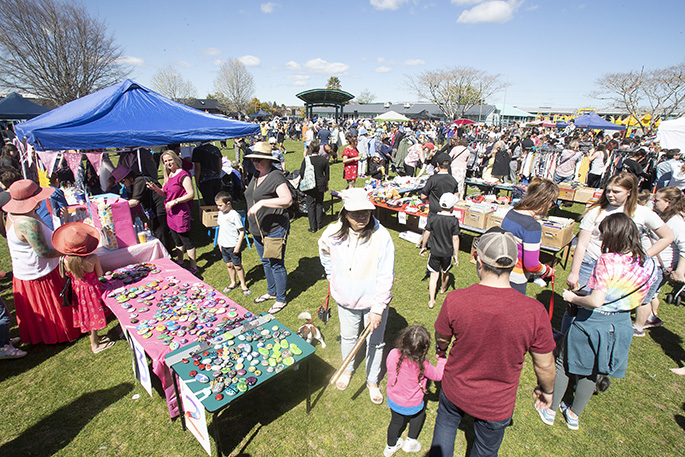 Crowds enjoy the many stalls at the school gala in the Greerton Village School grounds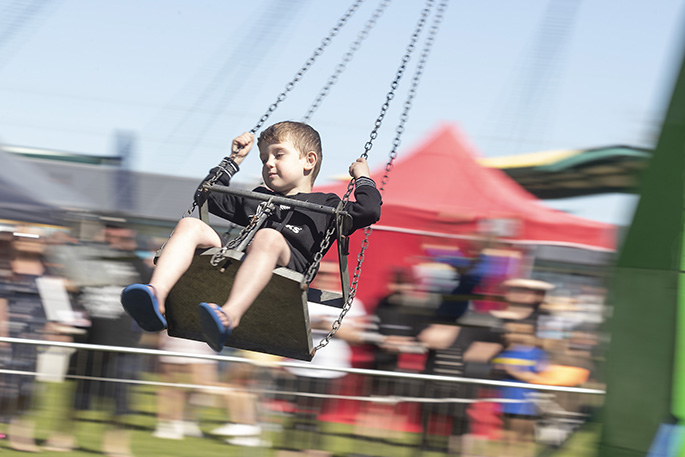 Tobi Jackson, age five, enjoys the swing at Greerton Village School
Over at the Greerton Village School, the school gala has been in full swing, with a packed field of stalls, people, entertainers, bouncy castle and plenty of live music from the rotunda, which used to be located in the village square but has been relocated across the road to the school grounds on completion of the library.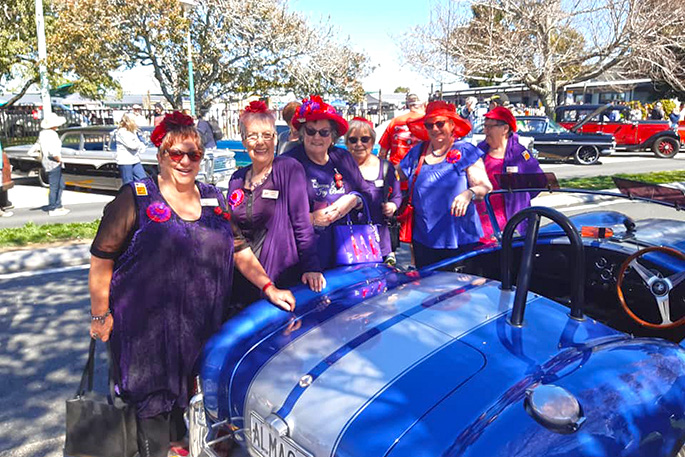 Red Hatters. Photo: Greerton Mainstreet
A large contingent of Red Hatters are in town enjoying their three-day conference at the Tauranga Racecourse, apparently timed to be on the same weekend as the Greerton Village Cherry Blossom Festival. Red hats at the festival are providing even more colour and vibrancy to this already diverse crowd.
"We also have rock and roll dancers, and circus entertainers, heaps of stalls and food outlets. There's lots going on!" says Sally. "It's very busy at the school gala, and people are dancing and enjoying the Al Dawson band playing in the Village Square."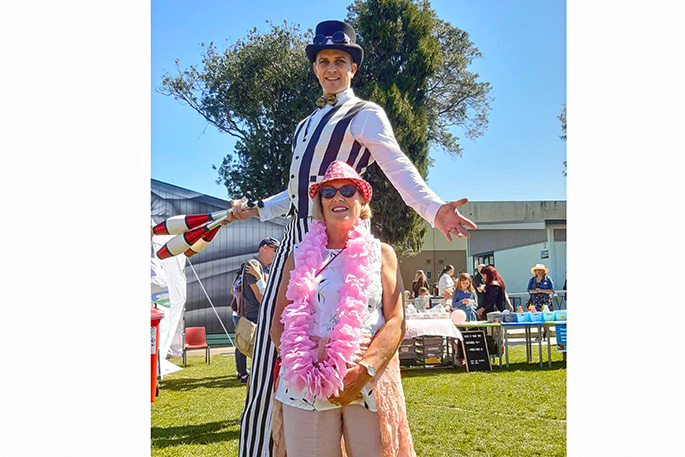 Rowan Ford Dawson and Greerton Mainstreet Manager Sally Benning. Photo: Greerton Mainstreet.
Rowan Ford Dawson, in large pinstripes atop stilts, and other entertainers from Circus in a Flash are running a 'have a go circus' workshop as well as adding a lot of 'wow' factor as their rove through the crowds. There's even a petting zoo with 'oohs' and 'aahhhs' from children delighted to be up close with animals.
And to top it all off, the flowering cherry trees are looking fabulous.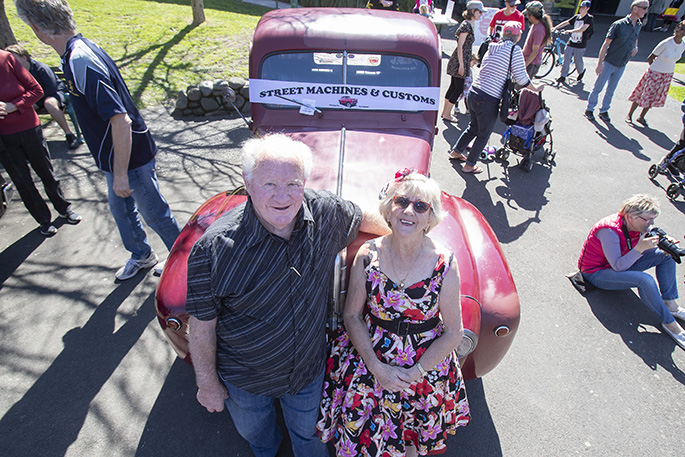 Arnie Nicholls and Phillipa Richards take a rest from dancing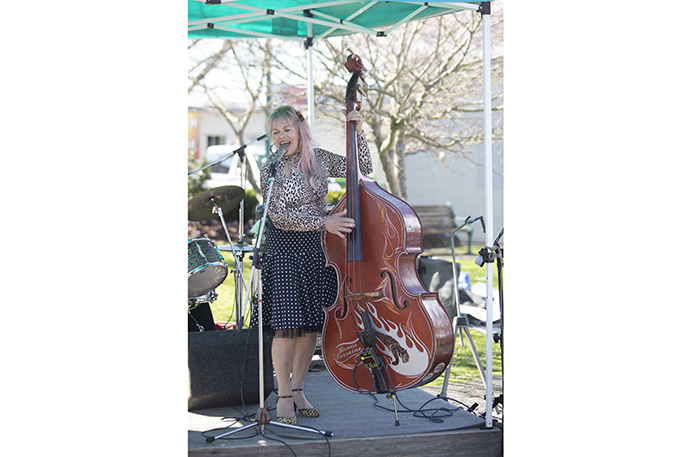 Lorraine Flight singing and playing the double bass in the Greerton Village Green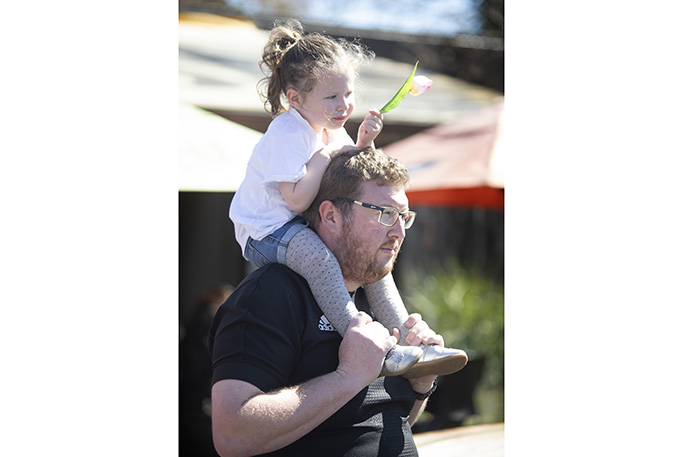 Michael Brock and daughter Madison, age 2, enjoy the music in the Village Green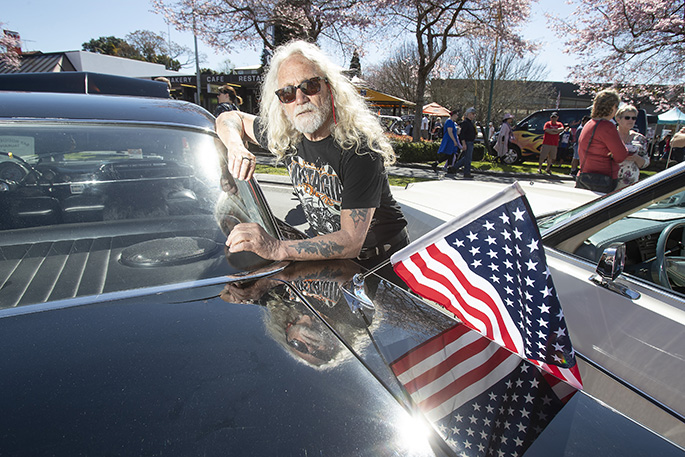 Johnny Birch with his 1959 Bel-air
More on SunLive...