Stars students shine with native birds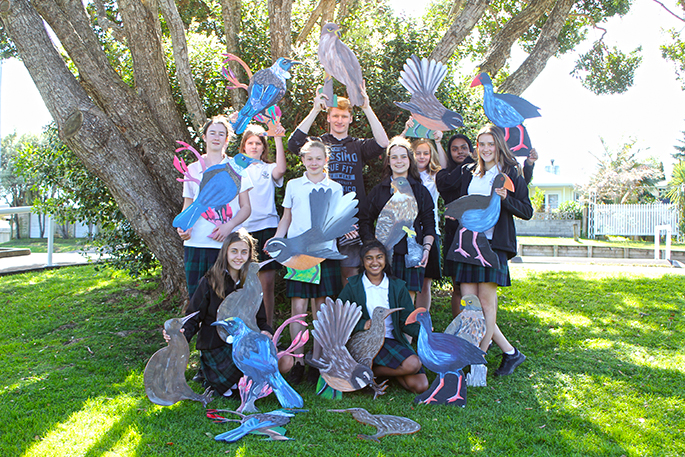 A group of Otumoetai College students have killed two birds with one stone by completing a community project while also raising awareness about NZ native birds.
The Year 9 students visited Brookfield Primary School on Monday afternoon to present about 20 large, wooden, painted cut-outs of native birds they have made as part of their Stars community project.
Stars is a 12-month mentoring programme run by the Graeme Dingle Foundation that supports, motivates and positively reinforces Year 9 students during their first year in secondary school.
Stars is underpinned by this whakatauki or proverb – 'Tukua kia tu takitahi nga whetu o te rangi' which means 'Let each star in the sky shine its own light'
"As well as developing confidence, team building and friendship, each Stars programme student participates in a community project," says Graeme Dingle Foundation Bay of Plenty Regional Manager Dan Allen-Gordon. "The Otumoetai College Year 9 Stars project was to make these large native bird cut-outs to go along Brookfield Primary School's fence that borders Sydenham Botanic Park."
"The birds are double-sided, which means that people visiting the reserve or swimming in the school swimming pool will be able to see them and enjoy them no matter which way they look," says Brookfield Deputy Principal Carol Burborough.
"We painted over 20 birds, kiwis, tuis, pukekos and a whole lot of others," says Year 9 student Jade Newton, age 13. "We painted one side of each bird, and Sam Allen painted the other. The birds are going to be placed along the fence of the school."
Local artist Sam Allen, who has an art studio at Tauranga Historic Village, gave about 20 hours of his time, helping to finish off the finer details for the birds cut-outs. Sam also works in the Brookfield School afterschool programme.
The birds will be attached to the fence ready to be enjoyed by all who either visit the school or park next door, effectively killing two birds with one stone!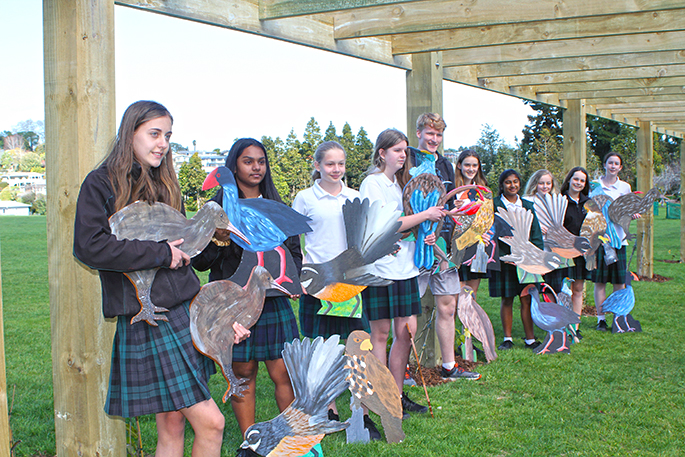 More on SunLive...