It's time to bounce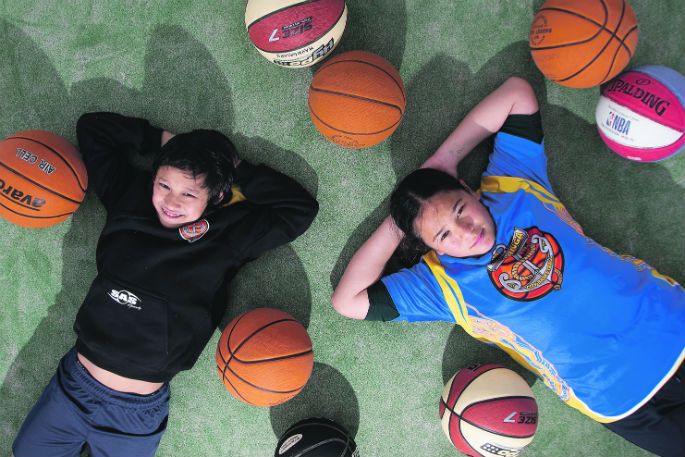 Maungatapu Primary students are bouncing their way to basketball success, travelling across the ditch in November to play at the Australian Basketball Jamboree.
Pia Kuka, 11, and Caleb Masigan, 11, have been playing basketball since they were about eight years old.
The players were selected to head to Australia after attending the Basketball Pacific U12 Jamboree in New Plymouth in July.
Pia and Caleb live and breathe basketball daily, with both of the students playing for their school team and their rep teams.
"I practise for about one hour a day, training in my back yard. I also train three times a week with my rep team," Caleb says.
The Year 6 students are heading over to Melbourne with four other young people from Tauranga City Basketball Association.
Pia's mum Te Ara Kuka says she is stoked to see her daughter thrive at basketball at such a young age.
"She's got an older sister who I have done this with as well, and I didn't expect it to happen again.
"This time it is tenfold. She's quite tall, so she does a lot of damage on the court because a lot of people think she is older than she is. She's quick," Te Ara says.
Pia's reason for loving the sport is simple – it's physical, and she gets to make friends from across the country.
"I play netball as well, but I like basketball better because it's more physical, you get to move around the court more.
"We have both made friends from Waikato, Rotorua and Gisborne. I'm excited to make some Australian friends too," says Pia.
Caleb agrees, saying he is most excited to meet new people and travel overseas for the first time.
At the jamboree, students will be placed into teams and led through training sessions by experienced coaches. Each team will train, complete social activities and play against other teams.
The rising stars, who both one day want to play for New Zealand, share encouraging words with kids their age wanting to immerse themselves in the sport.
"Train hard and you get those rewards," says Caleb.
"Also, just have hope in yourself that you can do it," Pia adds.
More on SunLive...