Students shine in excellence awards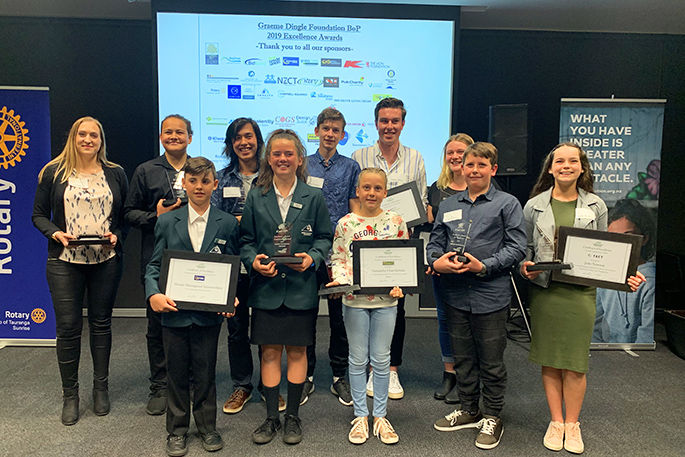 Outstanding students from around the Bay of Plenty were honoured at the Graeme Dingle Foundation Bay of Plenty Regional Excellence Awards on Wednesday night.
Bay of Plenty MP Todd Muller, sports star Dame Susan Devoy, Tauranga Mayor Greg Brownless, List MP Jan Tinetti and many local sponsors turned out to acknowledge the achievements of students who have excelled in the Kiwi Can, Stars and Project K programmes.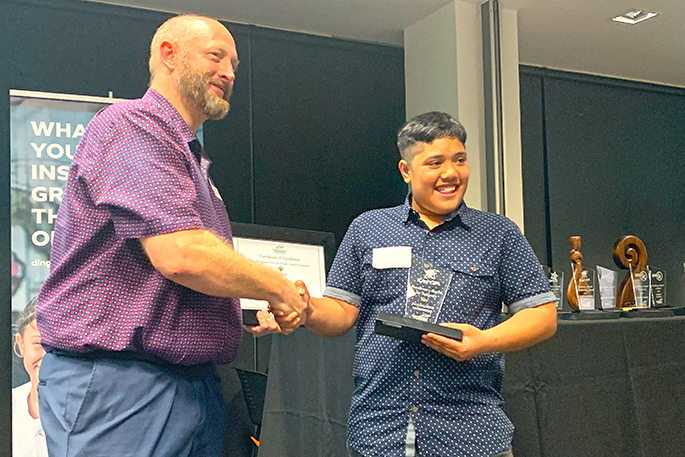 Samuel Wright and Rakau Hone Dashwood
Samuel Wright from the Wright Family Foundation presented the Kiwi Can Integrity Award to Rakau Hone Dashwood from Te Puke Intermediate School.
"Rakau displays honesty, responsibility and reliability in everything he does and in all his relationships," says MC Amie Marchant. "He does what he knows is the right thing to do regardless of what others are doing."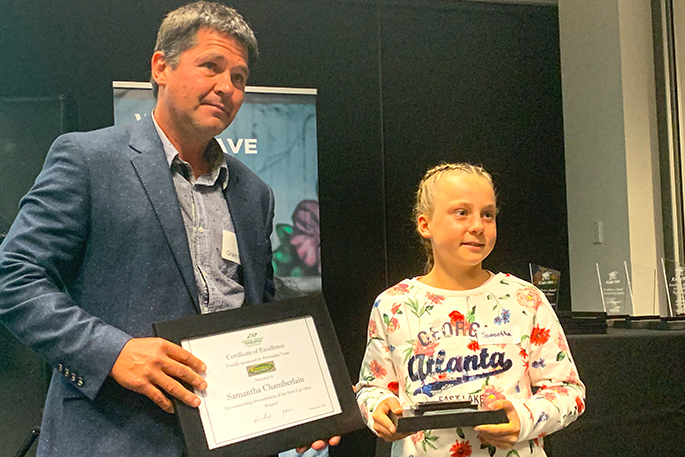 Grant Rowe and Samantha Chamberlain
Samantha Chamberlain from Papamoa Primary School won the Kiwi Can Respect Award, presented to her by Grant Rowe from Rowesdale Trust.
"Samantha is an outstanding young person, well-mannered and considerate of others. Samantha is a road patrol leader, a jump jam leader and received a principal's excellence award, she is an all-round sports person and does everything with respect for her peers and her teachers," says Amie.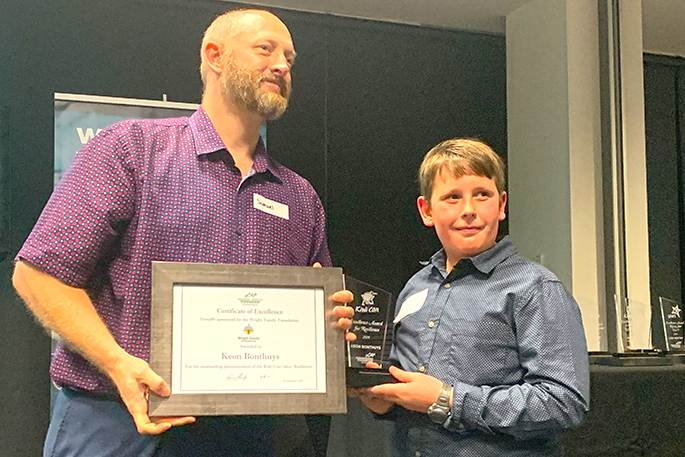 Samuel Wright and Keon Bonthuys
The Kiwi Can Resilience award was presented to Keon Bonthuys from Fairhaven Primary School, and acknowledged how Keon is a great example of resilience.
"Keon will do his best in all situations to overcome any challenge. Keon actively contributes and is a great role model for his peers, showing them to never give up."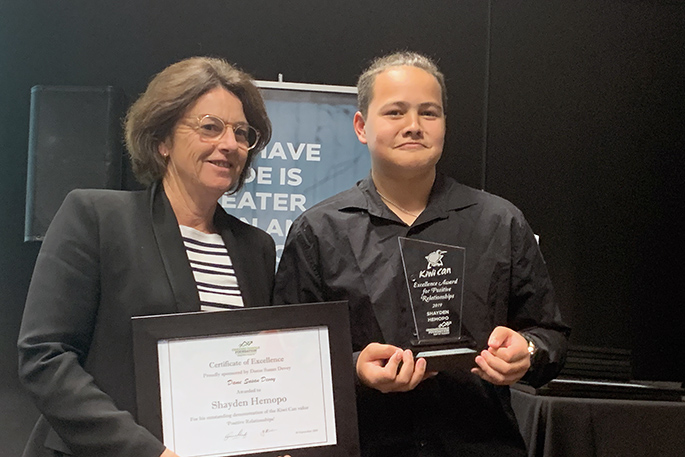 Dame Susan Devoy and Shayden Hemopo
Dame Susan Devoy presented the award for Positive Relationships to Shayden Hemopo from Katikati College.
"Shayden has grown this year to become a strong leader amongst his peers and is looked up to by others," says Amie. "He encourages others to remember the values learnt in Kiwi Can including outside Kiwi Can lessons. Shayden consistently shows respect to the Leaders, his school, his community and all those around him. Well done Shayden."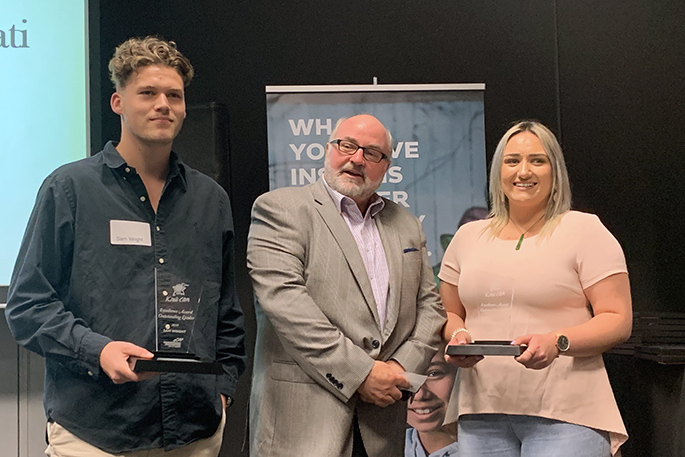 Jade Raumati, Roger Taylor and Sam Wright
The outstanding Kiwi Can Team award, presented by Roger Taylor from BayTrust, went to Sam Wright and Jade Raumati who work in four schools. They spoke for a few minutes about the difference the programme is making in students' lives.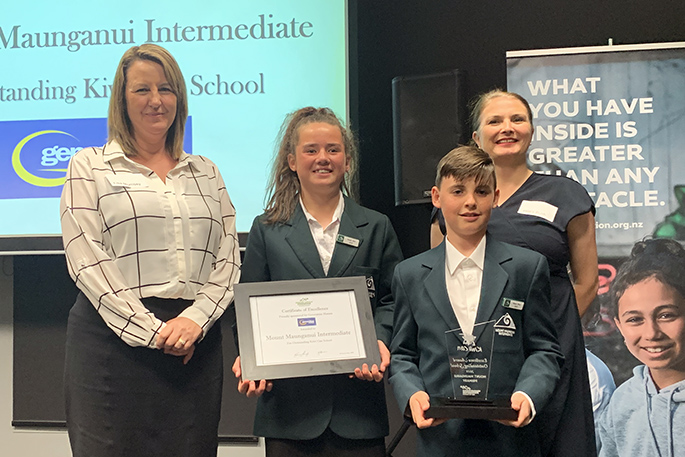 Mount Intermediate School Principal Lisa Morrisey, Head Girl Baileigh Putt, 13, Head Boy Gus Tustin, and Hilary Bush
Mount Maunganui Intermediate won the Outstanding Kiwi Can School 2019 award, presented by Hilary Bush of Generation Homes.
Principal Lisa Morrissey, Head Girl Baileigh Putt, and Head Boy Gus Tustin accepted the award on behalf of the school, acknowledging the collaboration between staff and Kiwi Can to further best possible outcomes for the students.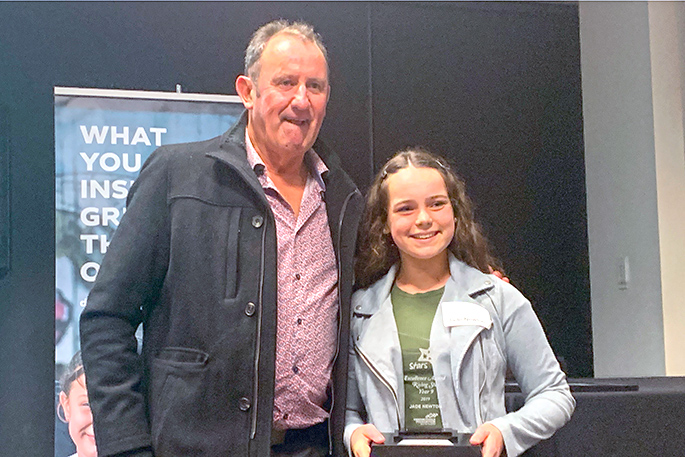 Peter Blackwell and Jade Newton
Stars is a 12-month mentoring programme run by the Graeme Dingle Foundation that supports, motivates and positively reinforces Year 9 students during their first year in secondary school.
The winner of the Outstanding Participation award for 2019 is Otumoetai College Year 9 student Jade Newton, presented by Peter Blackwell on behalf of the Tauranga Energy Consumer Trust.
"
As a year 9 student Jade has embraced the Stars programme and been fully engaged, helping with an estuary clean-up, a community arts project and being an outstanding leader during their Oteora camp," says Amie. "Jade also took part in the school production and is highly regarded by her peers and teachers at Otumoetai College.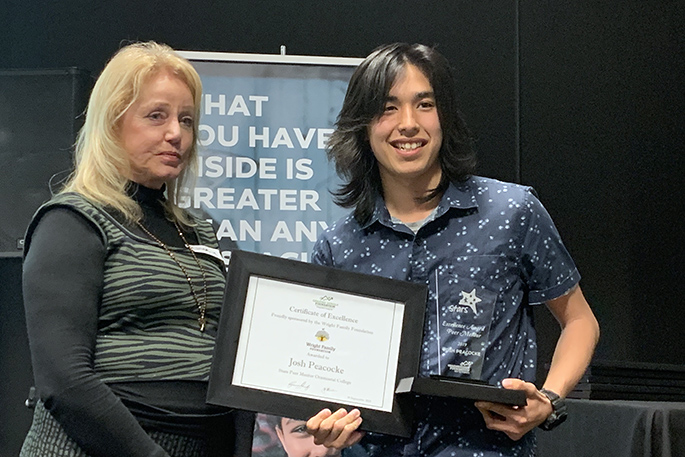 Chloe Wright and Josh Peacocke
Josh Peacocke was presented with the Stars Excellence in Peer Mentoring award presented by Chloe Wright from the Wright Family Foundation.
"Josh has an unwavering commitment to his year 9 Stars class. He has built relationships with all the students. He has been great at presenting lessons to students ensuring the key teaching lesson is clear. Josh is a busy senior student in multiple academic groups, the 1st 11 hockey team and year 12 leadership group and still goes to his Year 9 class every week and got involved in his Year 9 class community project for Foodbank," says Amie.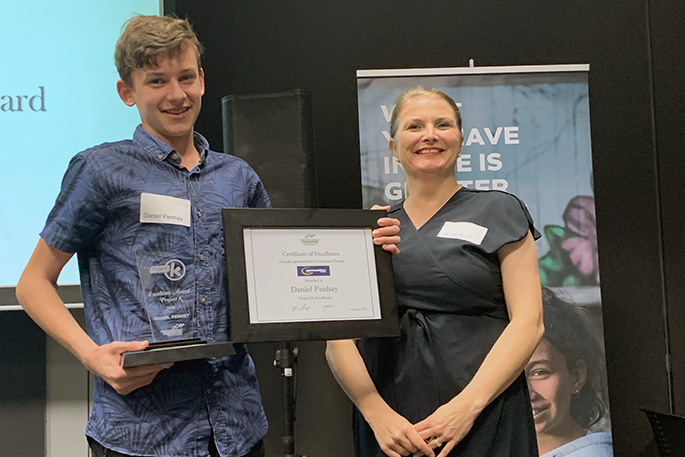 Daniel Penhey and Hilary Bush
The Project K Excellence Awards were presented to Otumoetai College student Daniel Penhey by Hilary Bush; and to Mount Maunganui College student Bithiah Gleeson by Dan Allen-Gordon on behalf of Sharp Tudhope.
"Daniel has been fully committed throughout Project K, overcoming sickness and injury during the wilderness experience to show real resilience," says Amie. "He has worked hard at school and excels at his favourite subject PE. Daniel finished in the top 20 at the Tough Guy and Gal challenge last month and last summer holidays worked over 60 hours a week to achieve his goals.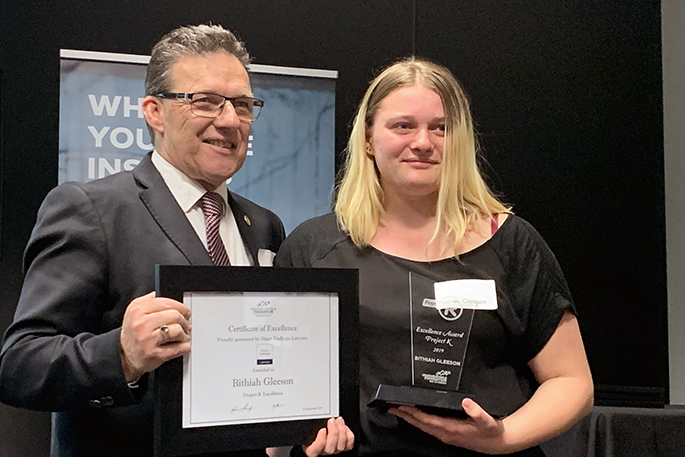 Dan Allen-Gordon and Bithiah Gleeson
"Bithiah has truly grown from a quiet 15-year-old to a young woman who is up for a challenge," says Amie. "She is also very resilient and mentally tough injuring her knee during the wilderness experience and persevering to the finish. Bithiah has found in her mentor Mel, a friend for life with a common interest in running when she recovered from her injury."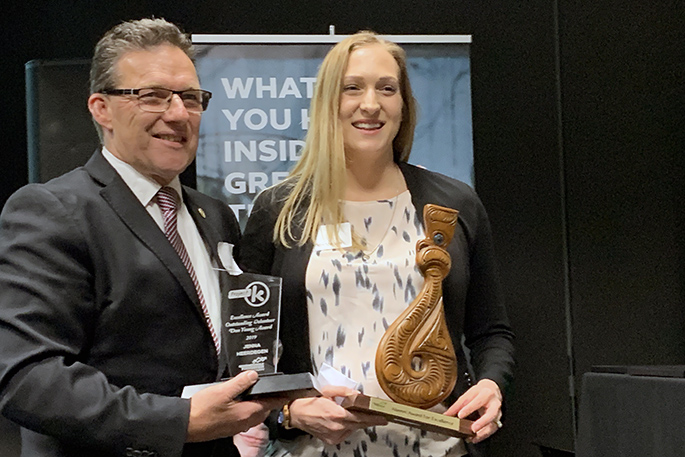 Dan Allen-Gordon and Jenna Heerdegen
The Don Young Award for Outstanding Volunteer, in memory of former trustee Don, was presented to Jenna Heerdegen.
"Jenna is now mentoring her fourth Project K student, only taking one year off to get married," says Amie. "Each year Jenna has gone to graduation and the next night meets her new young friend, and has been an amazing supportive and non-judgemental friend for her mentees."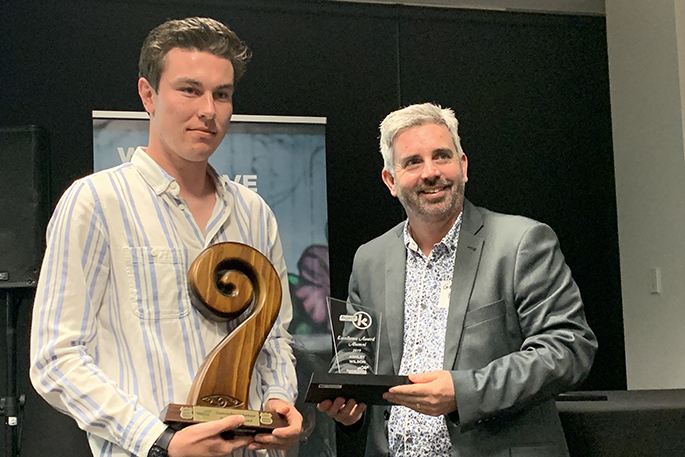 Ashley Wilson and Graeme Barnes
Ashley Wilson won the Project K Alumni Award for Excellence presented by Graeme Barnes on behalf of sponsors Bidfood.
"Ashley has become expert in time management and achieving goals. He is studying at Waikato Uni Tauranga campus full time, is working part time and has refereed football at national women's level already," says Amie.
"Thank you to the sponsors that make the Graeme Dingle Foundation programmes possible," says Graeme Dingle Foundation Bay of Plenty Regional Manager Dan Allen-Gordon. The programmes are now impacting on 3,600 young people each week through Kiwi Can, Stars and Project K. This evening's award sponsors make tonight so special for the award winners."
More on SunLive...