Let's out vote the baby boomers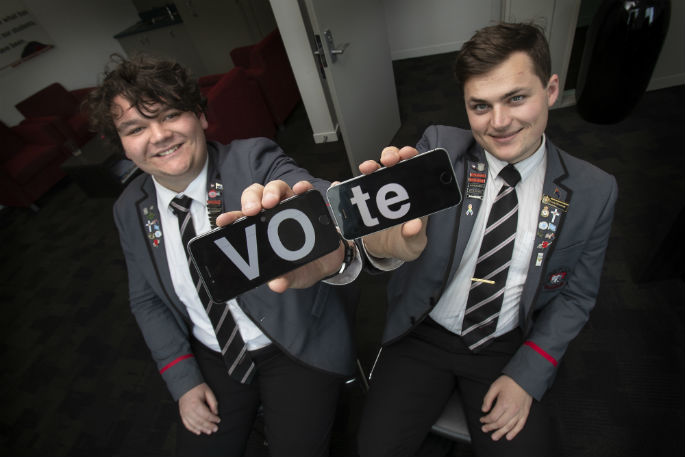 A group of driven Tauranga youth are calling on their peers to band together and outvote the older generation in upcoming local elections.
The Tauranga Youth Advisory Group is determined to boost voter turnout in the 18-24 demographic by five per cent.
In the 2016 local elections 60 per cent of voters around New Zealand under the age of 25 didn't vote.
Outvote Boomers will provide young people with the opportunity to vote and discuss local politics over a cold beer. The event is being at held at Our Place on Friday, October 4.
"They're the ones deciding how Tauranga is run. And we're sick of it. So with your help, we're outvoting boomers in the Tauranga election," the campaign reads.
Tauranga's Youth Advisory Group member Sam Taylor says it is crucial to get a strong youth voice in the upcoming elections, otherwise, we run the risk of having policies that don't look at young people.
"There are more people under the age of 55 living in Tauranga than those over 55. If young people aren't voting there is never going to be any policies tailored towards making our city a better place for us to live.
"We want to empower young people to vote in this year's local body election. The more that vote, the louder our voices come across in the voting demographics," says Sam.
The group is aiming to make voting more accessible to young people and increase turnout in the 18-24 demographic by 5 per cent.
"Voting shouldn't be hard, we should do as much as we can to make it a simple process," says Tauranga's Youth Advisory Group member Louis Donovan.
"It can feel like a solitary action that goes nowhere, so we are creating a collective feeling around voting.
"We decided the best way to start a conversation about politics was to go to where social circles are already talking – over a few drinks."
Sam and Louis both agree that systems currently in place around voting don't make it easy for young people to have their say.
"It can be really hard for young people to engage because it's still postal ballot, which is so out of date. It doesn't motivate people to get out and do it," says Sam.
Louis also points out that understanding local politics can be tricky for many people.
"You see signs out there, and it isn't clear what each candidate stands for. Unless you put a lot of effort into researching them, it can be really confusing."
The Weekend Sun took to the streets of Tauranga this week to ask youth if they are planning on casting their vote.
Four out of six interviewees confirmed that they are planning on voting.
Waikato University Tauranga student Kheyjhyn Martin says she isn't planning on voting in local elections this year.
"First of all I don't know how, but I had a quick look at who was running for Mayor and it wasn't clear on how a lot of them were going to implement the changes they were going to do."
Another student Harrison Brick says he will most certainly be voting in the upcoming election because he wants to see a big change in his community.
"More work, more employment and more skilled jobs."
Other youth raised issues around lack of life in the CBD and lack of access to services, climate change and the city's housing shortage.
Louis says if we can increase the voter turnout among youth this year, then next election candidates will actively seek out their votes and tailor policies to all people, not just the older generation.
'Outvote Boomers' is on Friday, October 4 at Our Place from 5 pm to 8 pm.
Those who have not enrolled to vote or received voting papers in the mail will be able to cast a special vote. Others will be able to drop off their voting papers.
There will be a live DJ, cold beers and free dumplings.
"But the beer comes after you vote," says Sam.
For more information visit outvoteboomers.co.nz or instagram.com/outvoteboomers
More on SunLive...