Steamers ready for Taniwha ambush in Whangarei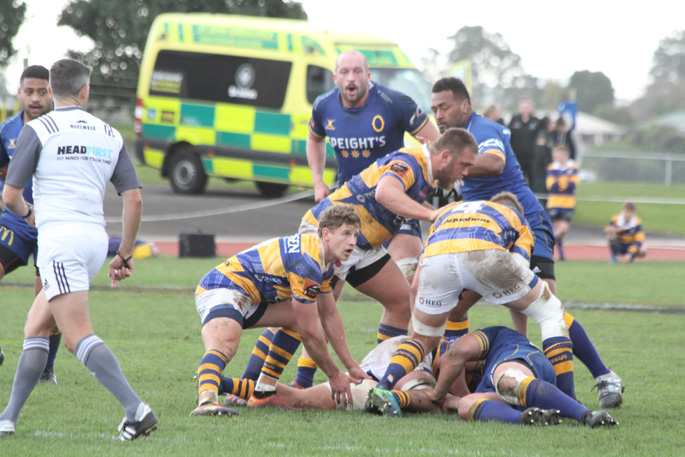 Steamers coach Clayton McMillan is preparing for a Taniwha ambush when his side plays Northland in Whangarei on Sunday.

History has shown, battles between the two sides have always been a titanic clash and Clayton isn't expecting anything less.

"We've prepared ourselves to walk into the ambush, we know it's coming. Northland are always tough up there. I think they haven't had the best start to the competition.

"So, they become even more dangerous, because they can now throw caution to the wind and just have a go. That's what they've traditionally been good at."

But Clayton says, his side is prepared for the Cambridge blue tidal wave.

"We've talked a lot about processes, staying focused, not getting complacent and the senior players are really driving that. So, it's made our lives really easy. I think this is a really grounded team. They don't get too far ahead of themselves."

The Steamers have almost retained the same squad of 23 that beat Taranaki 31-17, with the exception of Alex Ainley who is injured. Cole Forbes and Tom Franklin have come into the playing squad.

Tom makes his first appearance in a Steamers jersey since 2017, after he had a stint overseas and with the Highlanders.

Clayton says, he is happy with how the team has prepared this week.

"The energy, effort and intensity has been unquestionable, which has been really refreshing and makes going into work everyday enjoyable.

"We've had our injuries, but we know you've just got to suck that up. There is nothing you can do about it, because every team goes through it. We take it just week by week, day by day and that's been serving us pretty well."

Three Steamers players; Ross Geldenhuys, Hoani Matenga and Baden Wardlaw will play their blazer game (15), when they take to the field. The game gets underway at 4.35pm.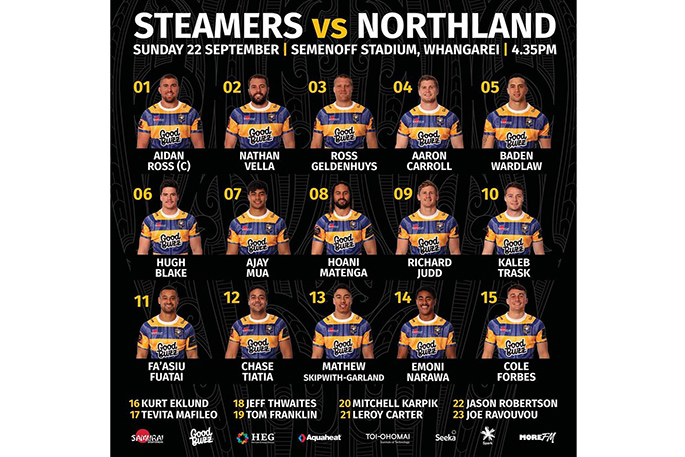 Bay of Plenty Steamers
1. Aidan Ross (C) (30)
2. Nathan Vella (3)
3. Ross Geldenhuys* (14)
4. Aaron Carroll (15)
5. Baden Wardlaw (14)
6. Hugh Blake (30)
7. Ajay Mua (11)
8. Hoani Matenga* (14)
9. Richard Judd (23)
10. Kaleb Trask (10)
11. Fa'asiu Fuatai (15)
12. Chase Tiatia (41)
13. Mathew Skipwith-Garland (13)
14. Emoni Narawa (7)
15. Cole Forbes (1)

16. Kurt Eklund (6)
17. Tevita Mafileo (5)
18. Jeff Thwaites (37)
19. Tom Franklin (11)
20. Mitchell Karpik (22)
21. Leroy Carter (5)
22. Jason Robertson (9)
23. Joe Ravouvou (4)
* Denotes blazer game – 15 games
() Denotes games played
Team subject to change
Game Details:
Steamers vs Northland
Kick-off 4.35pm
Saturday September, 22
Semenoff Stadium, Whangarei
More on SunLive...