Spirit of Barry Crump in Te Puke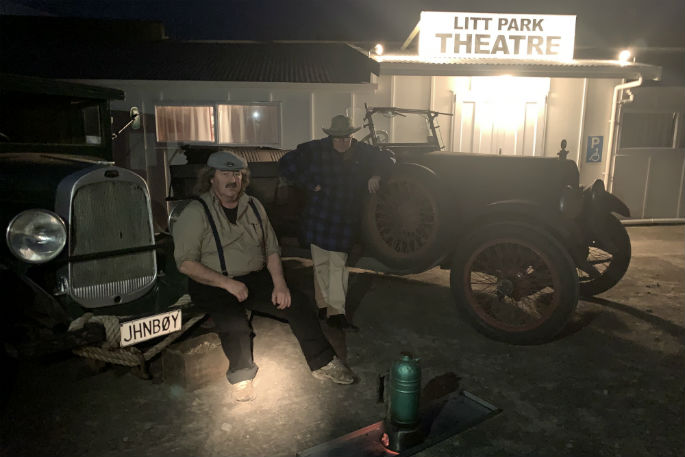 The spirit of Barry Crump is alive and well in Te Puke this month, with two surprises in store for those willing to venture into the 1950s world of Old Jack and his Kiwi larrikin mate Sam Cash.
When Te Puke Repertory Theatre opened its new show 'Hang on a Minute Mate' with a gala event on Wednesday evening, two crusty characters from yesteryear rolled up in their vintage cars to boil up a cuppa outside and greet patrons as they arrived at Litt Theatre.
The pair had turned up to show their respects to Barry Crump and were either real, or they were ghosts - it's hard to know for sure, as they had disappeared when we tumbled out of the theatre later.
Inside, tucked into a corner of the foyer, is the actual writing desk that once belonged to Barry Crump.
"I was contacted by a local lady who knew Barry Crump in the 70s," says director Michelle Cliff. "She and her boyfriend knew him. Barry was moving house and was selling some stuff in a garage sale and so she bought his desk.
"So we are saying that possibly some of his books might have been written at this very desk."
Michelle's team have added to the nostalgic corner feature by displaying some of his books and memorabilia from the era in New Zealand's cultural history that he wrote about.
The play's story has been adapted by New Zealand writer Anthony McCarten from two of Barry Crump's books 'Hang on a Minute Mate' and 'There and Back' which features Kiwi larrikin Sam Cash. Sam goes on a road trip with his mate - young Jack Lilburn, with Sam 'helping' other characters along the way. The pair go from one job to another – timber felling, horse-breaking, mustering, and farming. There's plenty of blokey banter, tall tales, humour and very Kiwi characters.
Glenn Ward and Jack Brawn put in strong performances as Sam and Jack, with Glenn producing most of the laughs and guffaws from the audience with his unique blend of comedic timing, easily capturing that quirky understated Kiwi humour. He thumbs his nose at authorities much to the amusement of all.
They are ably complemented by a great cast who have carved out their own distinctive characters, with plenty of banter, hilarity, chainsaws and shot guns along the way. The crew has done an exceptional job with set construction, wardrobe, props, lighting and technical features that enhance the actors performances.
The second surprise in this show comes thanks to the props department, who have managed to bring something unique to the stage that the director would like to have remain a secret to all except those who come along and watch the play. All I can say is it is well worth the trip.
Te Puke Repertory's 'Hang on a Minute Mate' runs from September 17 – 28 at the Litt Theatre.
More on SunLive...